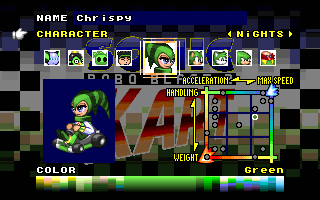 The first mod with every prefix! KRBCL is longer than CCCP! The whole name is alphabet soup!
KRBCLCCCP is a content expansion mod that features 15 characters and 11 stages created by 21 members of the community (including myself)
This was a lot of fun to put together and everybody did a great job! We've got a good assortment of characters ranging from smol penguin to Big Tank and content in literally every category, including map hell and encore stuff.
Cloud Strife by Canbough
Garfield by CherryLax
Dakras by Dakras
Slugloaf by Dakras
Stink by Dirk
Hotel Mario by FabulousNinji
Komador by Jacen
Gabs Strongstar by KamiJoJo
Gabriel Azevedo from Strongstar Productions™ (All rights reserved)
Gabs' sprites made by KamiJoJo
Sound effects provided by Luiz David
Body proportions provided by SuperJustinBros
CTR Kart template resources by Plom510
Evil Kirby Duo by Kibito
T-54 by NotablyPrettyCrazy
Robotboy by PepperDork
Penguin Bomber by SuperJustinBros
Fire Knight by ThatAzazelFire
Kung Fu Man by VGBoy
NiGHTS by Chrispy
Ditchen by Ditchen

MAPS
MAPC0: Pale Shrine by Chaobrother
The sky was taken from the FreeDoom Texture Pack for SRB2.
MAPC1: Methane Plumes Zone by Chromatian
Music Looped by runa! Thanks!
Textures, Sprites, and Bubble sound effect courtesy of DrTapeworm! Thanks!
MAPC2: CTR Slide Coliseum by Plom510
MAPC3: MKDS test_circle by Superstarxalien
MAPCH: Dream Course Zone by RoyKirbs
MAPC4 - MAPC8: Mania Cup by Dirk
MAPC9: Mania Special Stage 7 by Dirk
V1.1 hotfix.
-Test circle audio fix
-Kirby duo gloat fix
-Slugloaf gloat fix
-Cloud signpost fix
v1.2
- Added Ditchen. (Sorry!)
- Updated the Mania Cup tracks:
-- Each track is smaller in size now. An extra lap was also added to reflect this.
-- SM Special Stage 2's shortcut was removed.
-- Fixed checkpoints in SM Special Stage 6.
- Changed Methane Plumes Zone to have 4 laps.
- Added a NextMap to every track: you can now play every CCCP track back-to-back if you have Map Progression set to Next (not including Battle Maps and Hell Maps).
- Changed the Map ID of all tracks.
v1.2.1
- Fixed Methane Plumes Zone's Things overlapping with Plom Pack.
- SM Special Stage 1's minimap is more accurate now.
- CCCP is now available in either characters only or tracks only!