I give permission for this addon to be reused, modified, or ported by anyone

Yes
I understand my submission will be rejected if it does not follow forum rules, Submissions guidelines, and/or file name conventions

Yes
The small carbon-colored kitsune is here!
Ever since November of 2021, I have wanted to make a character add-on for SRB2.
And I've finally delivered, thanks to the help of the SRB2 Discord Community.
Anyways,

This is Speccy, as you can tell it looks like Tails pretty much.
However they play nothing like the orange two-tailed fox!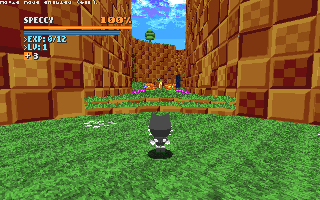 Speccy's main gimmick is their Leveling System, by defeating Badniks, and collecting various objects you EXP! By collecting enough EXP you can Level Up! Leveling Up increases your Maximum Health, and every 10 Levels your speed increases! The Level cap is 200, perhaps reaching Maximum EXP as well will do something?
In addition to that, they can Crouch, Double Jump, and Spinbust which opens more possibilities of exploration!
Speccy can also go Super... in a different way!
Upon getting the 7 Chaos Emeralds, Speccy can go Super! It makes you permanently invincible, as long as you maintain the form. Unlike Sonic & Co, Speccy's Super form doesn't rely on Rings, but instead it's timer-based. Destroy Badniks to gain 1/2 of a second! Simple as that. If you want to conserve your time perhaps, simply press Custom 1 to de-transform.
And that should... wait, I almost forgot about add-on support!
As of v1, Speccy doesn't really support that many things, but there are still some things to try out!
Have you tried loading MRCE, or Metroid Vanguard? How about you check out those Bosses with your nifty Boss HP Bar!
And that should pretty much conclude Speccy,
I hope you enjoy playing as them as much as I did making them!

Jump: Jumping, Double Jump
Spin: Spinbust, Super Transformation
Custom 1: Crouch, De-Transformation.
speccy_hud: Changes your HUD style, currently the default one is the most supported.
speccy_crouchtype: Allows you to change how you crouch, for those who hate holding buttons.

Nameplates exclusive:

speccy_showownname: Shows your own name, and stats if enabled.
speccy_showbotname: Shows the name and stats if enabled of any Speccy bots.
speccy_namecolour / speccy_namecolor: Changes the color of your Nameplate.
speccy_showstats: ADMIN ONLY! Allows you to enable stats showing for players.
speccy_shownames: ADMIN ONLY! Allows you to enable name showing.
speccy_flashnames: ADMIN ONLY! If someone's HP is low enough, their name will flash!
More to come soon...!

CREDITS

Archie / Minty / Ahei / AHHHHHHHHHHHHHH
: Cool friend that's awesome enough to make Speccy's CSS portrait.
Vanilla
: Being a cool friend, and giving me suggestions.
TLKG
: Ideas for Speccy, and another cool friend.
RubyTheMii
: Ideas for Speccy, yet again another cool friend.
Deadsky
: Felt the need to credit her, for personal reasons.
D00D64
: Helping me realize what I should've been focusing on-!
Jon
: Willingly ported over A_FindTarget to Lua so I could add Z-Positioning checks.
And credit to most of the SRB2 Discord for dealing with my constant video posting!

REUSED CONTENT



Multiplayer nameplates by
wired-aunt
:
https://mb.srb2.org/addons/multiplayer-nameplates.2754/