By popular demand, I've compiled all of the characters I've drawn into one handy dandy package! I've also split them into individual pk3s, so you can choose the download that best suits your server.
This pack contains the following characters, in order of creation:
Shantae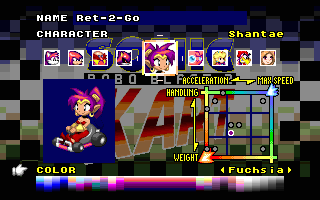 Speed: 4
Weight: 6
It's the Half Genie Hero from Scuttle Town! Shantae is a midweight character who leans slightly towards boost power. She does well in the hands of players who can dance around corners.
Jigglypuff
Speed: 3
Weight: 1
It's the pink puffball, the destroyer of worlds, and one of the original 12 Smash Bros fighters. No, it's not Kirby.
Jigglypuff is super lightweight and gets bullied easily, but her experience in Pokemon battles gives her a slight edge in speed over Tails.
Princess Peach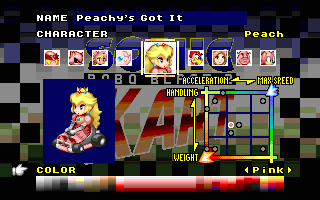 Speed: 4
Weight: 5
Finally, Peach Gardens has a Peach to go with it! The princess of the Mushroom Kingdom casts aside the role of damsel in distress to burn rubber on the racetrack. Like in the most recent Mario Kart games, she's a middleweight character who leans towards acceleration.
You may also want to consider grabbing
Virt's Daisy
to go with her!
Inori Aizawa (Internet Explorer-tan)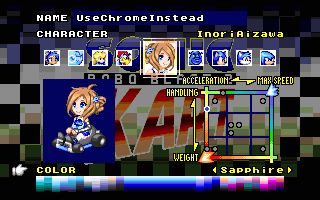 Speed: 1
Weight: 3
Did you know that Internet Explorer has an official mascot of sorts? Back in 2013,
a studio in Singapore designed a character for Microsoft
which was later featured in a short animation for Anime Festival Asia (not to be confused with the other fan-made personification of the web browser, which coincidentally is available as a racer in
PizzaDarius' Character Pack
).
Much like the browser she's based on, Inori Aizawa is slower than all of her competitors, but not to the extent that she's completely useless if you decide that you want to use her.
Shrek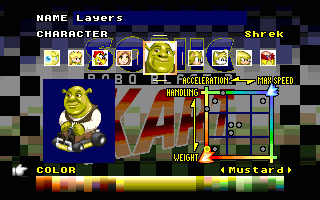 Speed: 1
Weight: 8
Go into maximum ogredrive with the original all star, the mean green swamp machine, the layered onion boy himself, Shrek. He's not the sharpest tool in the shed when it comes to speed, but his signature ogre flatulence grants him insanely powerful boosts.
Neige the Cat
Speed: 8
Weight: 5
Created by my colleague Arnaud Tegny (R-No71), Neige is a sly feline with ice-based powers. She has taken many forms over the years, including Sonic OC, human, toon, and Inkling. Her form here is a mix between her Sonic and modern designs, and she's got the speed to match!
Palutena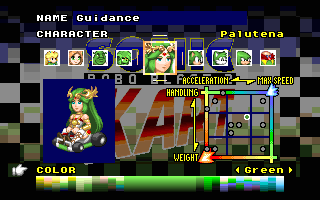 Speed: 7
Weight: 6
Who's ready for a little divine intervention? Let Palutena from the Kid Icarus series be your guide to victory! Her stats are based on Virt's Palutena.
Motorsport Amy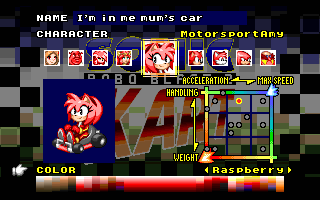 Speed: 5
Weight: 2
Amy Rose is ready to hit the track in a fancy driver's suit! Other than the new look, she's the same Amy we all know and love from the bonuschars set.
Bowsette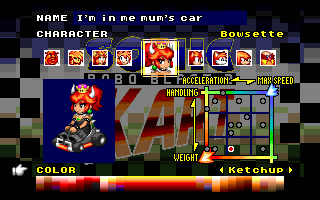 Speed: 4
Weight: 8
In New Super Mario Bros. U for the Nintendo Switch, Toadette can obtain a unique powerup called the Super Crown which transforms her into an exact double of Peach wearing a Toadette costume. While Nintendo has officially stated that only Toadette can use the Super Crown, that did not stop fan artists from making Peach cosplay various other Mario characters, with Bowser being the most popular subject by far.
The Bowsette in this pack takes inspiration from multiple fan interpretations and combines Peach's acceleration with Bowser's weight.
Ami (Gwain Saga)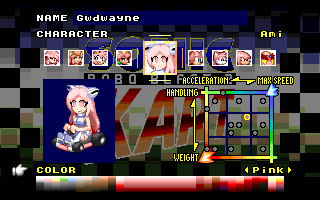 Speed: 6
Weight: 4
Gwain Saga is an animated YouTube series by GeoExe, in which Ami is a princess who accompanies the titular hero Geo after he mysteriously falls from the sky. The series contain references to, and borrows music from, numerous video games, and Ami herself uses the same voice clips as Princess Peach. There are already two characters in this pack with Peach's voice, so one more couldn't hurt, right??
Lilibri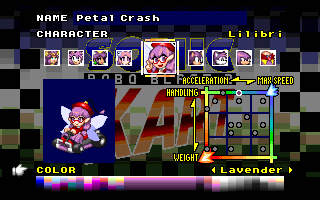 Speed: 5
Weight: 1
Lilibri from Petal Crash is ready to put the petal to the metal! She's a scholar and historian from the land of Florea, and while she spends most of her time in her personal library, her studies sometimes drive her to explore new places - quite literally in this case! She can be a bit scatterbrained, but when she really tries her hardest, she's faster than her diminutive size would suggest.
Other characters that I've drawn or collaborated on which are part of other character packs:
Sonia Strumm
Dimpsuu's Kart Pack
Scratch
AoStH Character Pack
Porting
In the event I do not log in for 2 months and cannot be contacted, I give blanket permission for STJr and its appointed staff to coordinate and approve the porting and maintenance of my releases on the SRB2MB, although I reserve the right to ask for those ports to be taken down or replaced with my own ports if I return.
Last edited: