C'mon ya big drip! Where ya goin'?
no, my problem is with placing the peelout
whenever i draw the peelout with sonic, the peelout always looks too close or sonic looks too weird
Maybe look at some source material to get a better idea?
It's usually placed (the intersections of the peelout) on or near the back of his body.
Like this: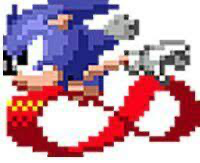 Last edited: