V1.1 Werehog and Yoshi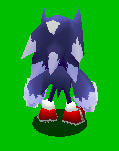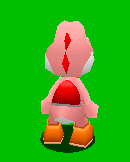 Did not plan on making these two, never mind both within a week, but here we are. Along with the new characters, this update contains a bunch of small tweaks and bugfixes, including but not limited to: Team Monitors being corrected, and support for Amy Hugs.
I don't have a patch file for this update, as I honestly don't remember quite everyfile that was changed, so I ask that you please just download v1.1 entirely, you should still be able to just merge overtop any 1.0 version.
3D Models for SRB2
Now that 2.2.1 has arrived and models support in the game have received some much needed debugging, it's finally time to post theses publicly!
Still Saturn-Inspired, but no longer Saturn-limited.
Some may be quick to point out how most of the cast has been overhauled since 2.1, and you'd be correct. While I still take heavy inspiration from official Sega Saturn titles, I discovered how just a little bit more detail, polish, and creative liberties could get these to fit with SRB2. Following SRB2's designs and colors really make these feel like models made for this game, rather then another game's assets tossed into it. For those looking for 100% accurate Saturn nostalgia, look forward to Chripsy's Pointy Sonic, which I will also be supporting with it's own model down the road.
What's included?
As usual initial released are minimalist, with very few extra characters being supported, but hopefully there's enough to keep you all entertained while I update other characters and assets to 2.2.
Recommended Settings
Please don't ignore this, this is important and I will ignore you and your issues you have for not using these recommended settings.
I only support the interpolation settings of "SOMETIMES" or "NEVER" expect visual errors if using "ALWAYS." I also optimize these models for the Model Lighting "OFF" option, as I dislike the ambient 'lighting' SRB2 applies.
How to I use these?
-Make sure your game is in OpenGL Mode, now in 2.2.1 you can swap renders in Video Settings.
-Go into video settings>"OPENGL OPTIONS", and Change Models to "ON."
CHANGELOG
What's next?
I plan to finish porting/updating characters as they are released in the Message Boards, Characters such as Mighty, Ray, Espio, etc. Though don't expect me to support every version of Sonic that gets a wad, the Vanilla, Pointy, and Modern/Neo are the
only
Sonic's I intend to make.
For Mods, Sugoi 1-3 are given, and any other notable mods that come out.
BUGS