I give permission for this addon to be reused, modified, or ported by anyone

Yes
I understand my submission will be rejected if it does not follow forum rules, Submissions guidelines, and/or file name conventions

Yes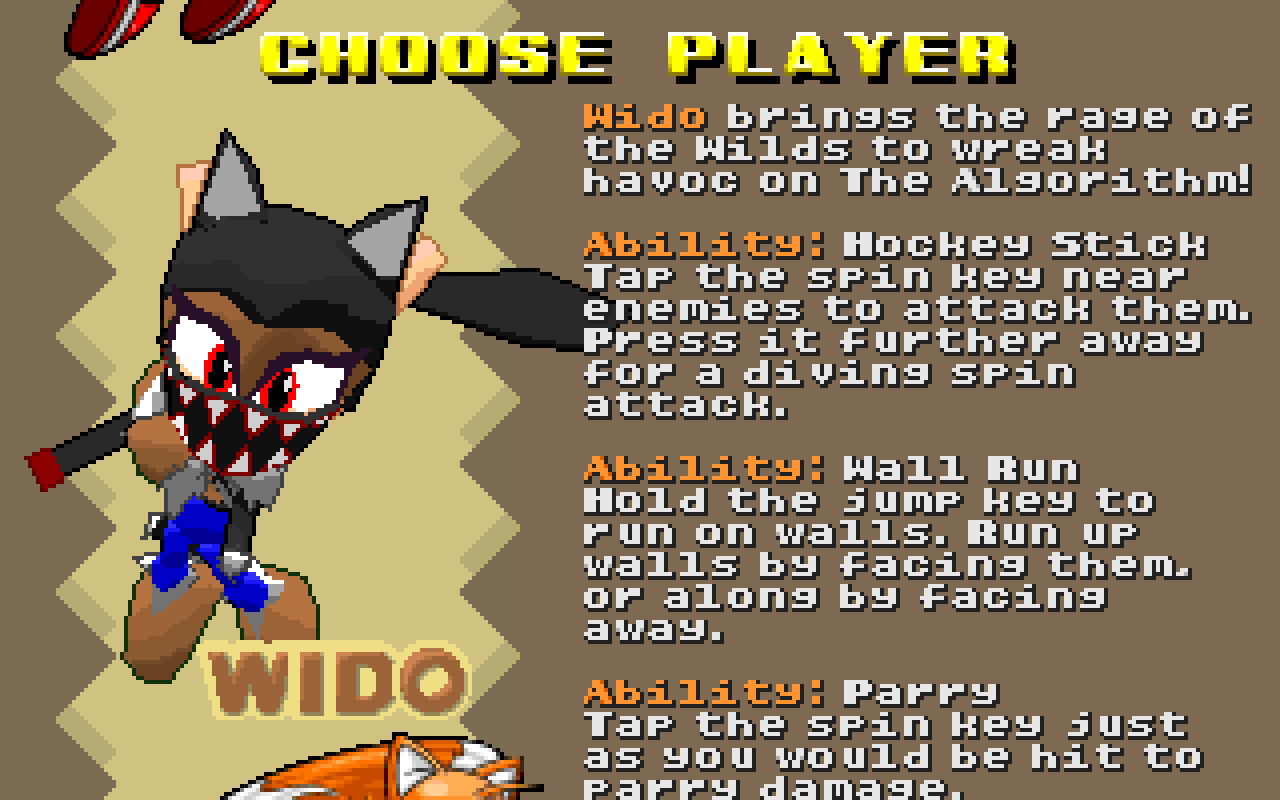 Wido the Wild
, the enemy of the Algorithm appears in SRB2!
They are a flow oriented character, with the unique ability to hit enemies with a hockey stick. They have three core abilities:
Hockey Stick
Tap the spin key when near enemies to perform a horizontal slash on them. Tap it when no enemies are in range to perform a diving spin attack. You can steer the horizontal slash slightly with the movement keys, and the diving spin's properties change slightly when you have a shield.
Parry
Release all movement keys, then press one at the moment before you would take damage to deflect enemy attacks. Enemy projectiles will be reflected, and weak enemies can be launched at other enemies. You can parry nearly any damage source, at nearly any time. If you stand completely still for a second, you'll enter a ready stance, which doubles the timing window for getting a parry. You can combine a parry with a horizontal slash to launch enemies instead of killing them.
Wall Run
Hold jump as you collide into a wall to begin running on it. If you hit a wall straight on you'll run up it, and if you hit it at an angle you'll run along it. Release the jump button to perform a wall jump. This ability is sensitive to your momentum. Get a running start to run further, higher, or jump further when you let go. If you have speed shoes, you can run on walls indefinitely without losing speed.
This was a nightmare to code...
Wild Trigger
???
Wido doesn't have an ordinary super form, but they must be able to do SOMETHING with those Chaos Emeralds...
​
Special thanks to the CSCS members for helping me out with balance and bug testing!