I give permission for this addon to be reused, modified, or ported by anyone

Yes
I understand my submission will be rejected if it does not follow forum rules, Submissions guidelines, and/or file name conventions

Yes
You're not going crazy, it's him!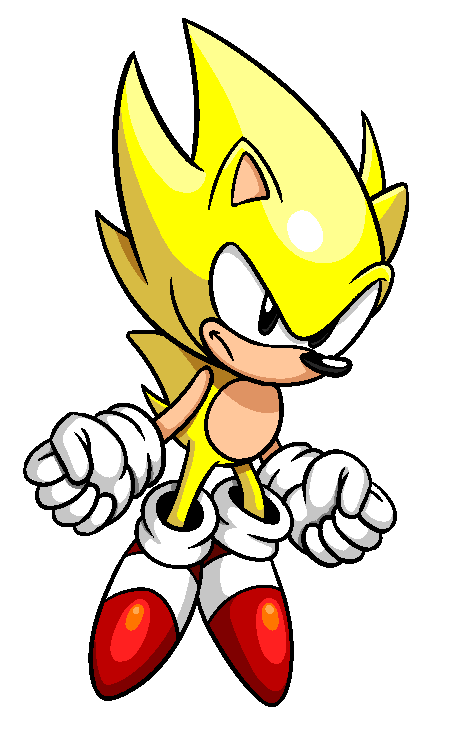 By the power of a miracle, Super Sonic is here to finally put a stop to Eggman's schemes. He may play like regular vanilla Super Sonic, but he hardly operates the same!

Ring Drain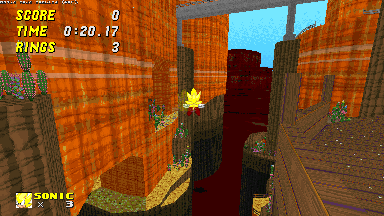 As if ripped straight out of Doomsday Zone, if that Ring counter hits 0 it's game over! It's important to gather as many rings as you can, which brings me to...

Ring Gain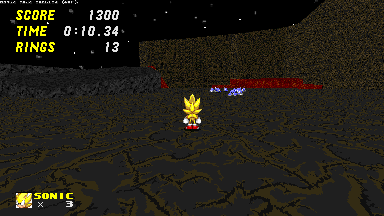 Super Sonic has been blessed with a few new ways to keep up his ring count, which include:
-
Damaging badniks
will grant Super 2 rings per hit.
-
Hitting a boss
will grant Super 5 rings per hit.
-
Picking up an Emerald Token
will grant Super 25 rings instantly.
- Super has
very weak ring attraction
, letting him attract any rings he barely missed.

Other Features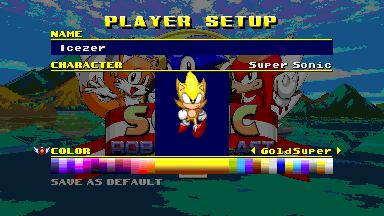 Super Sonic comes with more than what he appears. What he has includes but isn't limited to:
- A unique
animated signpost
!
- A very cool
continue screen animation
!
- More than a handful of
custom colors
using super colors from vanilla (and some original ones, too!)
- A hidden power
awakened from
beating Black Hole Zone as Super Sonic
(requires the level to be unlocked, and may require
custom saves
.)
You can transform by pressing Custom 1 after jumping with 100+ rings, and you'll know if you can transform if there are rainbow sparkles coming from Super Sonic.
-
A special surprise
upon
touching a
Fire Flower
or
pressing Custom 2 with 75+ rings along with all
Sol emeralds...
(The latter requiring
Rush Characters
.)
-
Netgame Support!
Trying to switch to Super without all 7 emeralds will force the player onto Sonic instead (with varying ways of saying you need the emeralds.) Hitting 0 rings will warp Super back to the last starpost he hit instead of taking away a life, and ring drain is frozen upon finishing the current stage.
Co-op is the only currently supported gametype, and support for others will come within eventual future updates.

Credits

Alice
- Making the wonderful CSS art used for Super Sonic, and indirectly kickstarting Super's development.
LonelyFoxz
- Made the lovely signpost sprites.
Frostiikin
- Death/Drown frames along with Continue/Extra life icons originally used for
Almost Super Sonic
.
BlueBlur
- Goal ring sprites, continue screen animation, and thread icon/template for ending sparkles.
SuperPhanto
- Made the Super Cobalt color included with Super along with notable help with v2.
Sir Thoksalot
- Original code for Hyper Form.
Golden Shine
- Minor coding assistance, along with code originally made for
SA-Sonic
.
grindersky
- Recorded the replay for the Hyper Metal Sonic race.
Marcos
- Crafted the theme used for Hyper Sonic.
Bloopsdoob
- General support and help with HUD related code.​