I give permission for this addon to be reused, modified, or ported by anyone

Yes
I understand my submission will be rejected if it does not follow forum rules, Submissions guidelines, and/or file name conventions

Yes
NOTICE: While this content is fully reusable, it is under a "copyleft" basis. This means, if you reuse content from this mod in your mod, your edited version of my content must also be reusable, under the same condition. This does not mean your entire addon needs to be reusable, but the parts that are based on my content must be. For example, if you create a modified version of Sparks, replacing some or all of her sprites with your own original work, as well as making some Lua changes, the Lua code must be reusable, but your original sprites do not need to be. Please feel free to contact me if you are unsure about anything.
---

Introducing Sparks!​
She's my first custom character, and while I'm not entirely sure whether she's balanced well, she sure is fun to play, at least I think so. Sparks isn't very good in combat; she can't attack enemies by jumping into them and her only aerial attack is somewhat difficult to aim, making bosses a challenge. But to make up for it, she has
incredible
speed and mobility, feeling a lot like a super form, just without the invulnerability.
Abilities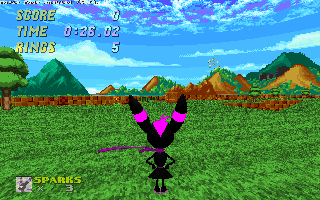 By holding Jump in mid-air, Sparks can use her scarf like a pair of wings to glide through the air.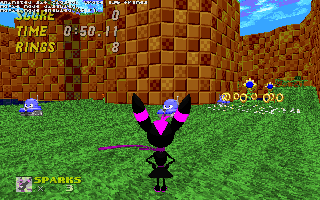 Hold Spin in mid-air to twirl around. This will give you a chance to attack airborne enemies, but it can be difficult to aim, and causes you to descend faster while you're holding it. Releasing it will give you an upward boost, but you can only do it once per jump...unless you hit an enemy, in which case you can do it again.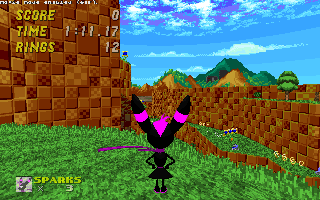 If you push Spin in mid-air after you have already performed a twirl attack, you will instead slam to the ground at high speed. This damages enemies, but won't stop until you hit the ground. In case you're worried about doing this by accident, it won't occur as long as you are gliding when you press Spin.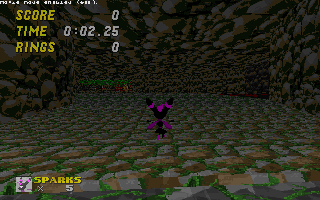 Sparks has a "dash mode" similar to Metal Sonic, in which she rides her scarf like a hoverboard. It's pretty fun. This won't hurt enemies or destroy spikes like Metal's dash mode does, but the upside is you can use it to safely travel over lava, as long as you're careful not to slow down and exit dash mode.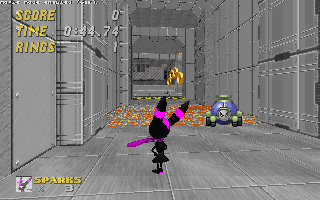 Finally, true to her name, Sparks has a limited immunity to electrical damage, and in fact gets more powerful from it! This gives her twirl and stomp attacks a larger area of effect for 30 seconds, but be careful: Sparks can only absorb so much electricity, and will take damage if exposed to more too soon. However, you'll know it's safe if the charge bar is low enough that it's started flashing. Electrical damage sources aren't the only source of electricity Sparks can pull from either; having an electrical shield will keep her bar full as long as she holds onto it. Perhaps you'll also discover another powerful source of energy she can use...
​
Tip: You can tell when Sparks can attack enemies because she'll be surrounded by sparkles, as seen in some of the above gifs.
As a final note, Sparks' sprites are high resolution (highresscale=0.3) and have /16 angle resolution.
Please let me know what you think—I hope you find Sparks as much fun to play as I do!
Update:
If any of you are interested, I've published the Blender source file for Sparks' sprites here:
https://mb.srb2.org/addons/blender-source-file-for-sparks.2950/