A small pack containing six race tracks plus a hell map. More are planned to be added later, but when they get added is not predetermined.
​
Map slots in use
(NOTICE!
Some map slots where moved around. None were removed,
and since there's Lua now
, old replay data is not compatible. Custom game data has been added to remedy this issue.
)
- A5
- AO
- SU
- SV
- SY
- SX
- SZ
Featured Tracks:

CHEESE LAND (MAPA5)​

-

This strange desert is made entirely out of processed cheese. Even if you can't stand the dairy air you have to admit it is a wonder how it even exists! This version is partially inspired by the MK8 re imagining, but is mostly sculpted with original revisions.

MUSHROOM KINGDOM (MAPSU)

​

-

A track inspired by the NES game "Super Mario Bros."! It is divided into four sections based on the first four levels of the game. It's also my first map, so be gentle.

WINTER GARDEN (MAPSV)

​

-

Fresh pollen and freezing winds fill the air of this 4 lap course. A wide ice curve follows into a cave just outside a nice Greenhouse, but be cautious of the plants!

INCWORM FOREST (MAPSX)

- A silly little forest where some colorful worms reside. They're small and fuzzy, and they are pleased to greet anyone with a nice and harming "Hi". In this 3 lap course, you're drive around a giant tree and spot multiple worms hanging around as you try to claim first! The turns here might be tighter than you think!

​

​

RICCO HARBOR (MAPSY)

- A docking harbor for the residents of Delfino Isle. Most shipments here are fish, although the occasional blooper may be found from time to time. Some people try to ride these bloopers for surfing races, however, for just today the harbor was reconstructed into a race course! Watch for moving fences!

AIRSHIP FORTRESS (MAPAO)

​

-

One of Bowser's airships has docked at one of his fortresses. Little did he know he would face an opponent even more terrifying than Mario... PARALLEL PARKING! With the great airship stuck on one of the fortress walls, it has been converted to a race track for the time being. Just don't write about this in the monthly accident reports please!

​
Hell Maps:

VANILLA ZIG ZAG (MAPSZ)​
-
A seemingly friendly ice lake with sharp back-n-forth turns. But what lie on the edges of some turns may stop the spring in your step.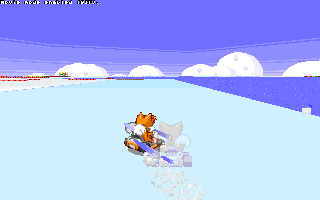 Credits to Contributors:
Fayt_XIII - Mushroom Kingdom Mini Map, supplied a rock and wood texture
Chengi - Texture index re-coloring and Airship Skybox rip
Supestarxalien - Refurbishing all textures and flats for Airship Fortress
RoyKirbs - Helping me fix a broken wad
Eldog - General advice and guidance in map making
Chaobrother - General advice and guidance in map making
Darkbenji - Ripping Mario Kart 8 textures for Cheese Land
Starman91 - Rainbow boost flats used in Airship Fortress
Callmore - Fireworks lua in Mushroom Kingdom, Made Lua used by Flame Throwers in Airship Fortress
Marsh - Pianta sprites and Ferris-wheel texture in Ricco Harbor
Change log:
LATEST: V 1.9.5


INCHWORM FOREST
- Unintentional death sector caused main road to be unplayable, is now fixed





V 1.9.4


CHEESE LAND
- Huge visual improvements
- Added two pits to the second half of the map
- Added Mr. Stilton Gouda, a happy hill you see blinking in the skybox
- Encore palette plus encore music added



AIRSHIP FORTRESS
- Huge visual improvements
- Removed monitor conveyor belts, replaced with shatter block crates
- Removed swinging mace, replaced with flame throwers (this is funny out of context)
- Added shatter block crates to mini airship
- Encore music from Super Mario Maker 2 added


INCHWORM FOREST
- InchMeat


RICCO HARBOR
- Placed Eldog's road cones on town section to make it easier to tell you have to U turn
V 1.0

MUSHROOM KINGDOM
- Based on v1.7.1 from it's individual release

WINTER GARDEN
- Added to the pack!

V 1.1

MUSHROOM KINGDOM
- THIS COURSE IS NOW 2 LAPS
- Changed boost ramp leading to tree section, now has a speed-capped spring at the end
- Added more floor flats to the tree tops to make them more interesting visually
- Adjusted the item and boost pad placement on the trees
- (Hopefully) fixed waypoints in tree section
- Move forward the length of the first lava pit in the castle, and the arrows for it are moved to the ceiling above
- Blue springs on right of third staircase replaced with lava pit

WINTER GARDEN
- THIS COURSE IS NOW 4 LAPS
- Added blue boarders to the snow roads
- Extended the Greenhouse dirt shortcut, trying to lawn mower this could be your demise
- Adjusted some texture offsets in the cave
- Arrow sign in the cave now points to safe road only, the split paths themselves are unchanged
- Added extra grass and thing decoration in the cave
- Adjusted the skybox decorations
- Darkened the map (Greenhouse now darker than outside)
- Adjusted the positions of the boost pads in the final stretch to make them slightly easier to hit
- Extended a water puddle on the final turn

V 1.1.1
MUSHROOM KINGDOM
- Fixed the level thumbnail so it doesn't have the fps counter again

WINTER GARDEN
- Moved the skull thing object to beneath the ice sheet, as it is a push-able object that could disrupt the race
- Shrunk the sizes of the last two water puddles on the final turn

V 1.2

MUSHROOM KINGDOM
- Re-arranged some checkpoints. Some on off-road have been removed.
- Removed checkpoint in shortcut on tree section. This may have been the cause for ranking errors while racing, so HOPEFULLY they work this time.
- Touched up tree detail on that same shortcut

WINTER GARDEN
- Adjusted the ice sheet shape, moved booster more left requiring use of a thinner path to hit reliably
- Made thin gaps between glass and tables impassible to avoid endless bumping traps

VANILLA ZIG ZAG
- New Hell Map! Attempt if you dare!

V 1.2.1
- Fixed the finish line for Vanilla Zig Zag so laps count when going off-road

V 1.3

WINTER GARDEN
- Added more checkpoints; one on the icy U-turn, and another in the Greenhouse past the shortcut
- Changed the ice sheet shape again as well as the booster location
- Added a new banner for the Greenhouse entrance
- Added road boarders in the Greenhouse for better guidance
- Changed a GFZVINE texture to ICEWALL3 before the icy U-turn to make it appear seemless

VANILLA ZIG ZAG
- Moved a checkpoint sector that was ontop of trap springs, preventing a respawn softlock
- Moved the SMK advert back a little to not block racers' view at the start

V 1.4

MUSHROOM KINGDOM
- Added a second sector color to the underground section. Underground is also brighter.
- Added glue to both shortcuts to prevent cheesing
- Raised springs in second shortcut so people are guaranteed to make it from a shoe boost
- Minor texture realignments

WINTER GARDEN
- Ice sheet has been overhauled. It now covers almost all of the water, while having more holes to fall into.
- The right path in the cave is still present, but it now is a bridge over a flowing water fall. Don't worry about the holes in the planks, as they are invisible, yet tangible, fofs.

VANILLA ZIG ZAG
- Added wooden planks to make turns easier from a miniturbo.
- Pushed back some springs on turns
- Extended the size of the blue spring pads leading to the bridge in the small pond, just so grow users don't miss it
- Adjusted the hidden red springs

V 1.5

MUSHROOM KINGDOM
- Added light blocks for the pits
- Minor adjustments to boost pad placements
- The castle has new textures and flats
- Added pillars to the treetops shortcut to prevent mini-turbo cheese
- Added light blocks to the lava pits

WINTER GARDEN
- Fixed minimap to show current ice sheet in the caves
- Removed dirt cut into greenhouse (you will/won't be missed)

AIRSHIP FORTRESS
-First release!

V 1.5.1

WINTER GARDEN
- Added more star posts just before the icy u-turn so even if you drive off-road you will re-spawn there
- Pushed back the far wall in the icy u-turn section whilst also added a mid-texture for better clarity of the turn
- Made all major water sources ripple besides the ones in the green house
- Water puddles in the green house are now a dark blue
- Pushed back the first water puddle while shrinking the last water puddle under the table

AIRSHIP FORTRESS
- Removed exploitable meme cut from top of the fortress

V 1.6

General
- All tracks now have proper encore support
+ Minor adjustments to palettes
+ New music tracks for each
+ Some get new weather and or lighting effects

MUSHROOM KINGDOM
- Changed the castle floor flat to a checkerboard pattern
- Changed the outside castle texture to a new brick texture similar to the inside
- Removed a patch of rough grass on the second tree
- Added another checkpoint in the treetop section

WINTER GARDEN
- Removed a boost pad in the green house
- Replaced the boost pad on the ice sheet with red spring pads, also adjusted the shape towards the end again
- Lowered the road humps at the start so you can see where the following turns better
- Made sure checkpoints extend to the left off-road before the icy U-turn

AIRSHIP FORTRESS
- Re-positioned the leftmost blue spring on the small ship so it doesn't fire people into a pit like before

V 1.6.1

MUSHROOM KINGDOM
- Removed some unneeded sectors, merged plenty of others
- Adjusted the speed capped spring ramp to be easier to clear in wipezones (hopefully)
- Added a tiny set of stairs on the side of the final main stairs in the castle, along with making the base sectors double step-up

WINTER GARDEN
- Made the off-road boost pad more obvious to where it is
- Adjusted the ice hole before the spring pad

VANILLA ZIG ZAG
- Added a wood-plank sector outside one of the shortcut paths
- Moved the red springs forward as well as adjusting their angles

V 1.6.3 (P.S. Don't ask where 1.6.2 went, I never released it. I am pushing this patch instead due to Map ID conflicts with other creators.)

WINTER GARDEN
- Fixed checkpoints, ranks should not shuffle at the end anymore
- Removed spring pad on ice sheet

AIRSHIP FORTRESS
- Map ID is now SX to avoid conflict with Snu's GBA Bowser Castle
- Added a prop airship in the skybox
- Removed Encore song

VANILLA ZIG ZAG
- Map ID is now SZ to avoid conflict with JoeyTheFox's Twisted Metal Pack
- Added another wood-plank sector outside one of the shortcut paths
- Encore music is now the base track's music, Encore music is also the same
-Fixed checkpoint spawn angles and added more of them for end section

V 1.7

General
- Improved some checkpoint angles as well as placements. Should be better directed towards the road.
- Improved waypoints to hopefully cause less rank shuffling

CHEESE LAND
- First release! May move this map and Airship Fortress out of this pack later on and bundle them as their own track pack due to them being ports.

MUSHROOM KINGDOM
- Made underground shortcut a one-way path, so drivers on the main road don't accidentally drive into it the wrong way
- Added a pipe overhang to the cave entrance
- Bustable bricks now have a new texture. They feature a crack and are distinguished from the main roads/walls to be easy to see
- Fix a star post that was missing it's activator special on the tree section
- Added a Mario sprite just before the castle entrance. Shuffled the outside boosters a bit to work alongside it
- Added translucent midtextures to show where the lava pits are
- Removed red spring panels on exist of castle, now it's a ramp
- Red springs added to tree section (at least I think this update did that, it's been a while)

WINTER GARDEN
- Removed ice cave section entirely! Now it's a bridge leading to a cliff view that turns into the greenhouse shortly after
+ Took new measures to prevent checkpoint abuse to accommodate this change
- Tables near the end have been rearranged. There is now a two way fork here with a boost on the right path
- Removed slope physics on the giant yellow flower just past the first item set
- Outer area of the map given an impassible fence, removed a toad

AIRSHIP FORTRESS
- Removed first red spring panel, now it's a ramp

VANILLA ZIG ZAG
- Fixed star posts from infinitely respawning players inside of springs on the ice edge, causing a death loop

V1.7.1
CHEESE LAND
- Fixed a glaring waypoint issue near the end of the map, causing rank shuffling

V1.7.2

GENERAL
- Brought back encore palettes since I accidentally left them out of the last update on mistake

CHEESE LAND
- More decorations added
+ NOTICE: Some assets used here belong to online content creator Lythero. If he or any of his affiliates approach me about not allowing his art to be used within my pack, I will remove it as soon as possible with a hotfix
- Changed ramp sneaker panel flats to closer match the ones that were present in the GBA original course
- Made first ramp jump passable for players who cannot achieve a drop dash from respawning, or simply lose all speed
-Encore version is darker with a different skybox texture

MUSHROOM KINGDOM
- Changed arrangement of some bustable brick blocks
- Altered main exit to underground to be less of a long straight away
- Added more 1-2 details to the underground, including inside the shortcut
- Touched up first shortcut to have speed-capped springs at the end
- Added scenery coins
- Encore:
+ Luigi appears in Mario's place as the 8-bit statue
+ Bowser protraits replaced with...
+ One of the 1-2 easter eggs gets a texture change

WINTER GARDEN
- Added impassible linedef in-case of cheese jumping towards the bridge
- Removed slope physics to flower beds
- Added a random carpet detail that most likely will be changed later

AIRSHIP FORTRESS
- Pulled in closer the half-pipe slope with the sneaker panel to the turn

VANILLA ZIG ZAG
- Added higher and more visible barriers to the red walls


V 1.8

CHEESE LAND
- Made the first spring use blue springs and not yellow
- Added some visual decoration

MUSHROOM KINGDOM
- New skybox!
- Animated blocks!
- Bustable bricks now respawn!
- An easter egg changed???

AIRSHIP FORTRESS
- Put death fof in transparent grate to prevent accidentally falling in and skipping part of the track

VANILLA ZIG ZAG
- New ice flats as well as more springs added
- Darker blue ice has super low friction, be careful driving on them!


V 1.9

CHEESE LAND
- Added an Inch Worm
- Added more item boxes on the inside of the U turn after the first ramp jump


MUSHROOM KINGDOM
- Fireworks lua made by Callmore, with sprites by Marsh. They launch by the castle entrance!

AIRSHIP FORTRESS
- Removed invisible fof that carried items over the road (yeah I uh... no context)
- Changed the map ID from SX to AO



NEW MAP INCHWORM FOREST
- Map ID is SX, replacing the old ID for Airship Fortress


NEW MAP RICCO HARBOR
- Map ID is SY


V1.9.1


GENERAL
- Changed the file name to remove the apostrophe.





V 1.9.2

MUSHROOM KINGDOM
- The track now adds new elements dynamically as you race each lap! Some are visual details only, while other points of the map will add in shatter blocks in your path!
- New and updated textures and flats in some areas
- New coin sprites
- New boost panels! Some turn blue at night.


RICCO HARBOR
- Added a fence around the 7th and 8th checkpoints
- Turned the 7th checkpoint into a fof'd checkpoint to prevent respawning underwater
- Minor performance adjustments for people playing on software. I recommend playing this map on Open GL instead as it runs much better (assuming you have a GPU).


V 1.9.3

RICCO HARBOR
- Changed the fence floor texture to be a different shade of blue to better see against the water
- Made the water texture in the map bigger so it is easier to look at
- Minor performance adjustments for people playing on software
Feedback is welcome. Hope you enjoy it!
Last edited: