The stage is set and the green flag drops!!
[size=+2]That-little-moo's Pixelish character pack[/size]​
Yo! First time postin' here!
So after hearing this was a thing, I decided to throw in a bunch of characters for y'all to race as!
Will I be addin' more? Chances are, most likely! Actually kinda had fun making some of these characters. Anywhos, enough of me blathering, let's meet the characters
Darren the Moo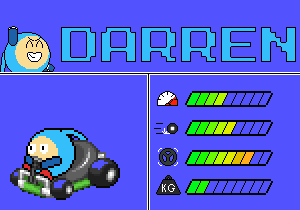 Origins: Original Character
Speed: 4
Weight: 2
Preferred color: Cerulean
It's the Moo himself, and a bit of a salty one at that.
Dunno how he got the license to drive anyhow..
Though behind that seemingly cute yet a tad cynical
exterior lies A rather lightweight yet beginner friendly
stat build!
Darren's skill on the wheel makes him great at going
round those tight bends with little trouble, just
try not to bump, his light weight will send him flying off course!
Robbit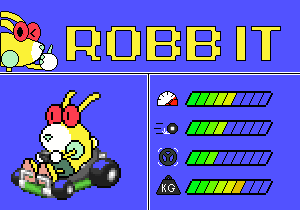 Origins: Jumping Flash/Robbit Mon Dieu!
Speed: 5
weight: 6
Preferred color: Yellow
With Baron Aloha out of Robbit's... Hair... He decided
to take up Karting now that Hananuma is now at peace.
Though that doesn't mean that he'll be just as peaceful
on the roads, this guy has quite a lot of spunk and
he isn't afraid to use it! Sporting decent speed, acceleration
and some weight, (He is a robot after all.) when
push comes to shove, expect him to shove back!
Mothra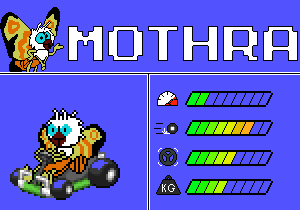 Origins: Get Going! Godzilland
Speed: 2
weight: 4
Preferred color: White
She teaches hiragana, she teaches addition and subtraction,
she'll also teach racers a lesson on the road!
Another beginner friendly character sporting great acceleration
and decent handling in races, if she gets hit, she'll be back on her feet
and hitting top speed in no time!
Wait a sec since when did Kaiju learn how to drive?...
Mog
(Or as his alter ego goes by; Dungeon Hero X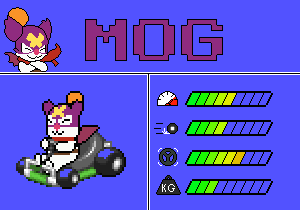 Origins: Final Fantasy Fables: Chocobo's dungeon
Speed: 5
Weight: 3
Preferred color: Lavender
Never underestimate a Moogle, especially
This
one.
He comes packing with some decent speed and great handling,
making him quite the racer to look out for if you happen
to be in front.
Though don't let that kind of ego get a hold of you, a
good solid bump will be enough to send him careening of the
track!
The Heavy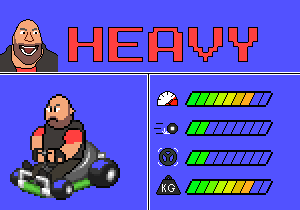 Origins: Team Fortress 2
Speed: 7
Weight: 7
Preferred color: Red
Best watch out for this man, with the weight and toughness
of the great Berlin Wall combined with blistering speeds,
this is one Russian you'll NOT want to bump into
While that seems intimidating however, braking will be a thing
to keep in mind while going round corners. Plus
his lack of acceleration means you may have to rely on
mini boosts to get him back to top speeds.
---HERE COME SOME NEW RACERS!!---
V2 patch​
Wallace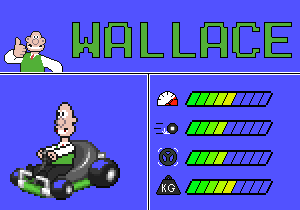 Origins: Wallace and Gromit
Speed: 5
Weight: 5
Preferred color: Pinetree
He built a rocket in his basement to go to the
moon for cheese and now he hits the
racetracks!
This good-natured, eccentric, cheese-loving inventor
sports a great all round stat build, making him
great to use for both beginners and experts!
Bum-bo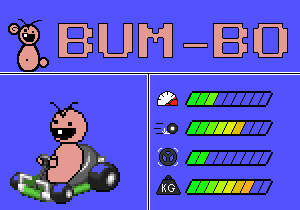 Origins: The Binding of Isaac/The Legend of Bum-bo
Speed: 3
Weight: 7
Preferred color: Lemonade
"BUM-BO IS HERE IN RACE KART
AND BUM-BO STOP AT NOTHING!!
BUM-BO. WANT. PLACE. NUMBER.
OOOOOONNNEE!!
"
"BUM-BO MAY NOT BE FASTEST
OR TURN EASY, BUT HE HIT TOP
SPEED QUICKLY! ANYONE BUMP
BUM-BO, BUMBO BUMP BACK!!"
Lupin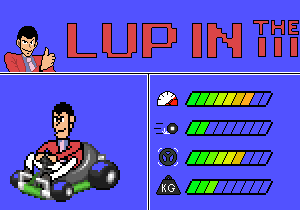 Origins: Lupin the III
Speed: 7
Weight: 3
Preferred color: Raspberry
The infamous Lupin the 3rd, master thief
and grandson of the legendary gentleman
thief: Arsène Lupin, now hits the tracks.
Aiming to also be the fastest thief on the road!
Lupin's skills has made him known to be very
elusive, as he is on the tracks. Having great
top speed and handling. However if he
somehow manages to make a mistake on
the road, that's your chance to catch up
to him!
Don't tell Inspector Zenigata that he's here!
Fark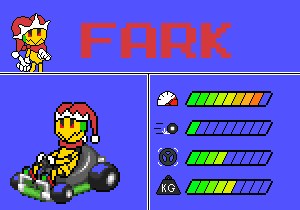 Origins: Spark the Electric Jester
Speed: 8
Weight: 5
Preferred color: Red
A robot counterpart of Spark, the electric jester
who gave him said name as a bit of wordplay
with "Spark" and "Faker." With Freom out of
commission, he decides to take up go-karting!
Despite his looks, he is not the one to joke
around with, having incredible top speed!
Though those who use him should be careful
around tight bends.
---More may come soon!---
​