What permissions do you give others to modify and/or maintain your submission?

Modify: ASK ME - Maintain: NO - Others must ask me for permission before modifying my submission or use it in their own work, and I reserve the right to say no for any reason. No, others may not maintain my submission, even in my absence.
I made sure my file(s) follow the Submissions Guidelines

Yes

27
racers!!!!!!!!!!!!!!!!!!!!!!!!!
The pack now includes separate PK3s! Simply download the pack and there will be a folder containing each character separately.

NOTE: Aerith has exactly *one* swear as one of her hurt quotes. Please keep that in mind when downloading!
Now featuring my favorite character, again, and another Wario!!!
STATS

Also featuring...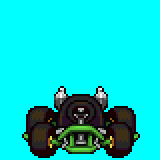 Mario Kart 64's
Pipe Frame
as a Kartmaker template!
​
UPDATES
V13
(9/30/23)
Aerith (Nomura) and Gameboy Wario, the 26th and 27th racers, have been added.
The original Aerith now has her own unique kart design. She's also known internally as "Aerith (R)".
V13
(2/28/22)
Aerith, the 25th racer, has been added.
Fixed a coloring error on JFK.
V11K
(11/29/20)
A new kart template, the Pipe Frame from Mario Kart 64, is included in the pack.
The following characters now use the pipe frame: Mario, Luigi, Metal Mario, Mona, 9-Volt & 18-Volt, Ashley, Wario-Man, Paper Mario, and Mario & Luigi.
Wario-Man has been reshaded to be more in-line with the other characters.
V11 - SUPER
(11/29/20)
=
Added Lucas.
=
Redrew Mario.
Internally named "KC_SuperMario".
=
Redrew Luigi.
Internally named "KC_SuperLuigi".
=
Redrew Metal Mario.
Internally named "KC_MetalMario_R".
=
Redrew Kumatora.
Internally named "KC_Kumatora_R".
=
Redrew Pit.
Internally named "KC_ClassicPit".
=
Redrew Ramona.
=
Redrew Paper Mario.
Internally named "KC_PaperMario_R".
Minor sprite fixes were made for 9-Volt & 18-Volt, Wario-Man, Alex, Osomatsu, and JFK.
Fixed Super Show Mario's prefcolor to be crimson instead of rosewood.
V10
(10/23/20)
=
Redrew Mario & Luigi.
Internally, this new Mario & Luigi is "KC_MarioandLuigi_R". The original design can still be found in KC Separate as its own file (KC_MarioandLuigi), and both can be loaded simultaneously with no problems.
=
Added Osomatsu (Osokart).
=
Added Karamatsu (KARAMATSU AGOGO).
=
Added 2D.
Revised Ramona and Wario-Man's signpost graphics and associated portraits.
Fixed the prefixes for Kart 8 Mario, Kart 8 Luigi, Metal Mario, Kumatora, Pit, Mob, Reigen, Paper Mario, Mario & Luigi (Original), and Super Show Mario in their individual .PK3s to be unique to prevent conflict.
Fixed Kart 8 Mario's drift frames so he glances in the direction he's turning.
V9
(10/11/20)
=
Added Biker Wario.
=
Added Mona.
=
Added 9-Volt & 18-Volt.
=
Added Ashley (Redesign).
=
Added Wario-Man.
Revised JFK's small portrait to make the chosen color more clear.
V8
(10/4/20)
=
Added Ramona Flowers.
=
Added JFK.
Reordered some of the characters on the character select screen to make more sense.
V7
(1/2/20)
=
Added Alex.
Fixed a bug involving certain character's rank, mini-map, and wanted portraits loading with a bad sprite name in the full PK3.
For some reason, I can't actually attach files to the thread anymore, so the upload link is now a Google Drive link to the .zip.
V6
(4/7/19)
=
Added Mob.
=
Added Reigen.

V5
(3/30/19)
=
Added Luigi.
Reorganized characters by franchise and type.
V4
(3/23/19)
=
Added Pit.
=
Removed all LUA files and adjusted character palettes accordingly.
Super Show Mario's shirt is now cyan.
Kumatora's dress now entirely changes color.
Mario & Luigi have their overalls change color. Kart color also matches overalls.
V3
(2/13/19)
=
Added Mario and Metal Mario.
=
Added an additional download for individual PK3s.
Unnecessary files have been removed from Goombakart.
V2
(2/9/19)
=
Added a LUA-less version of the pack (KC_mitpack_v2.pk3) for replay support and general support going forward.
Mario and Luigi's overalls + kart change color in KCL pack.
Super Show Mario's cap and overalls change color in KCL pack.
=
Fixed some things about Kumatora.
Both of her boost voice clips will now play properly. No idea why they didn't before.
Rebalanced her slightly (weight 3 -> 4).
=
Goombakart now has attacking voice lines.