I made sure my file(s) follow the Submissions Guidelines

Yes
It's finally here! A collection of SRB2Kart racers, spanning over multiple franchises and characters!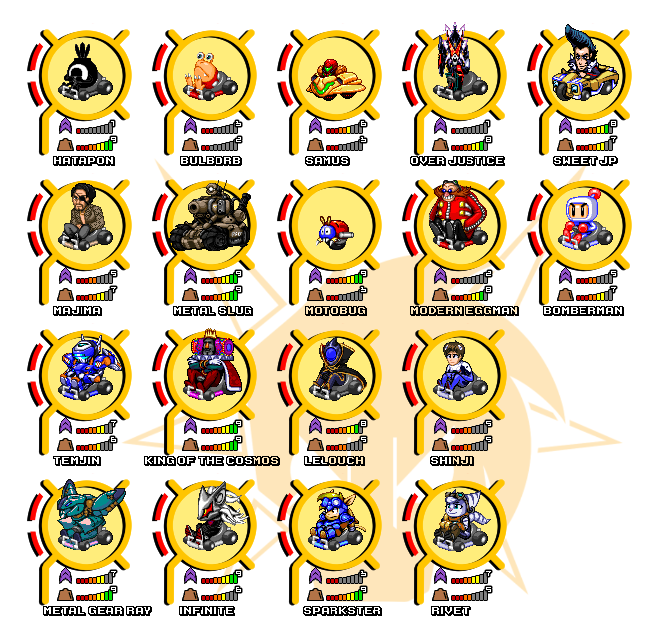 Characters are split into separate pk3 files included in the zip below, see spoilers for details:
CHARACTERS:
Bulborb - Pikmin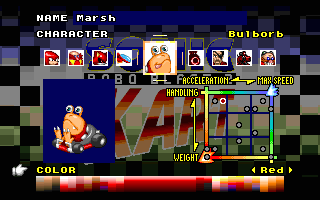 SPEED: 3
WEIGHT: 2
Just one Bulborb?! It's not even steering the kart! This small but ferocious beast that roams the land of PNF-404 has made its way to the race. At least it's just a small one..
Hatapon - Patapon
SPEED: 1
WEIGHT: 9
Hatapon, guarding the PATA and PON drums with his life takes his chances in SRB2 kart, though he may be small, Hatapon, with the aid of the powerful drums, becomes an unstoppable beacon of the Patapon army!
Majima - Yakuza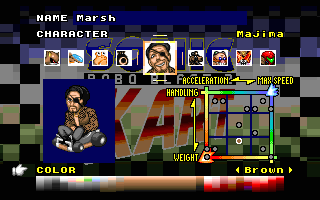 SPEED: 5
WEIGHT: 7
The Mad Dog of Shimano charges headfirst into SRB2K!
SV-001 Metal Slug - Metal Slug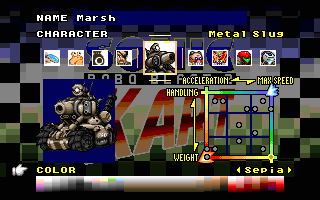 SPEED: 9
WEIGHT: 9
This powerful super tank blasts through the competition with its extreme 2,850 kilogram weight and Hobten T-659G air-cooled Superconductivity Diesel Turbine Generator powered engine, giving it extreme speed.
Modern Eggman - Sonic The Hedgehog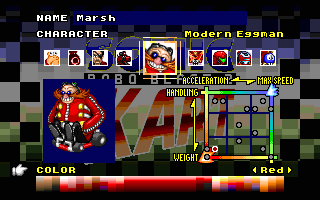 SPEED: 2
WEIGHT: 8
With an IQ of 300, The evil genius himself finally enters the race! Though this is the second egg the competition has seen, this one comes with an alternate, modern, look.
Over Justice - Space Patrol Luluco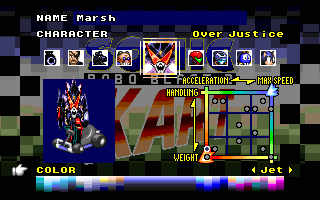 SPEED: 1
WEIGHT: 8

JUSTICE.
(And for an alternative look, type "JST_Papersprite" into the console.)
SAMUS - Metroid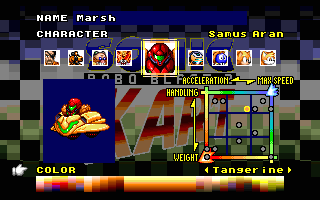 SPEED: 6
WEIGHT: 3
Samus Aran, the intergalactic bounty hunter and the main protagonist of the Metroid series, joins the race!
With a speed of 6 and a weight of 3, her iconic Gunship floats effortlessly along the track.
Temjin - Virtual-ON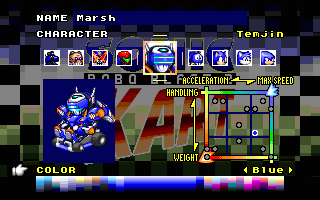 SPEED: 7
WEIGHT: 6
The Temjin is a Main Battle Virtuaroid (MBV) and was one of the very first VR models ever developed by the DN Corp., the other being the HBV-05-E Raiden. What it lacks in armament it compensates in generally balanced capabilities and performance in battle against opposing VRs. This balanced loadout transitions to SRB2Kart as well.
Wheelie Motobug - Sonic The Hedgehog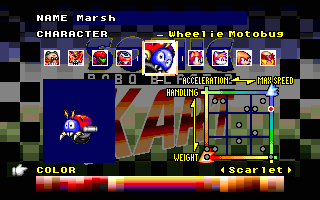 SPEED: 9
WEIGHT: 3
Motobug has decided to leave its kart, to motobug's surprise, its now much faster, and lighter even!
Bomberman - Bomberman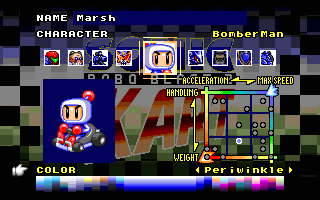 SPEED: 5
WEIGHT: 7
Bomberman makes an explosive entrance!
Infinite - Sonic The Hedgehog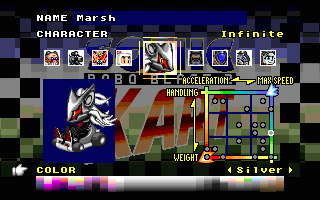 SPEED: 9
WEIGHT: 6
Returning with a vengeance, and he's definitely not weak
Sweet JP - REDLINE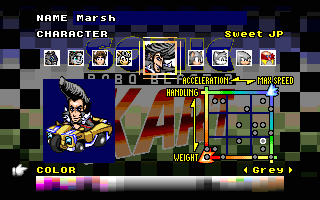 SPEED: 8
WEIGHT: 7
After his winning title at Redline, JP is set to take on the fastest thing alive in a race he couldn't miss
Sparkster - Rocket Knight Adventure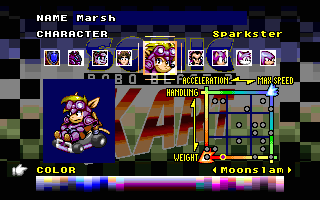 SPEED: 3
WEIGHT: 9
Even with that heavy armor, this knight's trusty jet booster should be enough to keep him up to speed!
Shinji - Evangelion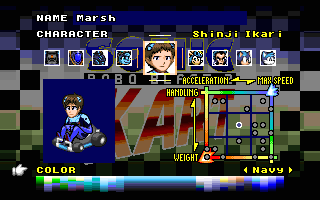 SPEED: 5
WEIGHT: 5
You won't believe how long it took us to convince him to get in the kart
Rivet - Ratchet and Clank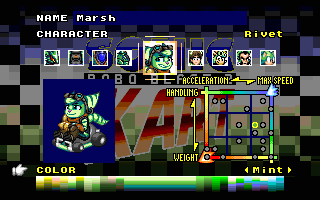 SPEED: 7
WEIGHT: 5
Surprisingly this probably isn't the only lombax you'll see in kart
Metal Gear Ray - Metal Gear Solid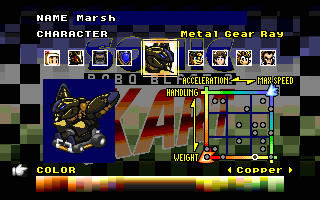 SPEED: 7
WEIGHT: 9
Doesn't that technically mean you're playing as a really tiny liquid ocelot?
Lelouch - Code Geass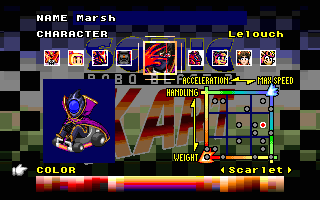 SPEED: 8
WEIGHT: 5
I wonder who he "convinced" to give him that kart
The King of the Cosmos - Katamari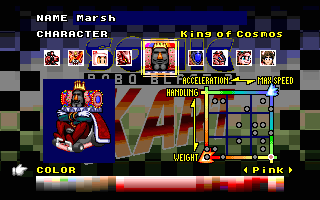 SPEED: 9
WEIGHT: 9
We used to drive cars before, but not anymore, not at all.
Why?
Well, we can fly now.
oh, What?
You want to roll up cars?
We have no interest in cars.
We have no idea why anyone would think that it would be fun.
To roll up a car.