I give permission for this addon to be reused, modified, or ported by anyone

No
I understand my submission will be rejected if it does not follow forum rules, Submissions guidelines, and/or file name conventions

Yes
Welcome to
KelChars!
A collection of SRB2Kart racers that I've created, containing characters from various pieces of media.
More characters are planned to be added in the near future, so stick around!
I hope you enjoy playing as these characters as much as I did making them! :D
​
- CHARACTER BIOS -
Speed:
5
Weight:
5
The wielder of the legendary Gitaroo makes his way onto the track! He's a steadfast kid, and is raring and ready to rule the race!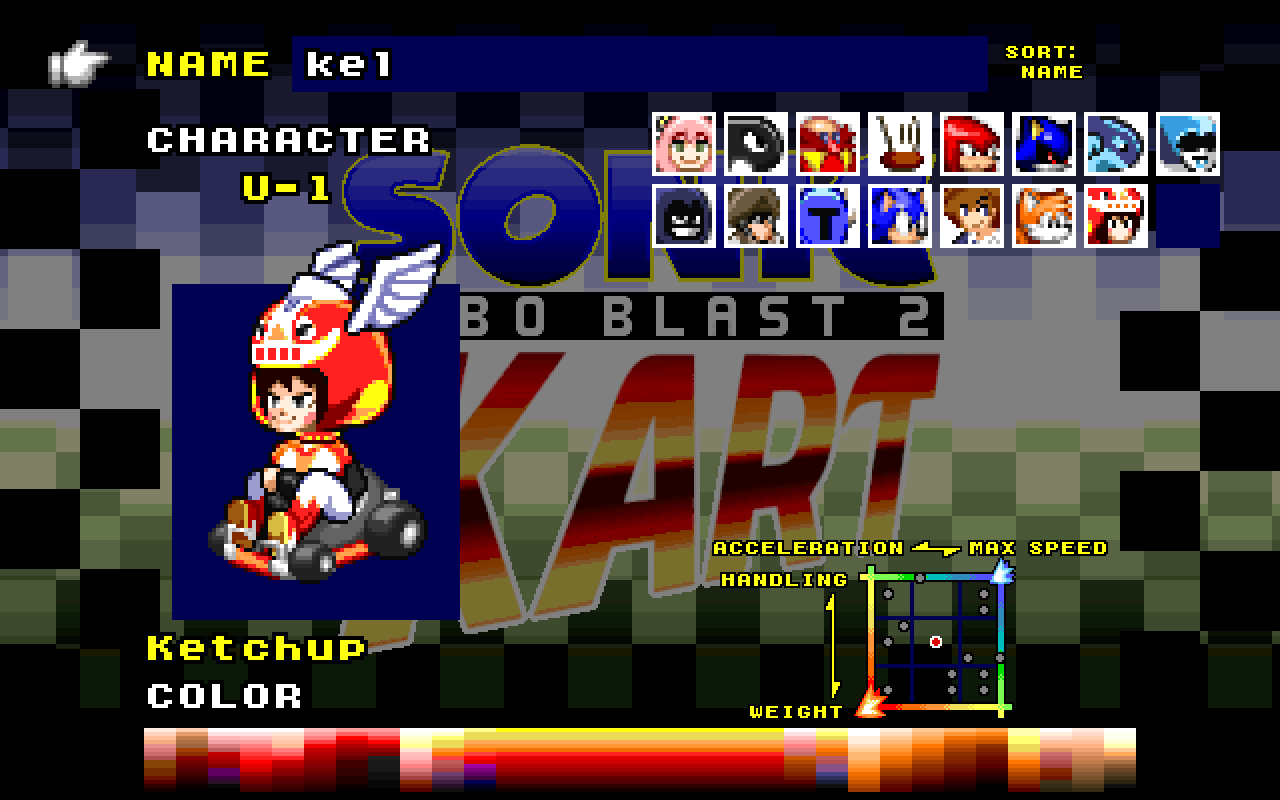 Speed:
8
Weight:
7
A shell fired from a Bullet Blaster, and one of Bowser's most prominent minions. Easily identified by their angry eyes, Bullet Bills usually fly across the land in perfectly straight lines... except for this one! This blazing bullet will barrel through the track and leave you in the dust, if you don't stop it first, of course!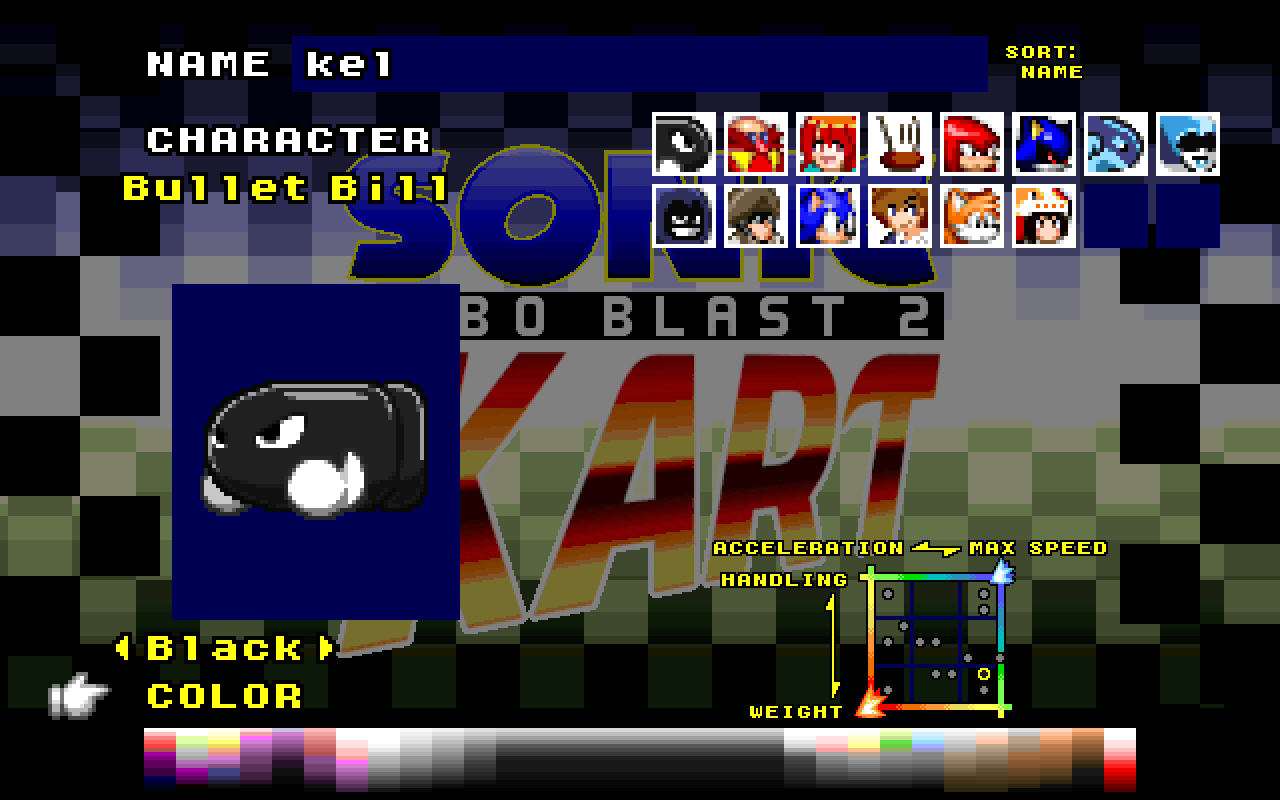 Speed:
8
Weight:
3
A human-demon hybrid, originating from the parallel dimension of Azarath, and one of five founding members of the Teen Titans. She's quite fast, but her light weight leaves her very unstable.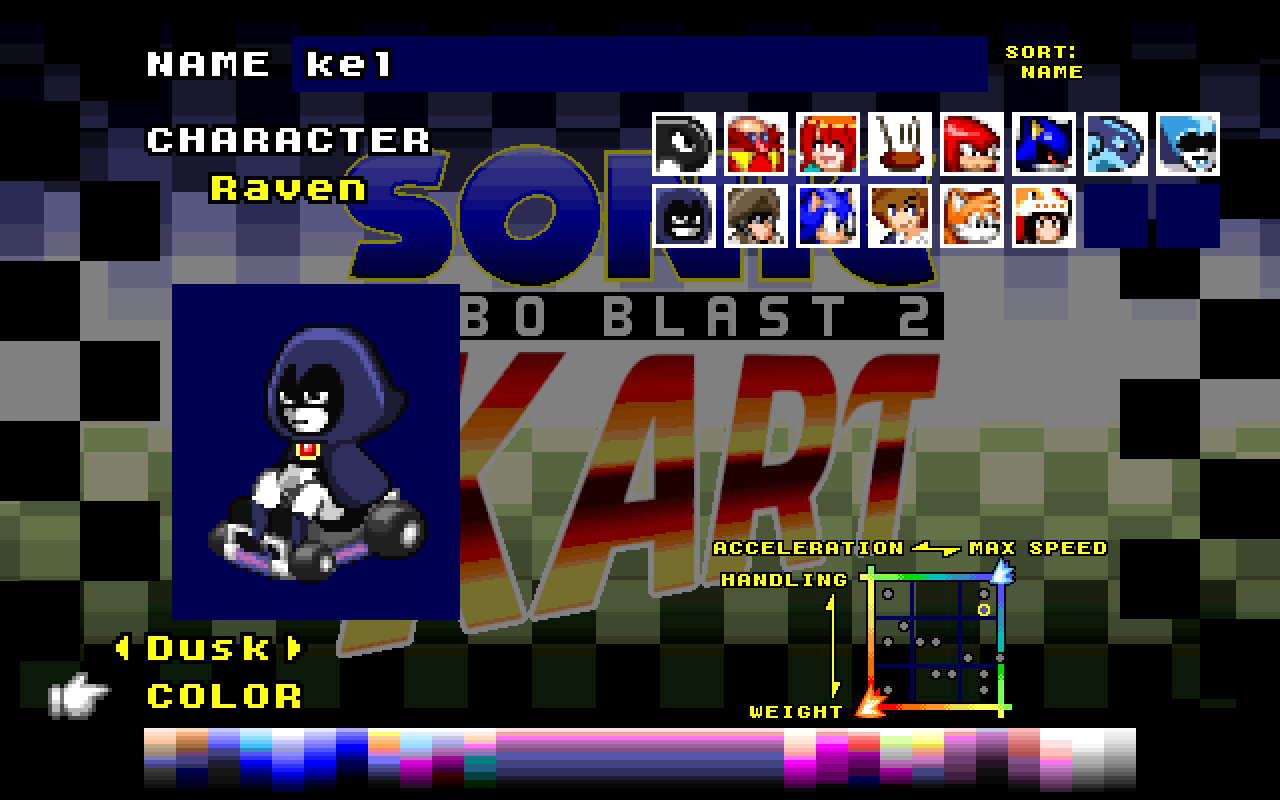 Speed:
6
Weight:
7
Queen, full name Serial Number Q5U4EX7YY2E9N, makes her way onto the race track! She's got relatively moderate stats, leaning into the heavy end of the grid. Show the other racers not to mess with the ruler of the cyber world!
Queen Has a 3D Model available, thanks to the fantastic
fznmeatpopsicle
! Check out her model, as well as the rest of his top-notch models
here
!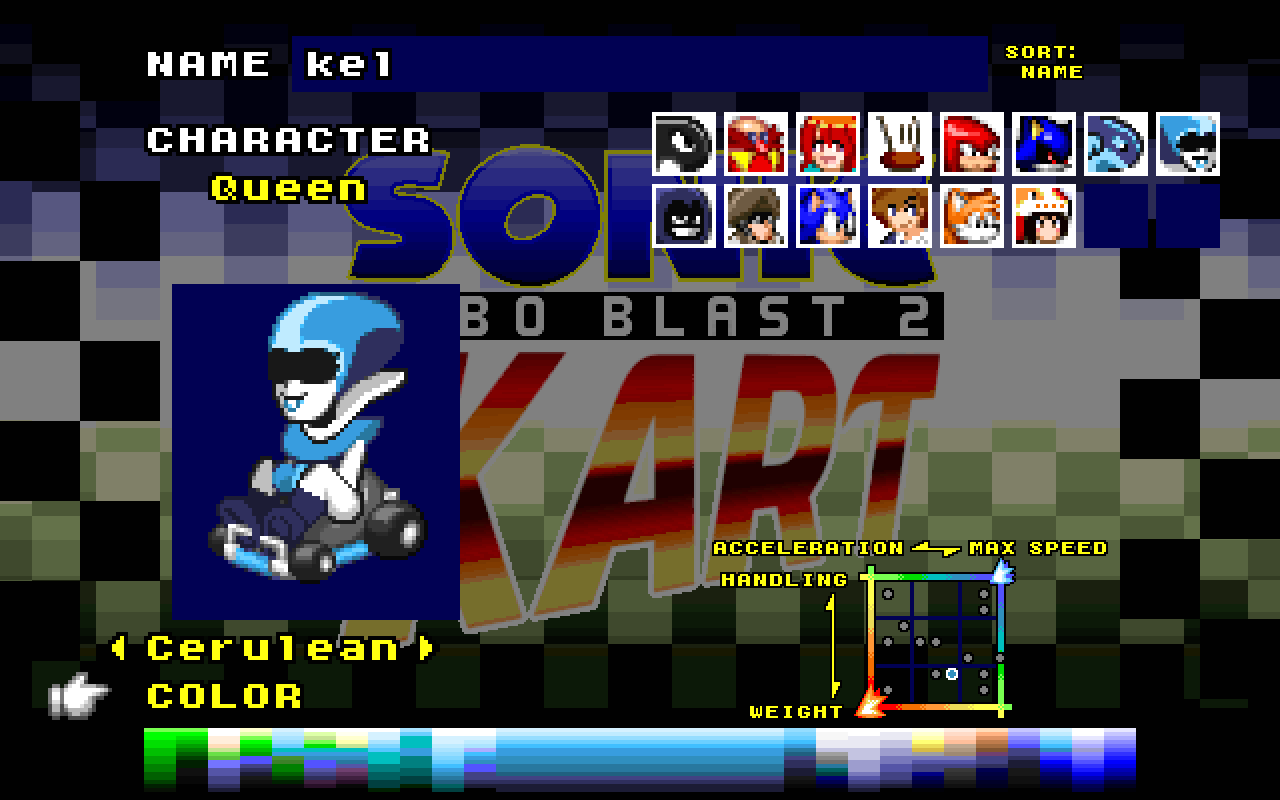 Speed:
6
Weight:
5
An idol who yearns to become a fast food shop owner. She'll drive as hard as she possibly can. Not to worry though, she'll come back from the ashes like a phoenix!
Yes, she is a phoenix, NOT a chicken or turkey. (This is VERY important)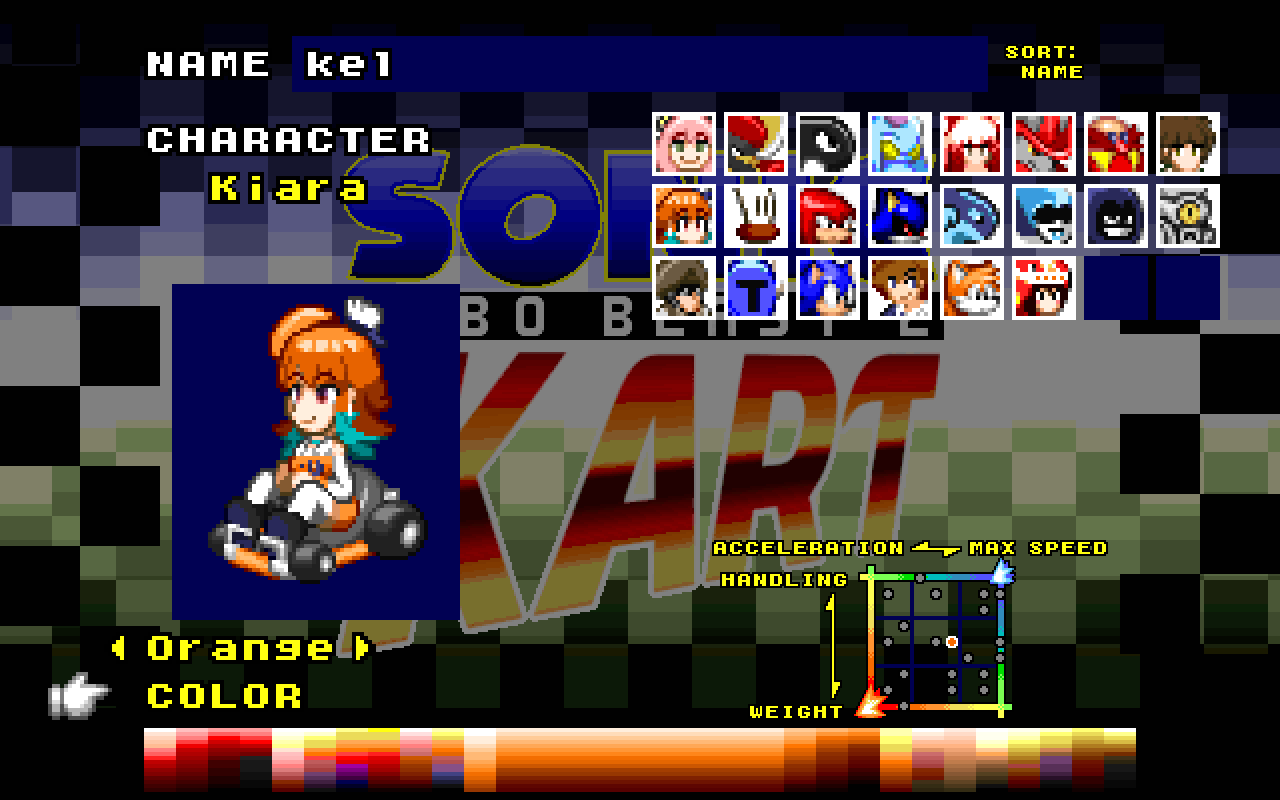 Speed:
2
Weight:
5
The hero of the Neverhood makes his way onto the track! Klaymen takes his time when walking and other actions. This can be seen in his driving style as well.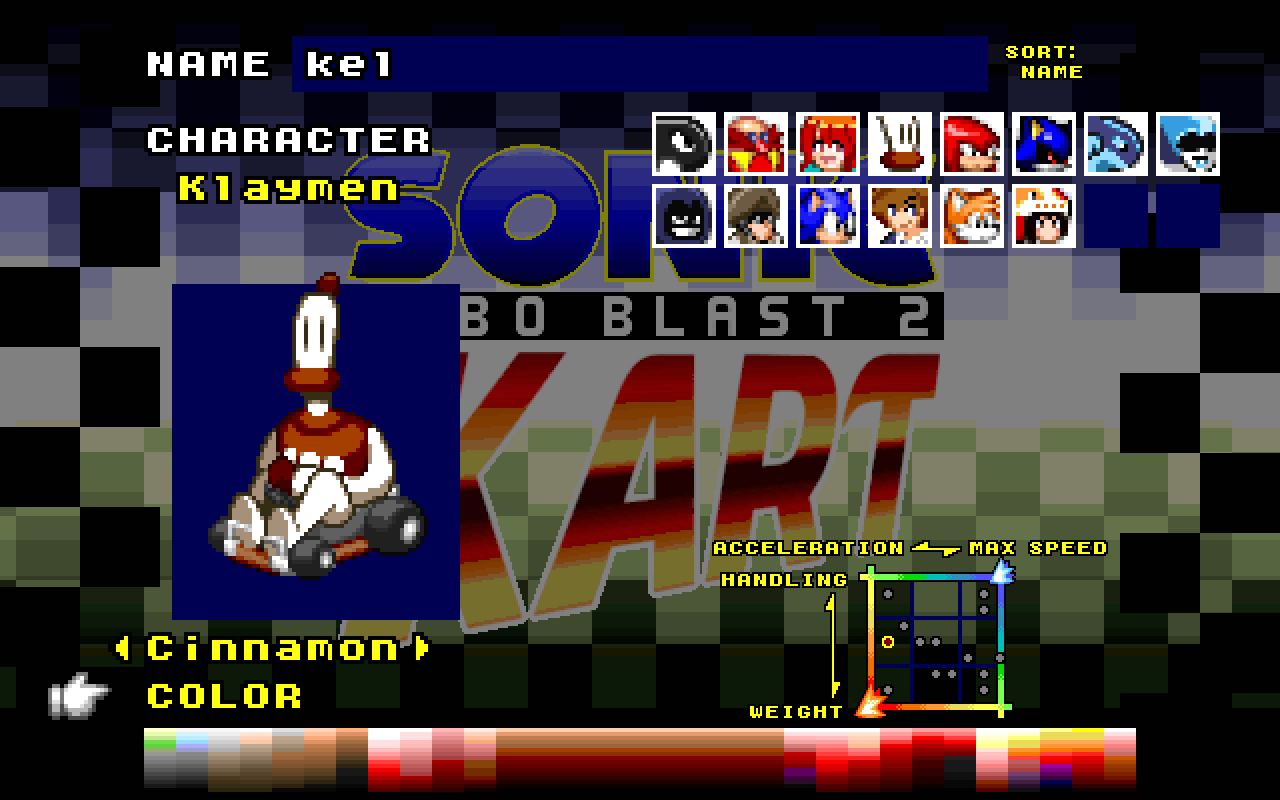 Speed:
3
Weight:
4
The brave and heroic wielder of the Keyblade joins the fray! Despite not being particularly fast, Sora retains his upbeat and optimistic attitude.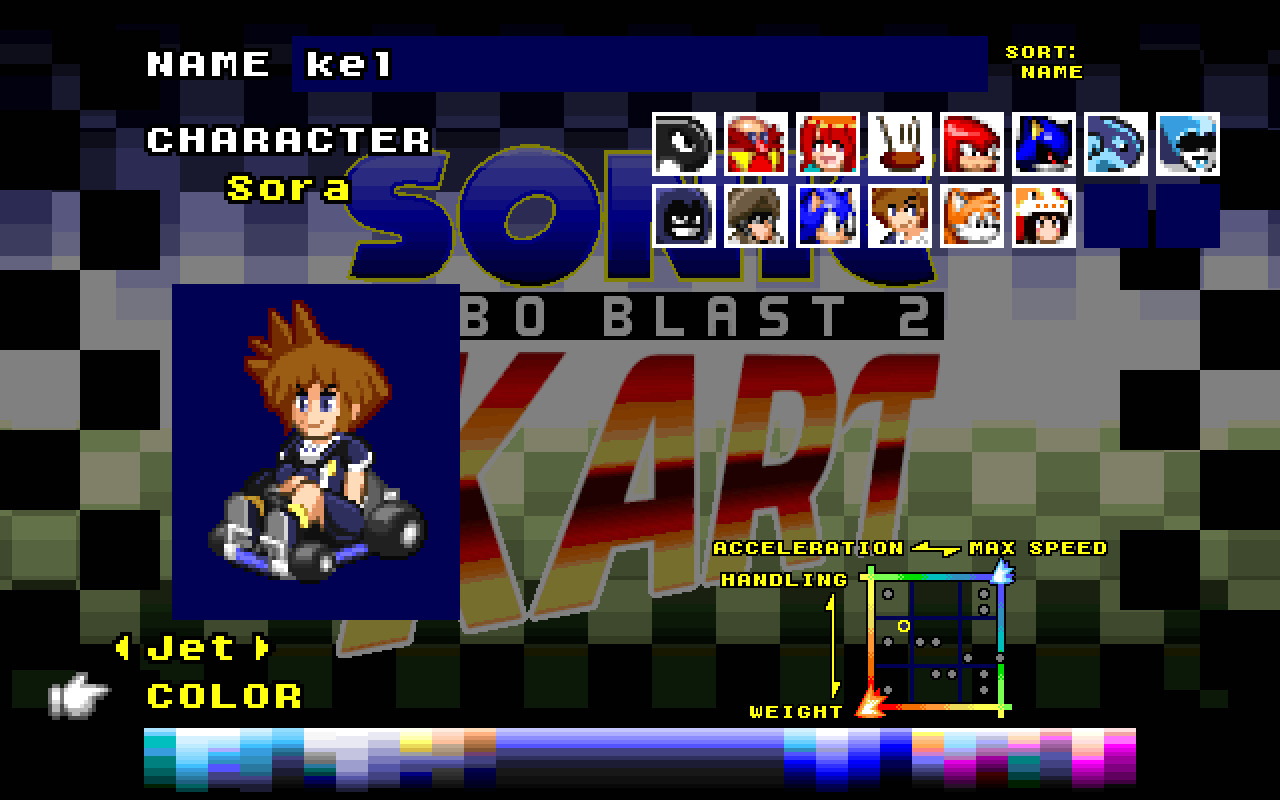 Speed:
9
Weight:
6
(Warning! This character uses several expletives for his voice clips!)
A simple, sailor-mouthed soldier... Or is he? Make aggressive plays and break away from the pack towards glorious victory with his maxed out speed stat!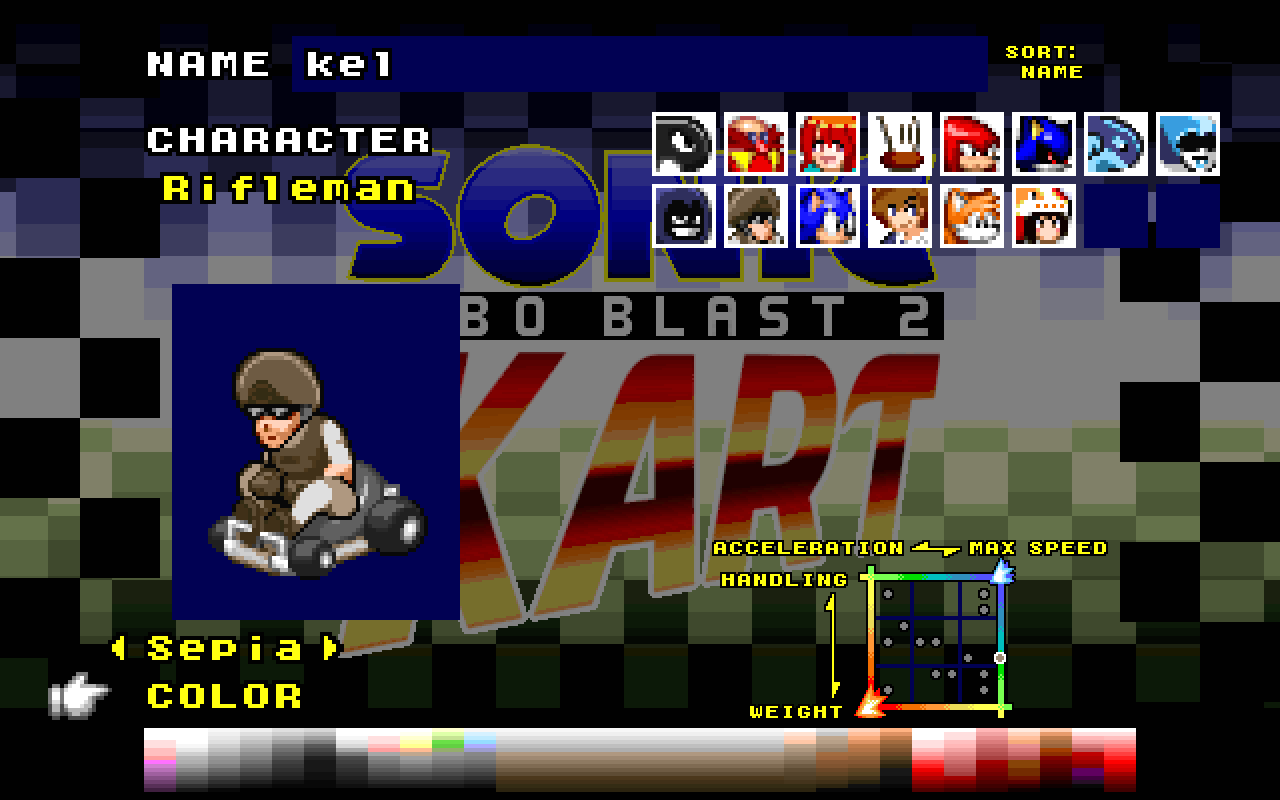 Speed:
7
Weight:
6
This playful trickster finds his way into a new kind of brawl, one of high-velocity Orbinauts and devilishly-placed banana peels! Use his well-rounded stats to get out of the most precarious situations and break away from the chaos of the other racers!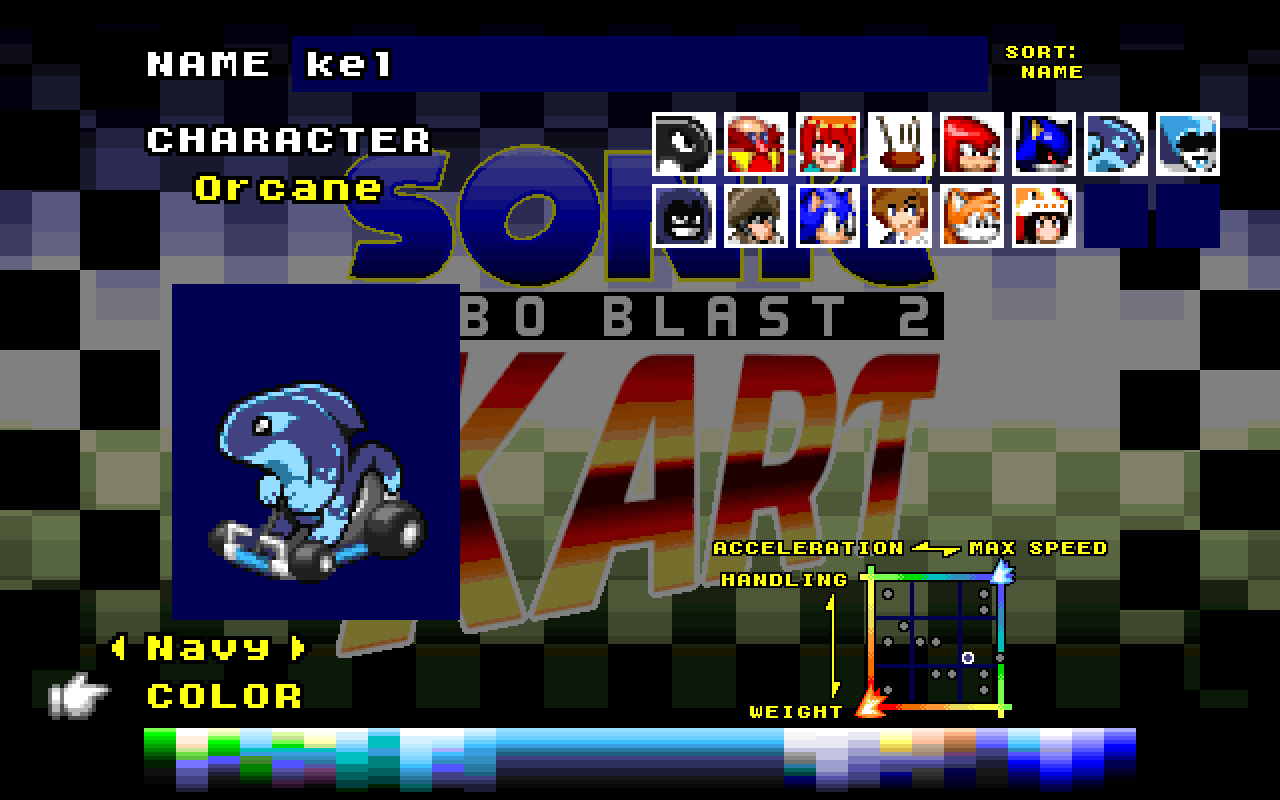 Speed:
4
Weight:
1
Who let this smug child in the race??!
Speed:
6
Weight:
8
The titular protagonist of the revered indie title somehow found his way onto the race track! This chivalrous adventurer uses his heavy armor to knock his opponents out of the way. This'll be one character that you'll really dig!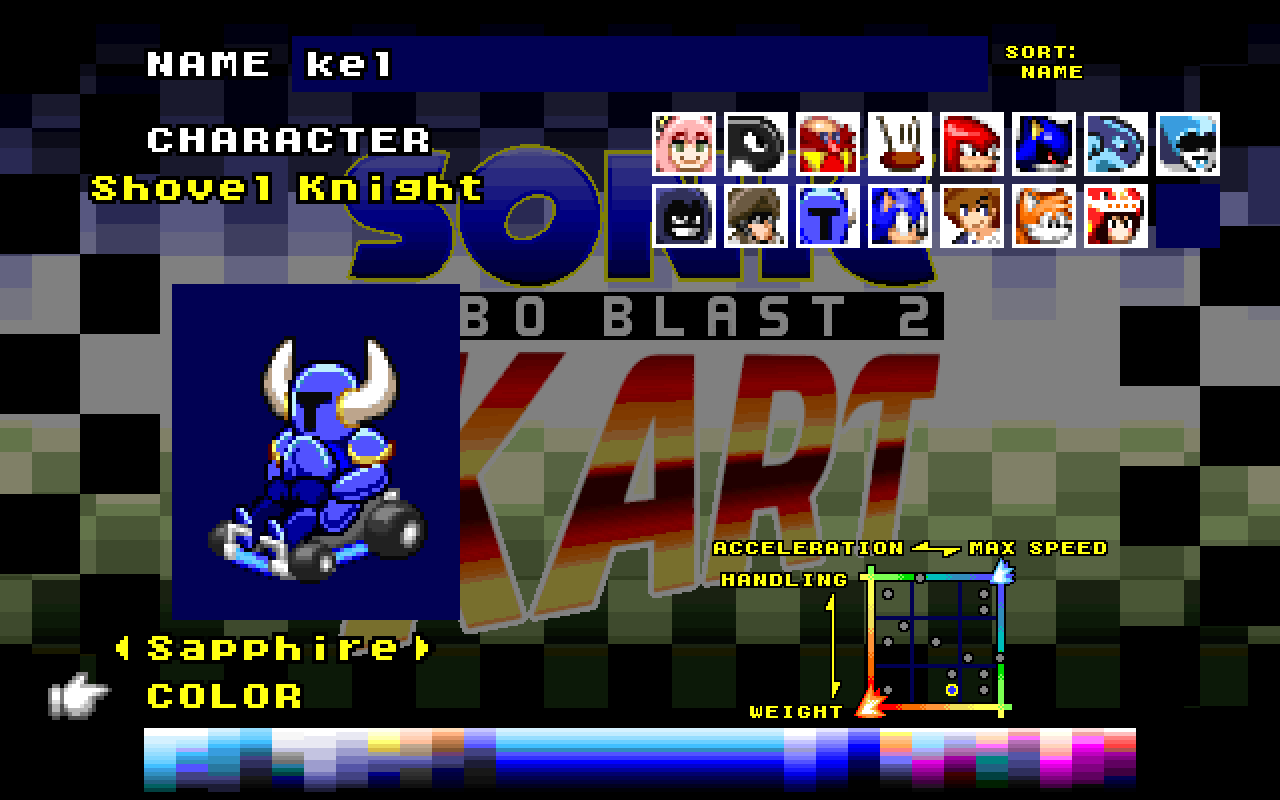 Speed:
9
Weight:
2
The leader of the Squeaks is no stranger to high-paced antics! Whether he's stealing positions or items, this roguish rodent has the potential to leave his foes in the dust!
Speed:
3
Weight:
7

The Sword Blade Pokémon is no stranger to combat, even when in the driver's seat! Show your opponents not to mess with this pitiless paladin as you slice and dice your way through them all!​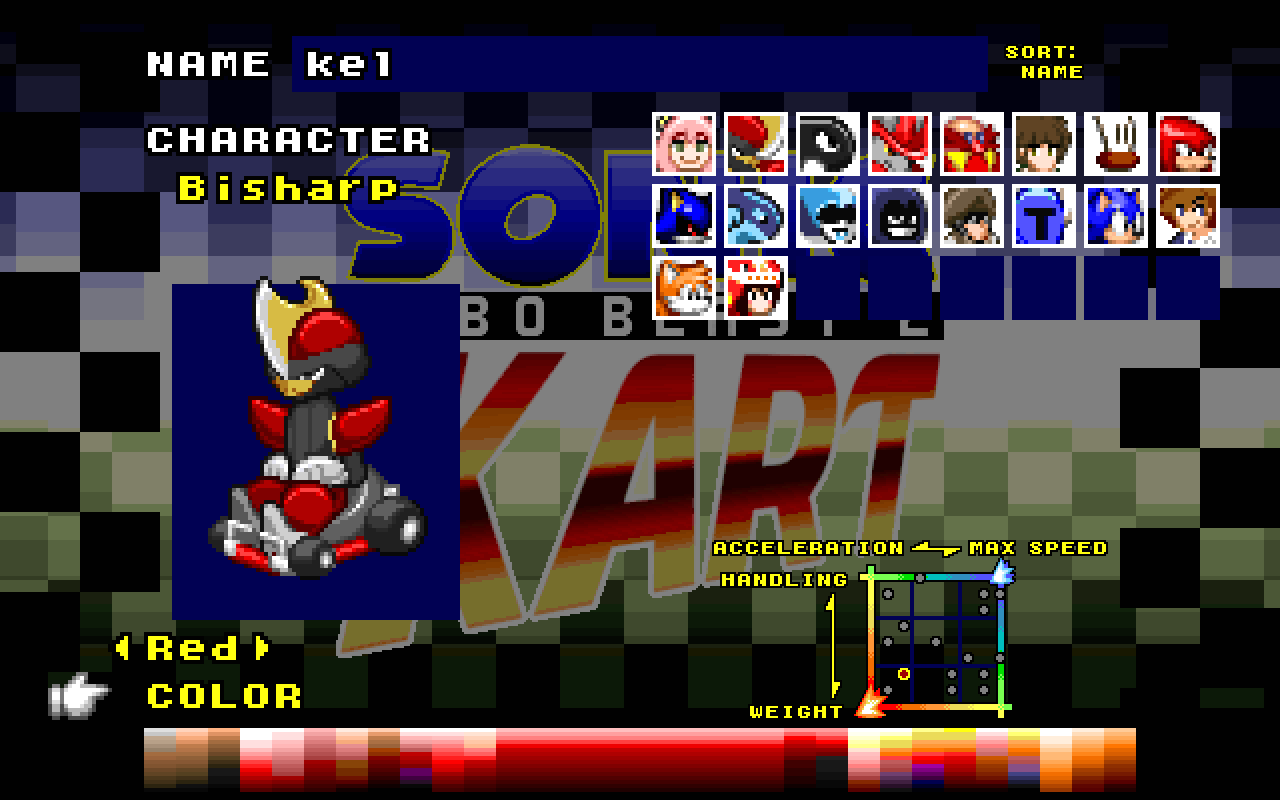 Speed:
5
Weight:
5
Even though he may not have an ultimate talent, this spiky-headed protagonist is able to hang with the best of them. Use his adaptable stats to shoot through your opponents in nearly any game mode!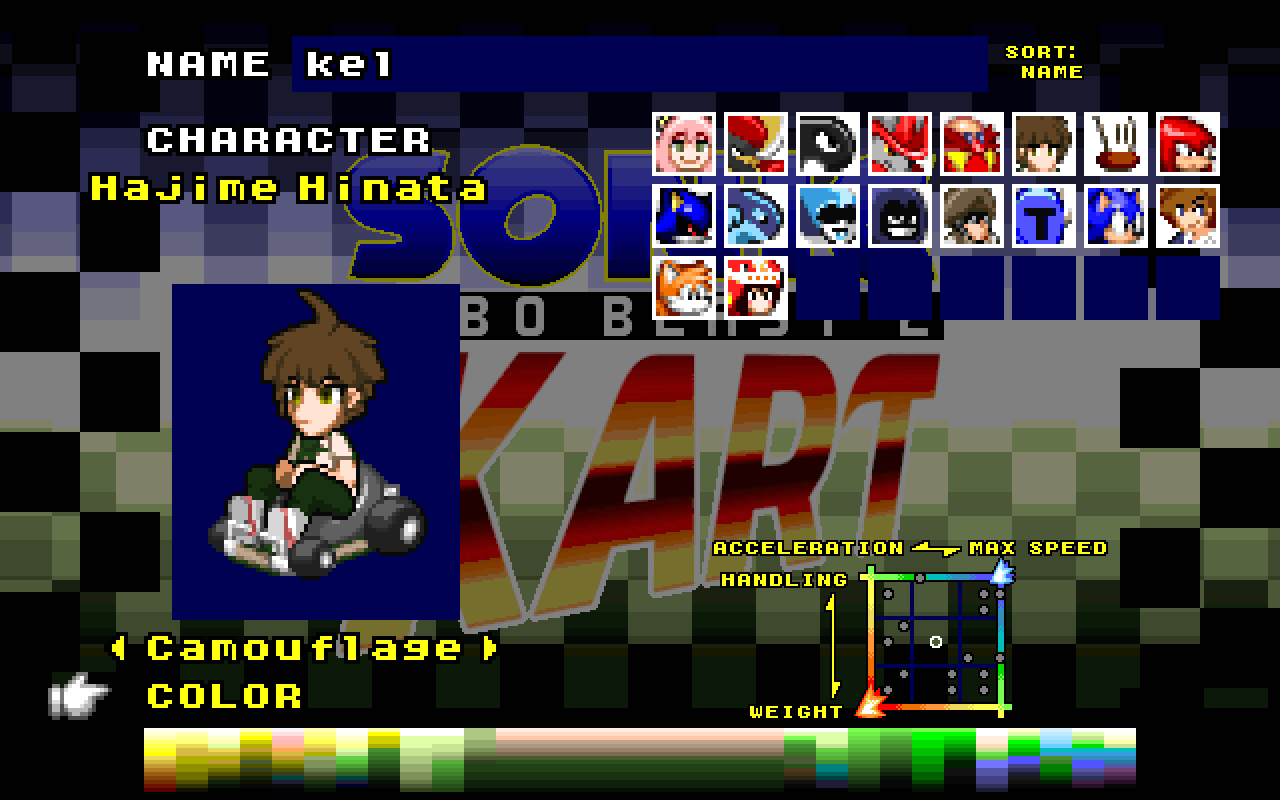 Speed:
3
Weight:
9
The God of Destruction has been racing for a good while now, but I wanted to take my own spin on his sprites. He retains the same stats as his bonuschars incarnation, so veteran players can continue playing as this mutant Chao the same way they always have, but now with a glow-up!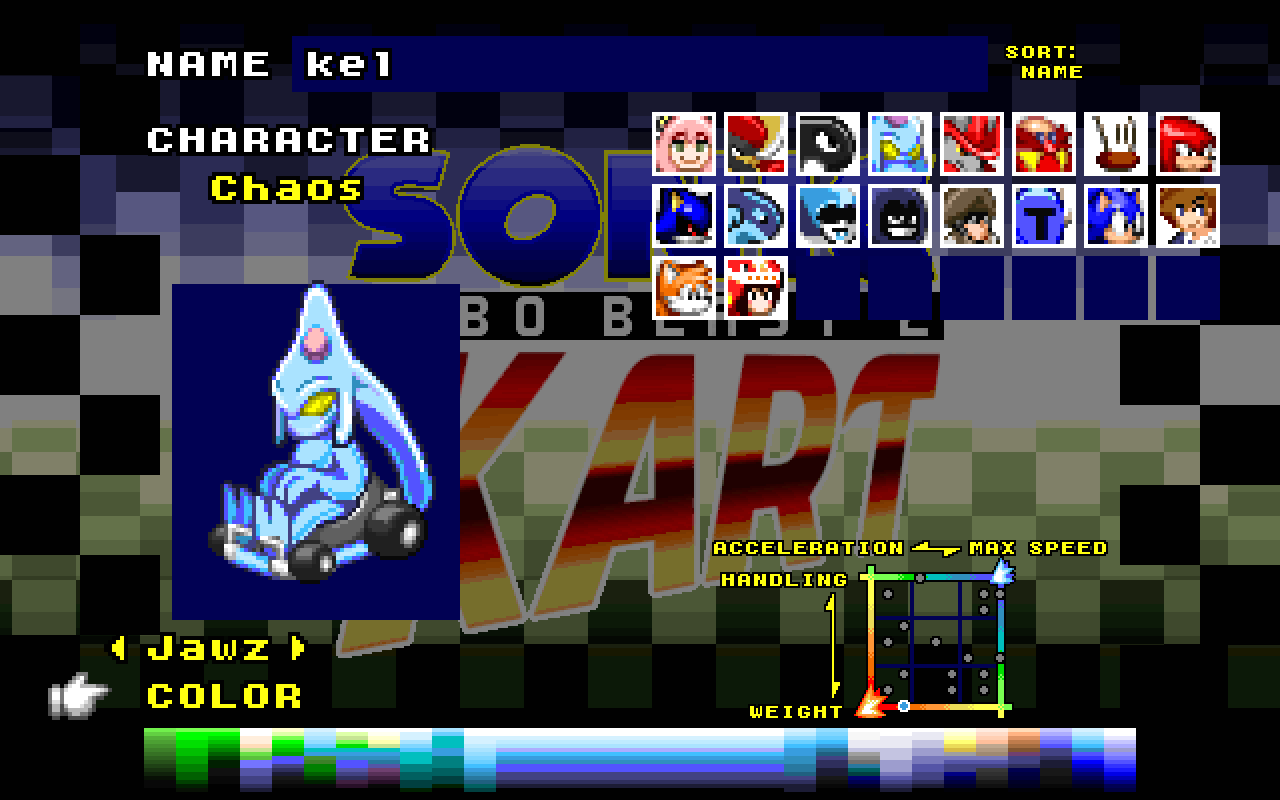 Speed:
5
Weight:
2
Though usually soft-spoken, Toki is ready to show her loud and enthusiastic side on the track. Who knows? Maybe she'll sing a song about how she slipped on a banana peel.
Speed:
9
Weight:
5
The Multi-Cyl Pokémon finds itself far away from the Paldea Region. However, it fits onto the racetrack incredibly well! Although, it's signature Spin Out move won't be very helpful here...