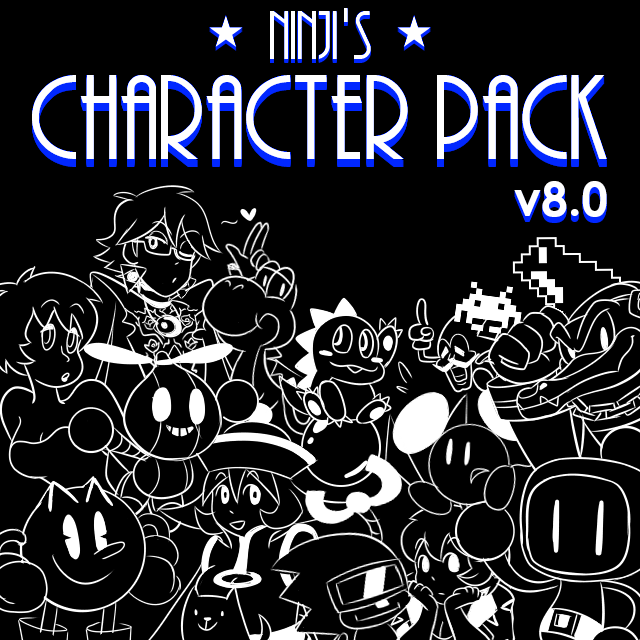 Figured it was about time I made one of these!
This pack contains
16 characters,
and the number just keeps growing.
There are two versions of the pack: one with every character packed into one file, and one with each character file separately.​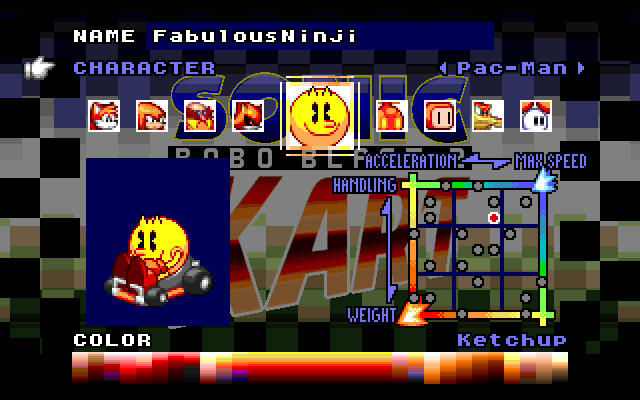 PAC-MAN
Speed: 6 | Weight: 3
The yellow bane of ghosts everywhere, Pac-Man is no stranger to kart racing.
He's a lightweight racer with pretty good handling and max speed.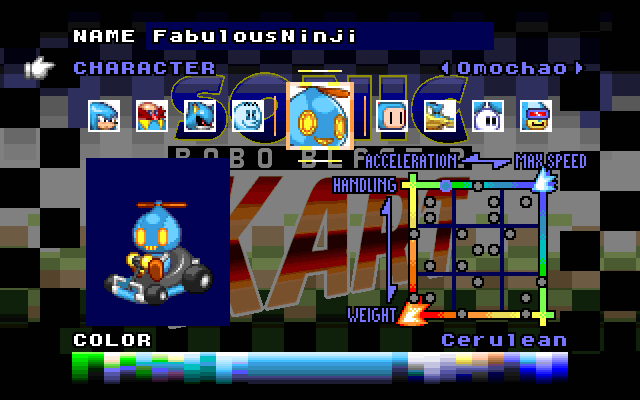 OMOCHAO
Speed: 3 | Weight: 1
It's everyone's favorite(?) tutorial robot, here to give you some racing tips.
His light weight makes him very easy to bully, but he has great acceleration to compensate.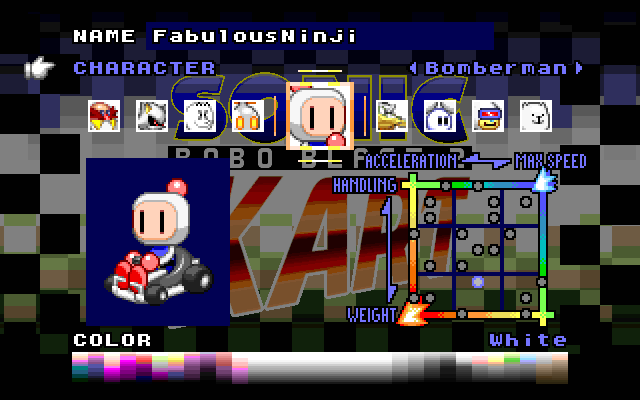 BOMBERMAN
Speed: 5 | Weight: 7
Yup. It's him.
Bomberman is a bit on the heavy side with average max speed and acceleration.
MODERN VECTOR
Speed: 4 | Weight: 9
Because why have just one Vector when we can have
two?
His super-heavy weight lets him knock around lightweights with ease.
CHUCHU
Speed: 5 | Weight: 1
Memories of escaping gluttonous space cats forever haunt this little guy.
Its light weight lets it turn very quickly, at the expense of being very easy to knock around.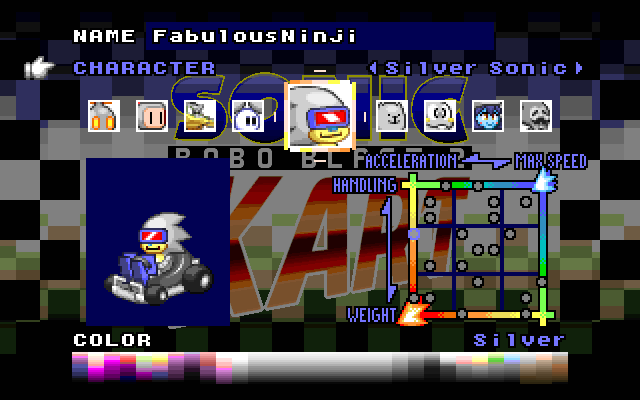 SILVER SONIC
Speed: 1 | Weight: 4
The first in a
very
long line of robotic Sonic doppelgangers to come.
He might not be the fastest, but his excellent acceleration lets him gain speed very quickly.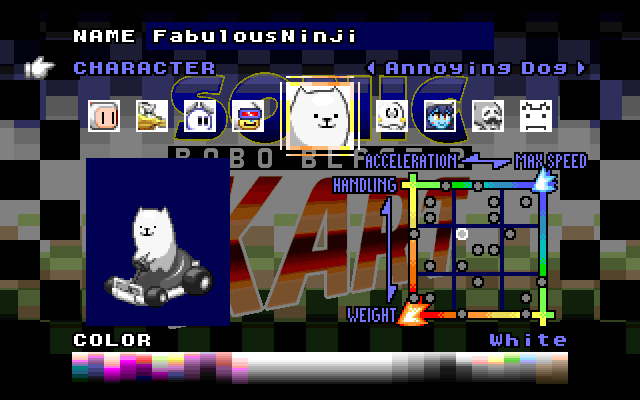 ANNOYING DOG
Speed: 4 | Weight: 4
Somewhere, somehow, a little white dog taught itself how to drive a go-kart.
Don't question it.
Its speed and weight are close to average, leaning more towards acceleration and handling.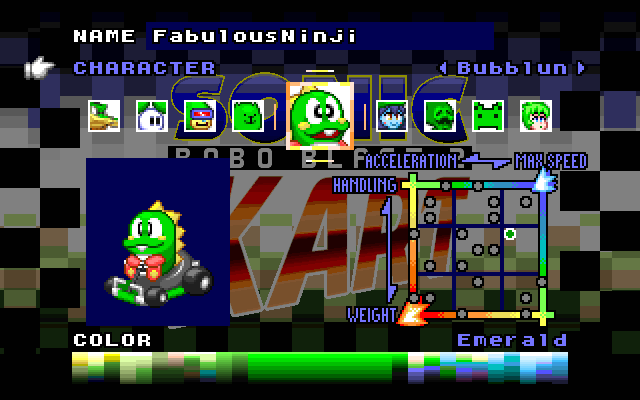 BUBBLUN
Speed: 7 | Weight: 4
Now, it is beginning of a fantastic story!!
Bubblun's main weakness is his low acceleration, but his speed and weight make up for it.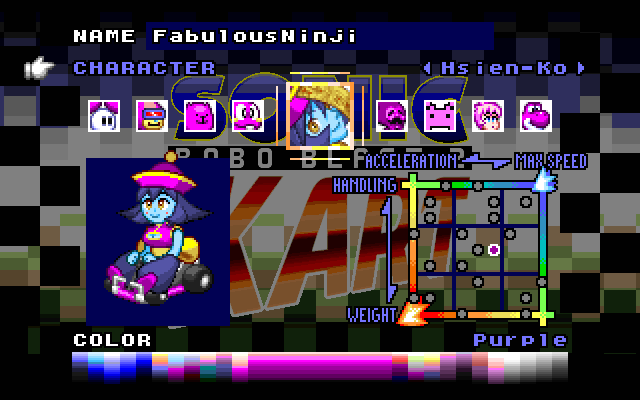 HSIEN-KO
Speed: 6 | Weight: 5
A jiangshi who hunts the Darkstalkers with her sister in hopes of bringing back their mother.
Her average weight and top speed let her easily bounce back from dangerous situations.
MAJIN
Speed: 9 | Weight: 7
Fun is infinite with SEGA Enterprises, and now SRB2 Kart, too!
His high weight and max speed make him a dangerous threat, especially to lightweights.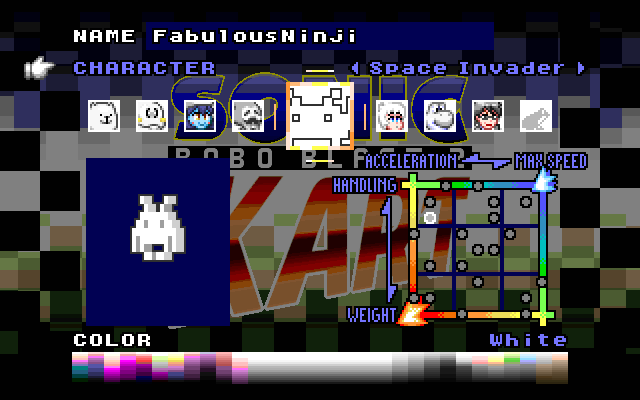 SPACE INVADER
Speed: 2 | Weight: 3
What's this? An invader? Possibly from space?
Don't underestimate this thing. It can easily make sharp turns and gain speed in a snap.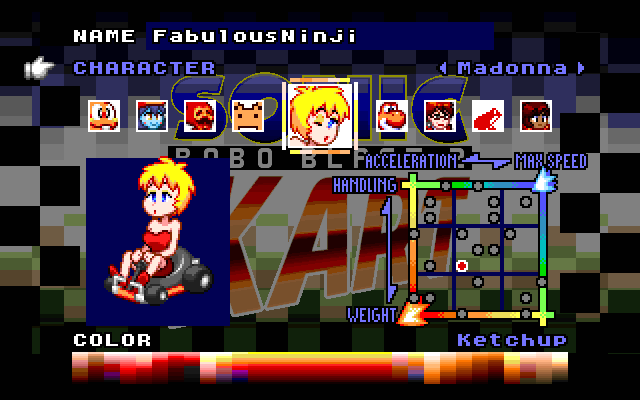 MADONNA
Speed: 4 | Weight: 6
Now we're getting into REAL obscure territory! It's Sonic's original love interest that never was.
She's not as fast as her boy in blue, but she can gain a good amount of speed fairly quickly.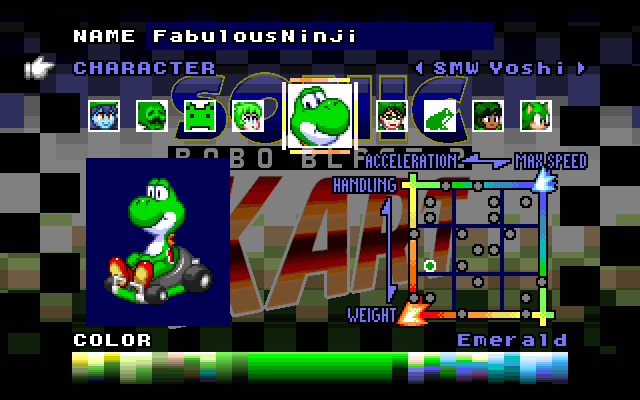 SMW YOSHI
Speed: 2 | Weight: 6
Sporting his design from Super Mario World, it's Yoshi!
Similar to Super Mario Kart, his handling is a bit weak, but he has excellent acceleration.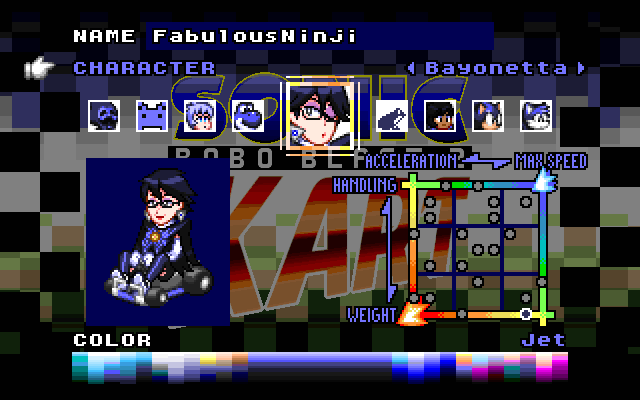 BAYONETTA
Speed: 8 | Weight: 9
The angel-slaying Umbra Witch makes her smashing appearance!
Her high-speed and super-heavy weight are a deadly and powerful combination if used well.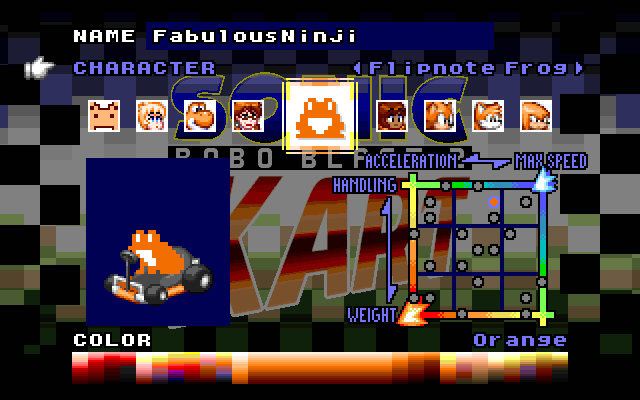 FLIPNOTE FROG
Speed: 6 | Weight: 2
Break out your Nintendo DSi, it's the mascot of the gone (but not forgotten) Flipnote Hatena!
Though it's easy to bump around, its speed and handling are great for getting out of danger.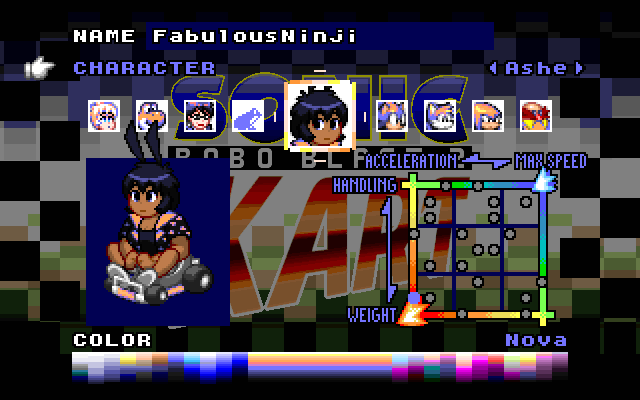 ASHE (New!)
Speed: 1 | Weight: 8
A mute, easygoing girl with pointy, vaguely rabbit-like ears. She's also very tall and strong.
Her low speed combined with her hefty weight let her build up drift sparks very quickly.
It's my character pack, I'll put in an OC if I wanna :V
​
v8.0
-
Ashe joins the roster!
- Pac-Man has new sprites and voice clips!
- ChuChu's sprites were cleaned up drastically.
- Fixed a frame in Flipnote Frog's spinout.
v7.0
-
Flipnote Frog joins the roster!
- Madonna has new sprites and voice clips!
- SMW Yoshi's sprites received some clean-ups.
- Majin's sprites received some minor tweaks.
v6.0
-
Bayonetta joins the roster!
- Bomberman has new sprites!
- Bubblun (7,4), Hsien-Ko (6,5) and Madonna (4,6) have new stats.
v5.0
-
SMW Yoshi joins the roster!
- Annoying Dog and Bubblun received some major clean-ups.
- Bubblun's win sound is now a higher quality.
- Omochao has a new(ish) minimap icon.
v4.0
-
Madonna joins the roster!
- ChuChu and Hsien-Ko have brand new sprites!
- ChuChu's default color is now Blue.
v3.0
-
Majin joins the roster!
-
Space Invader joins the roster!
(Yes, seriously.)
- Every character (and the pack itself) has a reduced filesize!
- Modern Vector now uses his voice from Sonic Free Riders.
v2.0
-
Hsien-Ko joins the roster!
- Modern Vector has more unique voice clips to better distinguish him from bonuschars Vector.
- Pac-Man has a new lose sound.
- Included a version of the pack with the individual character files.
v1.1
- ChuChu is now up to date with its standalone release.
- Included ChuChu's MD2 with the file.
v1.0
- Initial release.
Last edited: