I give permission for this addon to be reused, modified, or ported by anyone

Yes
I made sure this follows Submissions guidelines

Yes, and I understand my content will be rejected if it does not follow the guidelines.
After days and days of making characters and getting a good abundance of some, I think now is a great time to present:
Hey guess what? After months of this thread existing, it actually got updated!!
Character list
Original Characters


Iren The Porcupine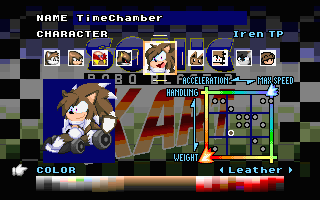 Speed: 4
Weight: 6
An OC that I made recently that I'm genuinely proud of! Now he's finally been added in the game. I actually voiced this OC as well!
Blansl8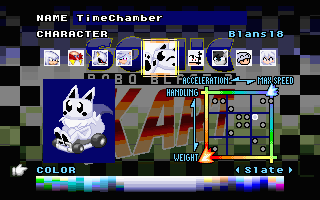 Speed: 7
Weight: 4
A very peculiar character that I designed all the way back in high school. I still don't know what Blansl8's whole deal is.
MegaNorper (Shitpost) -LOUDEST CHARACTER IN THE PACK-
Speed: 9

Weight: 2

A true demon in kart form with high speed and no handling what so ever. They say the last thing you hear before you die is:

YOU FOOL



MN the Dragon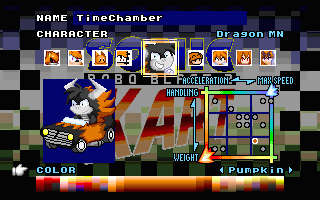 Speed: 7
Weight: 7
An improved and completely revamped version of MegaNorper. While the one currently in the pack is an obvious meme, this one is a lot less potent. Rocking a toned down version of the Flame Flyer from MKWii.
Skullie
Speed: 6

Weight: 4

A character I literally only designed for a college assignment...and eventually he started to grow on me. Skullie is only a nickname, no one really knows what his actual name is.

Official Characters


UPDATED! Adell (Disgaea 2)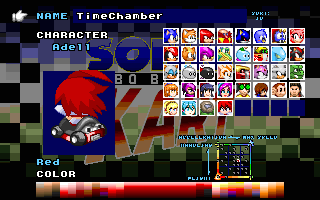 Speed: 6
Weight: 5
The main character of Disgaea 2! Adell is ready to race and show his style behind the steering wheel!
Laharl (Disgaea)
Speed: 8
Weight: 5
Along with Adell, Laharl the main character of Disgaea 1 is also here! Haaahahahaha!
Sheepman (Megaman 10)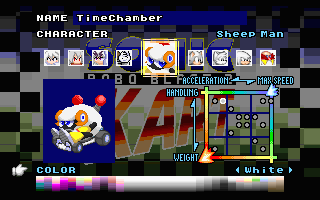 Speed: 3
Weight: 2
The Electric sheep robot master from Megaman is the newest addition to the kart roster! Another character who I had to voice myself...apologies if its very much out of character I don't play much Megaman.
Axel (Disgaea 2)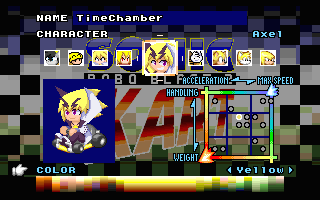 Speed: 5
Weight: 4
The Dark Hero from the second Disgaea game is finally here! Don't worry this pack will have more than just Disgaea characters.
Tempo (Tempo 32x)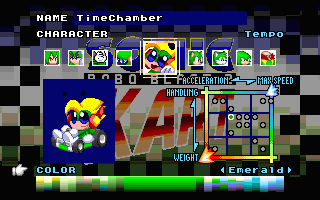 Speed: 4
Weight: 4
The musical cricket from the obscure 32x game "Tempo"! 'Tis a shame that this game is quite underrated and unheard of. But that won't stop me from putting this good boy into SRB2Kart!
NEW! Shard The Metal Sonic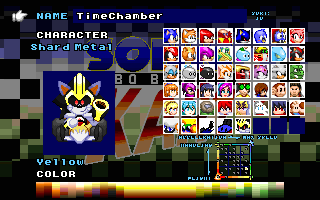 Speed: 8

Weight: 7

Wait how did he get Iren's kart? Eh whatever it doesn't matter that much. The Metal Sonic with one arm is here to take a chance behind the wheel and show what he can do!

Other Characters


Chipflake
Speed: 4
Weight: 3
Well well! This is an interesting addition to SRB2Kart! A catto who is quite well known in the storytime animator community:
Chipflake
! I wanted to make them in the game because I really like their content!
JSchlatt (Strong Language)
Speed: 3
Weight: 7
The funny minecraft streamer with a
fucking gun
is here to cause some mayhem in kart! While
Schlatt
may be slow, he's surprisingly pretty weighty. Not a heavy weight but a nice mid weight.
Terminal Montage Styled Hornet
Speed: 8
Weight: 8
Oh boy, another Hornet. What is this like the 5th hornet on the BB? Oh well, at least this one has some kind of differences.
Terminal Montage Styled Virtua

Speed: 9
Weight: 6
Another attempt at me wanting to do the "Something About" art style when it comes to kart. There's not really much to say about Virtua. He's significantly lighter and faster than Hornet, so be careful if you take turns too late.
Terminal Montage Styled Iren

Speed: 2
Weight: 4
Wait...what? Another Iren? And he's practically half the stats??? okay I guess...
​
Credits
Atticus - Sprite assistance and coloring
Sounds resource - Laharl's voice lines (Disgaea 4: A promise unforgotten) White Bomberman's Voice lines (Super Bomberman R)
Plom510 - Crash Team Racing kart sprites
Nippon Icchi Software - Adell and Axel's voice lines (Disgaea 2: Cursed Memories/Dark Hero days)
Fontes - Ultra detailed standard Kart (The one sheepman has)
Mr.Logan - Standard kart with better tires.
Mit - Creator of the pipeframe kart
ShihoAJoke - Polished Kart sprite
Leonguy - Creator of the MKWii Bike
Changelog
v1.4.9
-Updated Adell's sprites
v1.4.8
-Added Shard to the roster!
v1.4.7
-Updated Laharl's sprites!
v1.4.6
-Updated Skullie's sprites!
v1.4.5
-Added Terminal Iren to the roster!
-Added Terminal Hornet to the roster!
-Added Terminal Virtua to the roster!
-Added Schlatt to the roster!
v1.4.4
-FINALLY resprited Chipflake
v1.4.3
-Added Tempo to the roster of characters!
v1.4.2
-Added Sheepman to the roster.
-Updated Iren's sprites
-Updated Blansl8's sprites
v1.3
-Added "Axel" to the roster.
-Fixed an error in MegaNorper's speed.
v1.2
-Added "Skullie" to the character roster.
v1.1
-Added "Dragon MN" to roster character roster, the rest of the cast stays the same.
v1.0
-Initial Release!