What permissions do you give others to modify and/or maintain your submission?

Modify: ASK ME - Maintain: NO - Others must ask me for permission before modifying my submission or use it in their own work, and I reserve the right to say no for any reason. No, others may not maintain my submission, even in my absence.
I made sure my file(s) follow the Submissions Guidelines

Yes
I named my file(s) correctly (see Filename Conventions)

Yes
Using the power of pre-rendered graphics, I bring to you, several characters from the Mario Kart series on different karts from all over the series! (By that I mean from DS to 7) Each character comes equipped with custom music and most have custom code, for a more authentic experience.
First up, we have Mario on the B-Dasher from Mario Kart DS! With a speed of 6 and weight of 7, you'll be pushing away your opponents and rushing past them, while still having some acceleration and handling.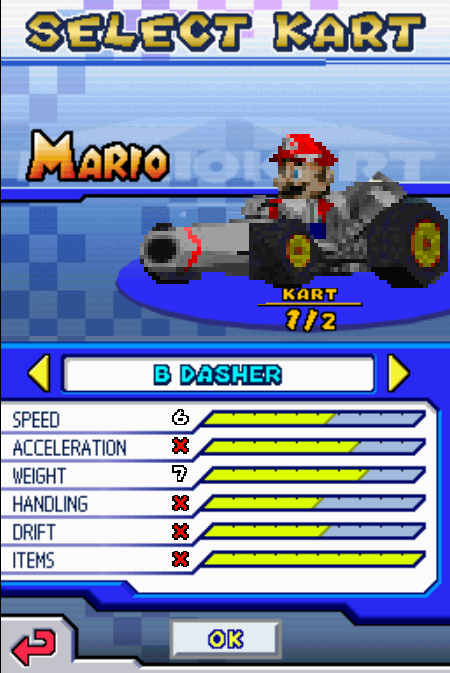 Mario also comes equipped with a custom animation while using invincibility, which while small, is important, as it was exclusive to MKDS.
Next up, we have Luigi on the Mach Bike from Mario Kart Wii! A speed of 7 and weight of 5 means you will be blazing past your opponents while still having room for acceleration.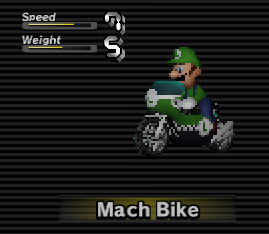 Luigi also comes equipped with inside drift, Bikemod, wheelies (custom 1), and trick frames for Acrobatics.
Thank you to,
Speccy, for some general tips for making the sprites, as well as
WheelieMod
,
minenice, for the bike template and inside drift used here,
RetroStation, who made
BikeMod
, which was used to balance Luigi some,
SMS Alfredo, who created the
MK64 Cast
mod, which contains the custom music code I used in this mod,
Angular, who created
Acrobatics
, which I used the trick frames for,
Togen, who created
Simple AnimaL
and helped me get it working, which I used for Mario's star animation,
And Finally, the wonderful people of the Kart Krew Discord server, who helped me when I had problems with the mod and showed me that this isn't just for me.