After the repeated visits and races at Drippy Docks made it a popular tourism spot, my group, The Adventurer's Agency, was tasked with a mission: to find other interesting places for Kart racing development and boost tourism for those areas. After all, people love a good race with their chili dogs! I hope we can deliver!

-T
​
With more than one Level now under my belt I thought it was high time I got a level pack underway. Within the Adventurer's Agency Pack lie locales that have been discovered by a group of seasoned explorers. Neat places and curious locales await those who dive in!
The levels featured:
Drippy Docks (MAP70)
Somewhere in a mid-mountainous region, a tiny, tiny town sits at the waterfront. With it's claim to fame a centuries old dock that has been under constant upkeep, visitors come now and then to take in the sweet but salty air, the fresh atmosphere, and now kart races!

Ladies and gentlemen, we're going to Drippy Docks!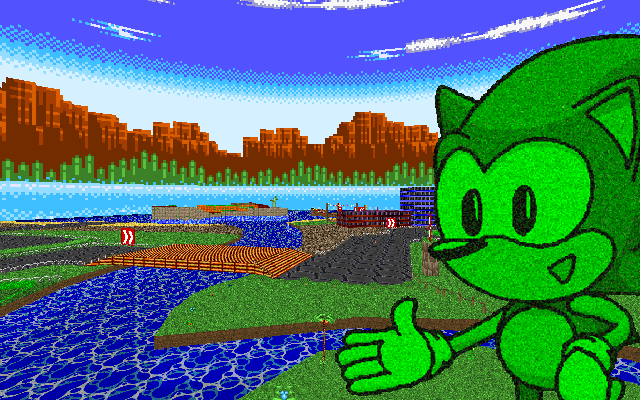 ​
Drippy Docks is my very first map made for SRB2Kart. It takes you through a bright, scenic (yet small) village to its famous dock, where you'll hop onto a ship and then to the local island, all culminating in an exciting cliff jump back to the mainland! Juuuuuuust be wary of those Silly Wandering Toads that may have gotten themselves lost. Also there may be something suspicious going on in the bushes near the starting line...
Things have been touched up and improved here and there, so here's hoping racers and spectators alike can enjoy the seaside atmosphere!
GigaByte Glade (MAP71)
Ever since an incident where a computer virus influenced by magic seeped into the real world and started digitizing the landscape, efforts have been made to stem the tide of the effects from spreading further. Thankfully things have stabilized, with only a small section of a forest that has been forever digitized. We've been assured it's safe to enter the area, so why not race around?


Now loading... GigaByte Glade!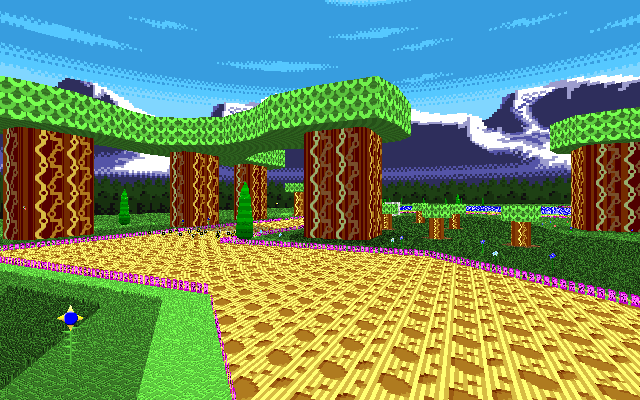 GigaByte Glade is my first attempt at utilizing custom textures and flats. Racers will see themselves zooming under the eaves of pixelated leaves, up a mountain of megabytes via the winding pass, with a fast as optic fiber ride down the other side! But don't go TOO fast or you'll see yourself downloading a dip into the lake! Make sure to watch out for the raw code littering the ground; we wouldn't want you to get defragged or derezzed or something like that.
Special thanks to Charybdizs and Fayt_XIII with all the help on this one!
​
Cosmic Coast (MAP72)
In a find that's literally out of this world, an odd portal has whisked our intrepid explorers away to an alien planet campsite! With it's otherworldly purple ground and curious pools of water viscous enough to be traversed on as if it were solid ground, what better place to set up a racetrack?

Let's warp to... Cosmic Coast!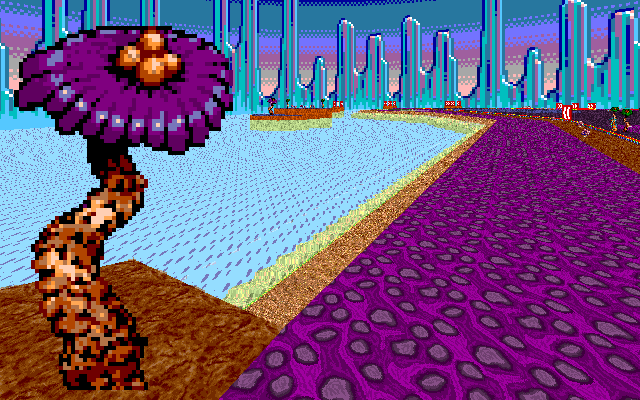 Cosmic Coast came about from two ideas; a track where players raced across the water's surface and a track that takes place on some sorta alien planet. But you know about they say about two great tastes tasting great together! I combined the two concepts and tested the capabilities of Goo Water, an element more commonly used in vanilla SRB2. I tried to be reserved in it's use, but I think I made it work as a nice gimmick that doesn't overstay its welcome.
Also, while construction of the track was made something... or someone seems to have snuck in there and nestled themselves away someplace on the map. See if you can get to them!
Pizza PANIC! (MAP73)
Searching for new locales isn't easy, you know. It takes a toll on your body, especially your stomach! Our team was absolutely starving in our travels at one point. Luckily we happened across the lilting aroma of a pizza joint. The man operating it seemed bored, as if there wasn't much traffic, so we could see the genuine smile on his face when we ordered two large pies. We told him of our mission, and he suggested a nearby tower that he was planning to visit for more exotic ingredients. As he entered, we could see the anxious look on his face, but we assured him he'll be fine, we'll be fine, and this tower of pizza would make a fine racetrack!


HURRY UP! It's time for... Pizza PANIC!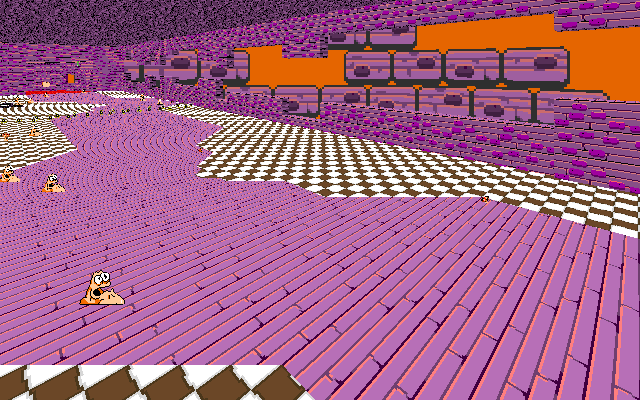 ​
Pizza Panic is of course inspired by Pizza Tower! There's a Peppino character for Kart, why not have a map to match, eh? This map is a culmination of most of the things I've tried out and learned for my past maps, even down to every single custom texture, flat and thing. I simply must thank the fellows in the Kart Krew and Pizza Tower 'cords for the advice, feedback, and handy assets I could use for this!
Banger Boneyard (MAP74)
Upon hearing rumors of an odd graveyard that "had two faces to it", this cryptic message got us curious and we had to check it out. What we found was a seeming neat and pristine resting place for the departed, but then a muddy road led us to the other side, where we found a mausoleum where the bony residents know how to get down! The pathways were just wide enough, so why not make it a fun, of spooky drive?


Step into the groovy gates of... Banger Boneyard!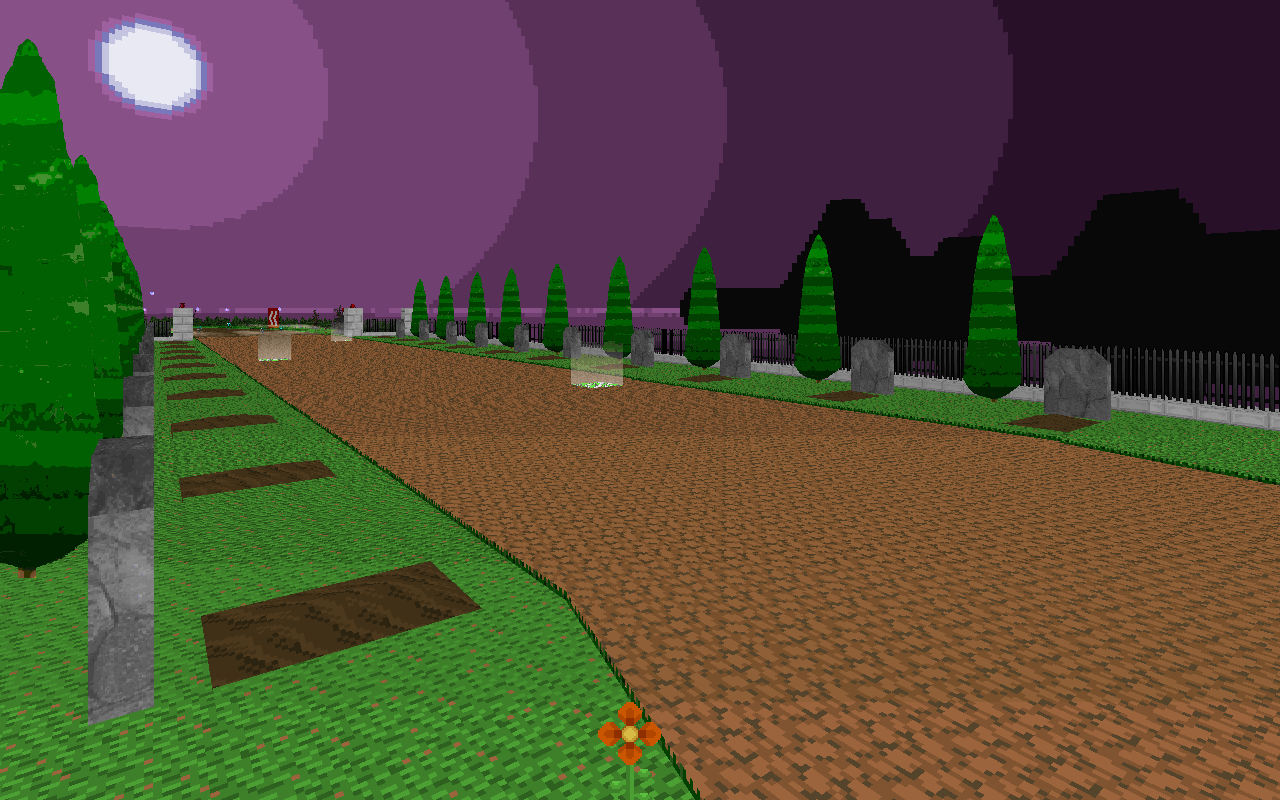 This map was inspired from a excellent bit of music from the game Skeleton Boomerang. Once I heard it, I simply HAD to build a track with a graveyard motif!
By the way, the headstones hide a secret picture on one of them. Nothing elaborate, but see if you can find it!
​
Changelog:
v1.0
Released!
v1.1
Cosmic Coast is live!
Added more item boxes in Drippy Docks
Added more item boxes in GigaByte Glade, as well as more death pits to prevent out of bounds exploration.
v1.2
Pizza PANIC is live!
Reduced the number of laps in GigaByte Glade and Cosmic Coast down to 2.
Fixed an errant Death Plane on the roadside in GG.
Added more Sneaker Panels in CC to make the drive a bit zippier
Lowered BGM volume in GG and CC by a bit
v1.3
All the traffic to Drippy Docks has been good for business! They've acquired the funds to install a new stone structure, spectator stands, and terraform some mountains!
Sneaker Panels have been removed from Cosmic Coast. Having 2 laps is enough to truncate it.
v1.4
Cosmic Coast's checkpoints have been adjusted for a better gameplay experience, and part of the road has been adjusted, also for a better experience.
v1.5
Cosmic Coast's sandy shore has been tweaked. No more getting GBJ'd by physics and forcing yourself to respawn. However it is now Offroad, so try and stay on the road.
Some pesky robo-vermin have made themselves at home on the bare stretches of road in Cosmic Coast. Kinda hard to get an extermination team on an alien planet without sounding like a loon, so bear with it.
Pizza Panic's Greasy Floor Sign has been repositioned for a better view, of both it and the breakable blocks leading to a shortcut.
1.6
A small issue in Drippy Docks has been fixed.
1.7
Banger Boneyard is now live!
Minor improvements have been made to Drippy Docks, COsmic Coast and Pizza Panic for a better gameplay experience.
1.8
Minor fix for Banger Boneyard, to prevent possible texture/flat name conflicts.
1.8.1
Added native Support for Daytona Kart (check that out
here
!)
Supporters / Co-Authors:
Last edited by a moderator: