Renderer's Character Arsenal!
​
This is
Renderer's Character Arsenal
, or
Renderer's ChArsenal
for short. This is a compilation of characters based on my own personal interests, either that I worked on or collaborated on. Currently there are
2
characters in this pack, but more will come based on my own motivation to do characters. I also have provided individual PK3s as a zip file.
Characters:
The Conductor (A Hat in Time) - Speed 6, Weight 5
One day, the Conductor started to get bored of riding his Owl Express. So, he said "peck it" and bought himself a go kart with the bird money he earned from his movies and went pedal to the metal!
He excels in speed, but handling isn't his thing.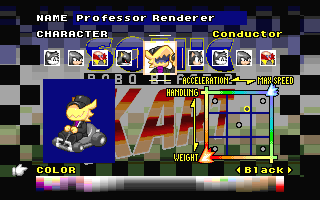 Professor Renderer Grizzleton (Original Character) - Speed 2, Weight 7
You can always rely on Professor Renderer Grizzleton to take care of your messes! He is a scientist bear with a kind heart and a goofy personality. He recently built a go kart so that he can explore different worlds. He's always willing to tweak his kart as he pleases. His weight lets him corner well, but lacks in speed.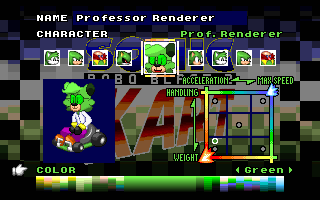 Credits:

Kibito Ayame for the spritework for Conductor
Gears for Breakfast for the sound clips for Conductor
The entire Kart Krew Discord for keeping me motivated and giving advice for Professor Renderer
​
​
Last edited: