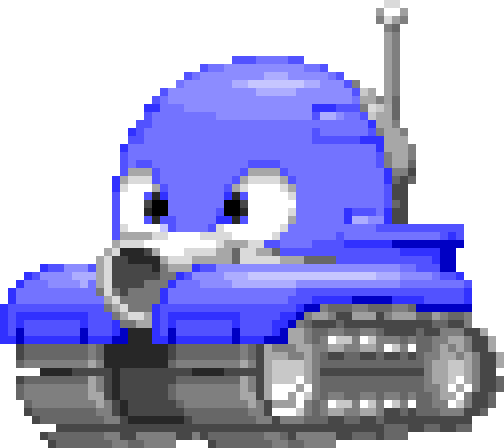 Ring Fuel: As you collect more rings, your speed and jumping power will increase to overpowered levels. But watch out, because any damage whatsoever results in an instant death.

Gunslinger: Shoot lasers at enemies and monitors, because jumping on them is a waste of time (seriously, don't try it).

Sneak: If you can't handle Crawla's amazing speeds, press Custom 1 to revert back to vanilla-esque stats, but be careful when using it midair. Can also be used to safely converse with your brethren.

Sacrifice: Press the Custom 2 button to trade one life for 32 rings. Needed in order to beat the game.

Suicide: One life left and nowhere to go? Press Custom 3 to end it all.
Version 3.1:
Fixed error message that occurred when dying by certain means
Version 3:
Crawla's acceleration has been toned down from "jokingly overpowered" to "quick but maneuverable"
Max jumpfactor has been reduced to three times that of Sonic's
Sneak now functions a bit differently
Version 2:
Most bugs from v1 have been fixed, courtesy of TripelTheFox
Added the Sneak ability in order to increase control without the nerfing of stats
Power cap has been increased to 127 rings from 64, and Ring Fuel now gives 32 rings instead of 16 (about default stats)
Smoke now appears at 64 rings and only when the player is on the ground
Character Select description has been updated to better explain Crawla's abilities
Version 1:
Thanks to everyone who helped me set up the Lua scripts. This was a fun little project to partake in.
Supporters / CoAuthors
Last edited by a moderator: