Bunnie Rabbot, originally by Soulite1110, has now been updated for 2.2!
The original can be found
here
.
Bunnie 2.0 is a direct translation for the character from SRB2 v2.0 into SRB2 v2.2. Starting with Bunnie 2.1, newer versions update her moveset.
Abilities:
* Jump Ability: Thrusters
Press jump in the air to rapidly gain vertical momentum for up to 1.1 seconds. There is a cap on how much momentum Bunnie can gain this way, but you will not lose your momentum when you activate this ability while going too fast.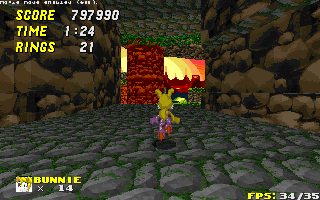 * Spin Ability: Cyborg Spin
A basic melee attack. Cyborg Spin functions much like Amy's twinspin, but does not thrust her forward (preventing Bunnie from hammer canceling) and it locks her controls until it finishes.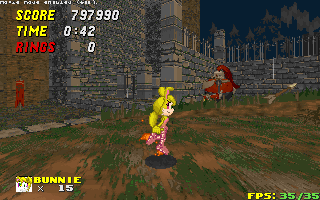 Due to the fact that Bunnie uses the jump button for her main ability and the spin button to deal damage, she cannot use shield abilities (except for the whirlwind shield, which can still be activated if you walk off of a cliff). This addon is re-useable, so feel free to remap her controls for your own games if this doesn't suit you.
Changelog:
September 1, 2020 - v2.3
*Optimization - CEZ is playable again.
*Reworked Bunnie's flight.
- It now scales with her scale and her momentum, making it more useful when descending and less useful when ascending.
- Increased Bunnie's flight time from 1 second to 1.1 seconds.
- Removed vertical momentum cut when flight is cancelled before Bunnie began descending after jumping.

- Restored original flight animation.
*Reworked Bunnie's melee attack. The changes aren't that exciting.
- The twinspin sound now plays when she attacks on the ground as well as in the air, rather than the less fitting hammer sound.
- All of Bunnie's attack frames now play on the ground, as well as in the air.
- Bunnie transitions from her air attack into her ground attack seamlessly.
- Bunnie's controls are locked during the duration of the attack.
- Bunnie's attack no longer provides her with thrust. She is already OP simply because of her flight. She doesn't need hammer canceling.
*Removed a stray pixel from Bunnie's signpost sprite.
*Increased shieldscale from 1.2 to 1.3. Shields now always cover Bunnie's ears.
*Added Dirk compatability. At least, I think I did. I haven't been able to get Dirk to freeze anyone, not even Sonic, so I can't test for Dirk compatability properly. Please let me know whether or not Bunnie is compatable now if you happen to find out.
*Bugfixes
- Fixed pulleys and gravity flipping fof's sometimes negating Bunnie's flight thrust.
September 1, 2020 - v2.0.2
*Removed a stray pixel from Bunnie's signpost sprite.
8/15/20 - v2.2
* Bugfixes
Bug: Bunnie's flight speed would be set to zero until she cleared a level upon beginning an online game. - solved​
Bug: Bunnie's flight timer would fail to reset after landing if her player executed a frame-one jump. - solved​
Bug: Bunnie would receive an incorrect momentum adjustment on the first frame of her ability when it was activated upside-down or underwater. - solved​
​
8/13/20 - v2.1
* Replaces Bunnie's jump ability with a new, double-jump styled flight.
* Replaces Bunnie's spin with Amy's Melee attack and changes Bunnie's attributes accordingly.
* Updates Bunnie's character select portrait and character description for consistency with the 2.2 cast and her new abilities.
* Updates Bunnie's movement attributes for consistency with the 2.2 cast.
* Increases Bunnie's shieldscale attribute.
8/13/20 - v2.0
Known issues:
- Bunnie can use her ability while exiting levels. This will be fixed in the next patch.
Credits:
Soulite1110 - Original creator
Zipper, Dabir, Kays - answering questions on Discord, bugfixing, optimization
Rapidgame7 - helped sift through the source code
The creators of p_mobj.c - The code that lets Bunnie hit the Metal Sonic boss was adapted from this file.
toasterone
MonsterIestyn
MascaraSnakeSRB2
marcolovescode
alama
lachwright
KScl
Jimita
Yukitty
LJSonik
Nevur
Ikkarin
jameds
spherallic
SwitchKaze
wolfy852
SteelTitanium
TehRealSalt
sprkizard
RedEnchilada
HybridEidolon
SeventhSentinel
ilag11111
Download:
View attachment C_Bunnie_2.0.2.pk3
View attachment CL_Bunnie_2.3.pk3
Supporters / CoAuthors
Last edited: