Featuring Lost and Forgotten Characters
​
Welcome to the Next Level
​
Characters: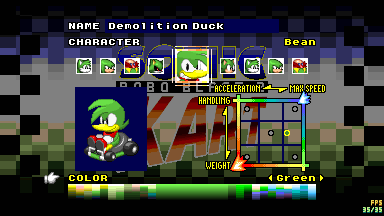 This deranged member of Team Hooligan finally joins the race.
While having the same weight class as Knuckles, due to being hyperactive lunatic, Bean is alot faster than the Rad Red
Default Color: Green
Voice Line Origins: Junkrat from Overwatch
Prefix: RBEA
​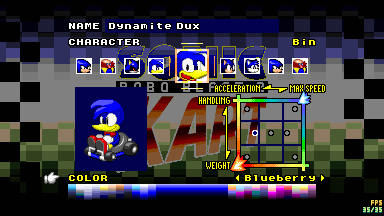 The Real OG Dynamite Duck joins the race to blow up the competition.
​
Just like his son, Bean, He's in the same weight class as Knuckles. However, he doesn't obtain the same speed as him. He instead rivals Bean's speed with his great acceleration​
Weight: 5/Speed: 3​
Default Color: Blueberry
Voice Line Origins: Max from Sam & Max: Saves the World
Prefix: RBIN
​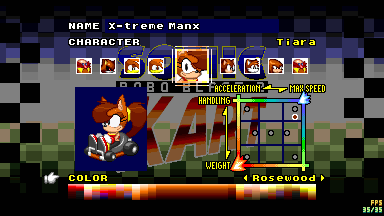 This spunky manx is ready to burn some rubber and take first.​
Not only does Tiara have the attitude to match Sonic, but she also got the speed that might give the blue blur a run for his rings. Tiara is also slightly heavier than Sonic. So she won't go flying as far as Sonic when bumped.​
Default Color: Rosewood
Voice Line Origins: Asuka Kazama from Street Fighter X Tekken
Prefix: RTIA
​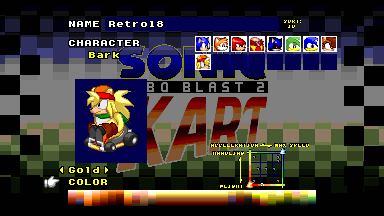 The heavy muscle of Team Hooligan is ready to knock out the competition.​
While being slightly slow, This polar bear is not to be messed with. Thanks to his super heavy weight, he'll knock the other racers clean off the track. Not only he's all Bark, but he's certainly all bite too.​
Weight: 9/Speed: 4​
Default Color: Gold
Voice Line Origins: Fahkumram from Tekken 7
Prefix: RBAR
​
Changelog:
Version 1.1:
Tiara Boobowski Released.
Version 1.2
Bark The Polar Bear Released.
Made the voice lines for Bean, Bin, and Tiara louder, due to them being a bit quiet
Special Thanks:
Tiniest Turtle - Bean Model References
fickleheart - Kartmaker
ThatUnistar - Made the Logo for the Pack and Moral Support (check him out on twitter)
BigMann - Moral Support
Rest of the Kart Krew Discord - Support and for just being awesome