I give permission for this addon to be reused, modified, or ported by anyone

Yes
I understand my submission will be rejected if it does not follow forum rules, Submissions guidelines, and/or file name conventions

Yes
The same classic 1.09 Blaze we all know (and few people love) is back once more! Just a basic port of .Luke's Blaze character for 2.2, now with a tweaked Flare Drill to cover larger distances and get greater height.
Now it has (copypasted) sprites for the special stages, and slightly updated character selection text, hooray! Oh yeah and she still can transform into Burning Blaze too. Her flare drill ability remains mostly the same when transformed, though.
Oh, and yeah,
Jeck Jims
and
LonelyFoxz
both made fantastic models for Blaze.
https://mb.srb2.org/showthread.php?t=46560
- Jeck Jims'
https://mb.srb2.org/showthread.php?t=48577
- LonelyFoxz's
I recommend you try both, they're really awesome!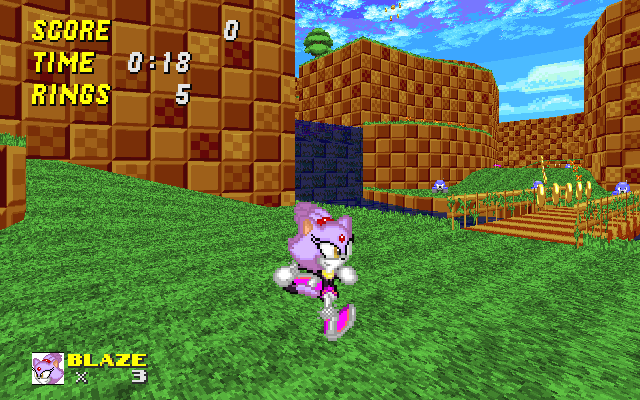 Thanks to .Luke for allowing me to port his character.
If you are going to reuse this, don't credit me, just .Luke since he's the guy who made the original, and Naluigi/Da Luigi too since he made the sprites recolorable, plus Kasumi-san with his tweaking really made this mod shine a bit more. FinnishGameFan's airdrill is used here, too.
v5 (big thanks to Kasumi-san, this update consists of almost entirely his work)
-Added a proper continue icon.
-Blaze has a new sign.
-Blaze's icon now shows accurate colors from her sprites.
-Blaze now spins as normal while in her superform.
-Burning Blaze's colors are accurate and actually shine now.
-Buffed running speed.
-The Airdrill has been replaced by FinnishGameFan's recreated Airdrill.

v4
-Life icon now changes color
-Super color is red, instead of yellow

v3
-Sprites are now recolorable (Thanks, Naluigi/Da Luigi!)
-Changed thok sprite to afterimages
-Fixed CSS text, it now starts at the same line as the rest
yes, my second release is a port, i should be ashamed.
Supporters / CoAuthors