I give permission for this addon to be reused, modified, or ported by anyone

No
I understand my submission will be rejected if it does not follow forum rules, Submissions guidelines, and/or file name conventions

Yes
Well, here it is.
All of my years spent in this community were leading up to this moment, the release of the ultimate SRB2 character. Nothing will top this revolutionary mod.
Introducing: Frigo!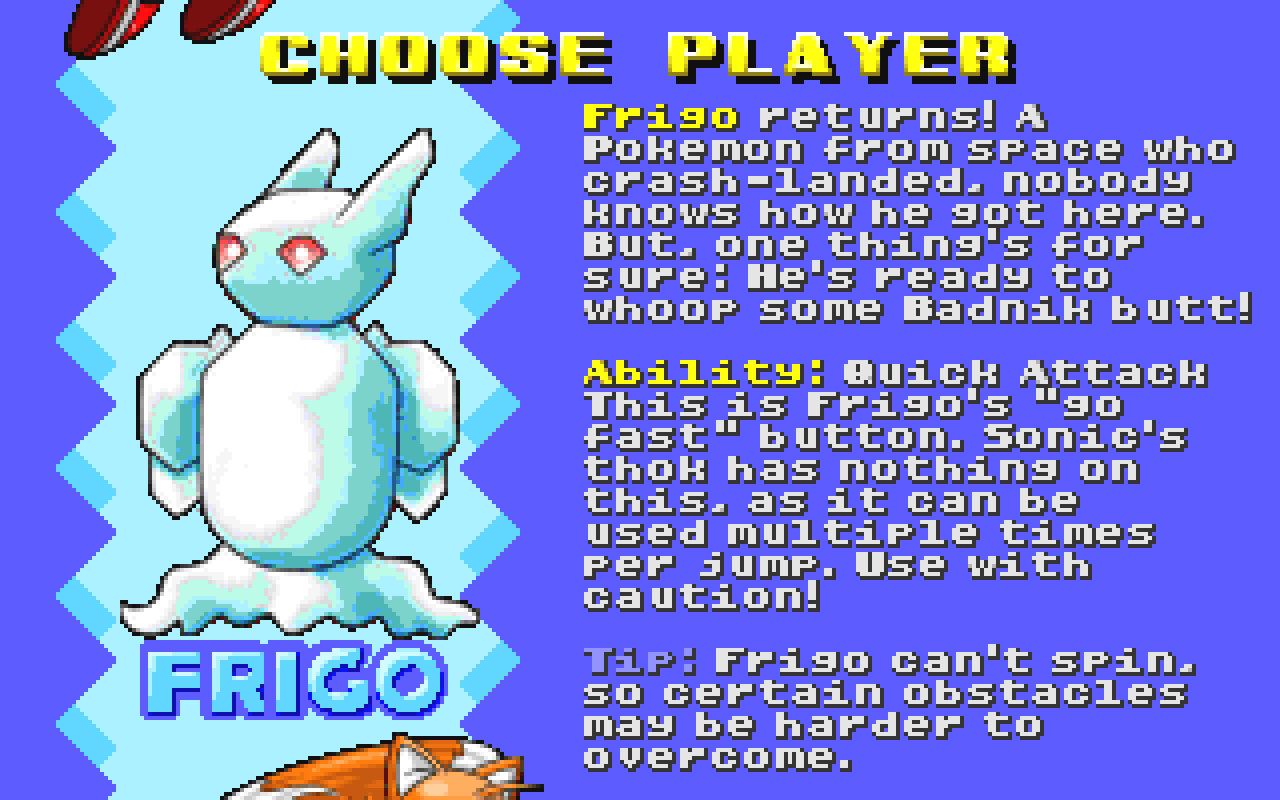 Frigo, the mysterious Pokemon from space returns!
He's a challenge character, in a sense. Despite his ultra-powerful Quick Attack that puts Sonic's thok to shame, Frigo can't spin or... really do much of anything. Not to mention his slower running speed, but of course these features were expertly crafted to create the definitive SRB2 experience.
He doesn't have much else beyond that, besides some custom sounds ripped from Somari & Pokemon Blue (and a Frigo voice clip that shows up occasionally). This of course, was an artistic decision to really make this character an unforgettable experience.
The spritework? Years were spent painstakingly flipping, rotating, & making minor changes to Frigo's one & only sprite. Plus, weeks were spent ripping & editing jumping sprites from the unreleased Sonic Crackers (This game was chosen specifically because BEYTAH is better). This herculean effort has amounted to the creation of the most detailed & expressive SRB2 character to date.
So strap into your gaming chairs, you're all about to experience:
THE GREATEST SRB2 CHARACTER IN THE PLANET!!!
April Fools!

Yeah, it's a dumb joke. But I couldn't think of anything better so here you go. I originally wanted to pull a much more elaborate prank using this mod but I decided it wasn't worth putting that much investment into a joke as dumb as this one.

By the way, Frigo is a fakemon from an ancient Pokemon Ruby romhack called Pokemon: Frigo Returns.
Credits:
RacieB
for the Frigo CSS artwork.
"The Phantom of Poké4Yu Inc."
for being the creator of the great Frigo himself.
Some guy name Rob who used to be in a private discord server I'm part of
for the Frigo voice.