I give permission for this addon to be reused, modified, or ported by anyone

No
I understand my submission will be rejected if it does not follow forum rules, Submissions guidelines, and/or file name conventions

Yes
Espio the Chameleon has finally made it to 2.2 in all his resprited glory!​
---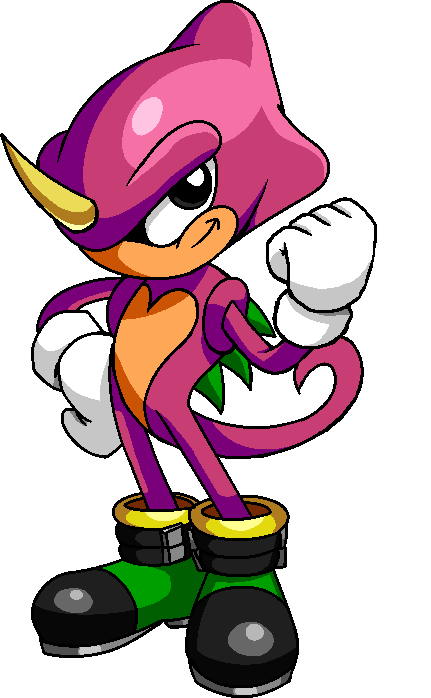 Espio's resprite for SRB2 had some history for those who didn't know. A fellow community member named FearsomeFang started off this character as an addon for v2.1. At the time, some community members like DirkTheHusky decided to hop on the bandwagon to finish Espio at its finest. But not all things comes to a good end, as one would say. Progress died right when it was near completion. Then, FearsomeFang departed from the community, leaving the near completed v2.1 Espio nowhere to be finished by someone else to continue the project.
Then, later on with v2.2 out for a while, another community member, Soap Surfin', had the thought to make an Espio resprite for SRB2Kart. That is until another member named White stepped in and had the idea of them working together to make Espio an addon for v2.2. But it wasn't long when progress of this new Espio stopped.
That is, till a few months later, where Kibito, HattyBoyo, Saneko, Snu, DirkTheHusky, and the rest of the good fellows on his long dev trip decided to work together and make something that should've been done a long time ago. And that is where we are now.
Espio the Chameleon had some history with his development and it nearly took the same time as v2.2 did to finally fully complete this project. Complete with custom abilities and animations that you'll see in the original Knuckles' Chaotix game. We hope you enjoy this character addon as much as we did making it!
Abilities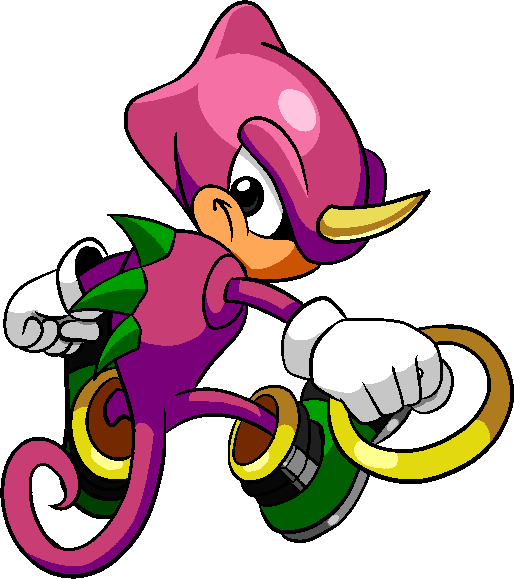 ​
-- General --
Espio is a versatile character whose abilities constantly flow with each other, allowing for a high skill ceiling. Espio's prime difference is that he spins like a top, instead a ball. Meaning you can't take paths that require you to go under a spin gap.
-- Stick Cling --
Espio's base ability from Knuckles' Chaotix. Hold Jump while near a wall to cling on to it. While clinging, you can run up, slide down, or shimmy side-to-side on the wall to reach places, just like Knuckles. However, you won't hang on to the wall for a lifetime. The less stamina you have, the slower you'll run, until you can no longer climb. You can also cling onto ceilings by holding Jump when you make contact with them!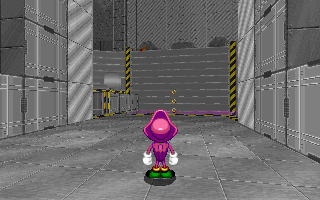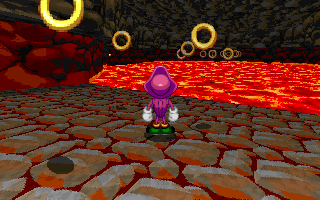 -- Charge Jump --
Espio's primary ability when holding Jump in mid-air. The power of your jump is determined on how long you hold down Jump. Releasing the Jump button unleashes a double jump with the charged power added!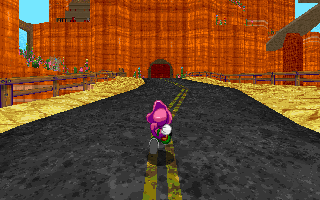 -- Spin Drill --
Stuck in a room where the Spindash and Non-Spindash paths split? Worry not, Because Espio can break bustable floors! Simply spindash on the breakable floor for a short period of time to break it!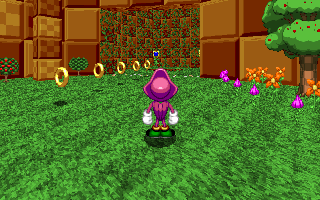 ---
Extra Support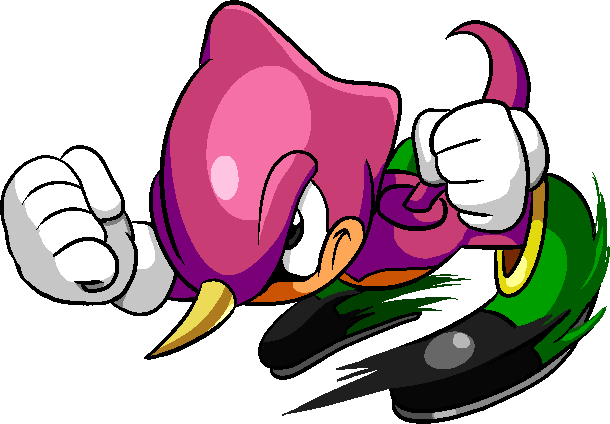 Espio also has support for Battlemod and SRB2Persona!
​
-- Battlemod Abilities --
Invisibility:
Turn completely invisible and sneak around to trick opponents! Don't go too fast though, or you'll be able to be seen!
Leaf Swirl:
Espio's primary move from Sonic Heroes! Spawn a tornado covered in leaves, and knock away any opponents who are in the tornado!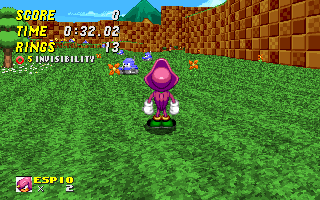 Charge Thrust:
While performing a Charge Jump, press Fire to shoot in any direction so pleased! It's great for evading, and for approaching!
-- SRB2Persona --
Espio's persona is Jiraiya, returning from Persona 4. Espio learns Wind, Psychic, and evasive skills to use in battle. However, Espio has pitifully low HP and defense. Any dangerous enemy encounter can easily result in dying, so it's wise to pick your battles carefully with Espio. Espio also has a unique normal attack, Stealth Strike, which has slightly higher critical rate and accuracy compared to the average normal attack.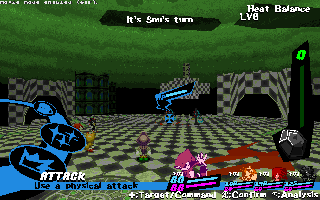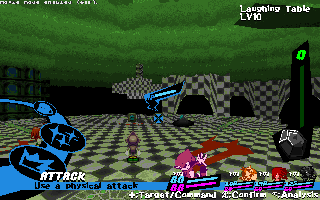 During Tartarus exploration, Espio can use still use the Charge Jump to easily navigate around floors. He also has his wall run still as well! Although the wall run is only really useful for extending your jumps and saving yourself from the pits of Tartarus rather than gaining height.
v1.1:
General Changes:
- You can define a shift cycle for Espio's idle using "espioshiftcolors".
- This is saved in espioconfig.cfg, located in luafiles/client.

Bugfixes:
- Removed HookLib wall detection to fix conflicts with Knuckles and various other characters.
- Fixed being able to incorrectly drill the floor while on the ceiling.
- Fixed the drill-spin not being able to destroy the entirety of bustable floors sometimes.

BattleMod Changes:
- Invisibility now makes you go invisible instantly instead of slowly fading out when activating it.
- Invisibility no longer makes you visible when moving too quickly.
- Instead, you drain rings quicker depending on how fast you move.
- You can no longer be locked onto while invisible.
- You can now choose to make invisibility a toggle rather than a hold using "espioinvismode".
- This is also saved into espioconfig.cfg.
- Leaf Swirl's frame data has been updated to make it a lot quicker to start up.
- You can now activate the Leaf Swirl while clinging onto a wall.
- Parrying Espio's Leaf Swirl no longer launches you upwards.
- Espio's exhaust function is now loaded correctly in the latest BattleMod.
- Espio now exhausts while charging the charge jump to prevent stalling scenarios.
- This means you can't use the charge jump while fully exhausted.
- Espio now takes 4 seconds to fully exhaust instead of 5 seconds.

SRB2 Persona Changes:
- Updated Espio's SRB2 Persona stats to make him a bit more durable.
---
Credits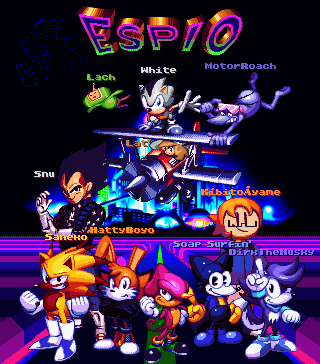 Spriters
DirkTheHusky
HattyBoyo
Inazuma
KibitoAyame
MotorRoach
Saneko
Soap Surfin'
White
Coders
Lach
Lat'
Snu
( Thanks for making arguably the damn best wall detection code out there. )
Extra
Alice
( For the art used in the CSS. )
CommandoEC
( For helping many miscellaneous things that came to be. )
Special Thanks to Hero and Helius from the SRB2Persona Discord for ripping the Jiraiya sprites,
and Special Thanks to everyone who tested this and pushed us to make this a reality.

One Final Special Thanks to FearsomeFang. He kickstarted the original v2.1 Espio that led to this trail of events. It is an honor finishing what you started.
​