Started by Dave Lite and compiled by both him and I,
I present to you the largest grouping of community made textures to be made in SRB2's history. This thing's nearly the size of srb2.pk3!
This pack also includes many custom objects you can use to spice up your levels. Include ones with custom lua added to them!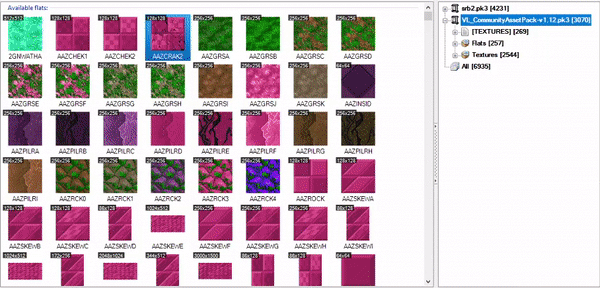 This pack is ENTIRELY reusable. In fact, I encourage you to explore the textures and texturesets included in this pack. I'd love to see what you all can create using these new textures.
I ALSO encourage anyone reading this to send me your own textures. Anything you can create! I'd love to see how large we can make this. Made any textures? Send 'em over! I'll add you to the credits list.
-- "Community Asset Pack v4.1" --

================================================================================

-- "Compilation and Management" --
Compilation and management of entire Asset Pack by "Dave Lite" and "Kwiin"
----------------------

================================================================================

"Dave Lite", "KamiJoJo_" and "MotorRoach":
- Pipe Kingdom Assets

"Lat'"
- Koopa Code

"Dave Lite":
- SRB1 Remake assets and code, Cosmic Valley assets, Shine assets,
Classic texture patches, Misc Textures, Archer resprite,
Turret resprite and Deton resprite

"Raze":
- Tempest Shrine, Amethyst Star and Void Vortex textureset

"Dakras":
- Cloud Citadel textureset

"Kwiin":
- Acidic Alpines+, Marble Bridge, Leaf Midtextures, Primordial Abyss,
Chrysopoeia, Frozen Hillside patches, Shit, and some miscellaneous textures

"TelosTurntable":
- Egg Rock and Legacy Special Stage texture replacement

"Kanna":
- Tidal Palace and Metallic Madness texturesets

"Spectorious":
- Sakura Sunset and Foliage Furnace texturesets

"LazyMK":
- Azure Paradise textureset

"Sanic Hodgeheg":
- Botanic Space, Polycrystal Mercury, Neostardust Speedway, Mine Maze,
Polygnial Pasture, Red Starlight, Hidden Palace, Dust Hill, CEZ Alts,
Disco Casino, and Rock Grotto texturesets

"Krabs":
- Texture recolors

"Seaballer":
- Caustic Crater textureset

"PencilVoid":
- Cyan Heights and Cold Zone texturesets.

"So2ro":
- Oasis Palace textureset
--------------

================================================================================
To use these textures in your levels you must load this pack in Zone Builder as a resource.
HOWEVER. You shouldn't make people have to load this to play your stage! To fix this issue, take the textureset folders you're using, and put them in your own pk3.
You could theoretically do this with the entire pk3 if you wanted, but that'd be bloated as hell so don't xd.
v2.0
-Public Release

v3.0
-Added Tempest Shrine textureset by Raze
-Updated Krabs' miscellaneous textures.
-Cloud Citadel flats are... less buggy.
-Removed large corrupted textures
-Heavy reorganization of pack

v3.1 hotfix
-Removed corrupted png preventing mod from loading

v4.0
-Converted all .raw textures to .lmp. This should solve the hundreds of ZB errors some of you were getting.
-Fixed errors regarding thingnum overlap
-Renamed patch names to be more readable
-Added Oasis Palace textures by So2ro
-Added Cyan Heights and Cold Zone textures by PencilVoid
-Added Emerald Hill / Hill Top textures by Dave Lite

v4.1
-Updated Classic Textures by Dave Lite
(includes Angel Island Textures)
-Reorganized CREDITS txt
-Credited Lat' in the CREDITS txt for lua thinker work

v4.2 hotfix
-I included an outdated folder from Dave accidentally :earless:
Last edited: