An OC racer of mine I've had in my pocket for a while now, I figured I'd throw her out into Releases in case anyone was interested. Art was commissioned through
Eliktroniq
, and the character is released with his consent.
To say Regina has an attitude problem would be underselling it. It'd be a long story to explain everything about her, but she has a fair affinity for fire (which she isn't allowed to use due to Karting regulations).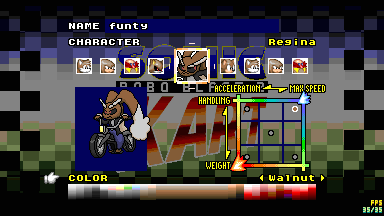 She brings her bike instead of a traditional kart, and comes in quick and nimble at 8 Speed 2 Weight.
Get out there and burn some rubber! Hopefully, not anybody else.
Voice lines are from Psychic Force for the PSX.