Oh boy, another sonic to add to the collection of the spiky boy. What's this one about you may ask? You'll just have to play it yourself to find out.
This sonic here is called R. Sonic. This is just a sprite overhaul of Kart's R1 Sonic to make it more a-peel-ing. What does the R stand for? I don't know, figure that one out for yourself. There are so many possibilities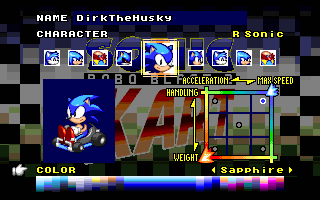 His stats are the same as any other sonics. Except this one has voice clips from Sonic Heroes and it uses Sapphire as his prefcolor.
And no, I don't think he will ever replace the current sonic for SRB2Kart V2. Time will only answer that question.
Changelog:
Version 2.0.0 (7/31/19):
• Sprites redone to match up the Sonic 3 sprites and have less Modern-Classic vibes
• Removed wind flow

Version 1.0.0 (6/14/19):
• Initial release
Credits:
Version 2.0
Azeonus
: Sprite assistance
Chengi
: Sprite fix for front angle
Version 1.0
MirageTheBandit
: Sprite assistance on front-diagonal angle
Last edited: