A NERDY EEVEE

This little eevee decided to join in on the race as a racer.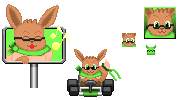 7 Speed
2 Weight
Unlike his distant relative, he's smart enough to improve his engine to be fast.
Unfortunetely he had to sacrifice his acceleration to gain his speed.
He's still just as light though.
Palettable Parts:
Eyes, Scarf, Tail Ribbon.
Default colour:
Maroon
I hope ya'll enjoy the Eevee.
Message from Creator
Quote:
Feel free to point out flaws/inconsistancys/missing things I have missed in the thread. If it is bad enough, you can find me on the Kart Krew Discord under the same name.