First of all I'll mention I wont count spinoffs as mainline cannon games (Sonic Rush, Mobile Sonic games, Sonic Racing games) I'll count the storybooks as the gameplay has kind of a development of an early boost (although as someone who played them I must say that those boosts were crappy)
Sonic, as many other franchises has a lot of games connected through small details, or by literally mentioning it inside the game (or the title).
However for Sonic, there are two different Sonic dimensions, which, were caused by a change of appearance. This happens in Sonic Adventure, where Sonic gets a more of a teenager model, which has been improved through the years. But why did Sonic & Knuckles go to Adventure, and had that massive character redesign? Well, maybe because it didn't. Years later SEGA decides to launch a game that will celebrate Sonic's 20th anniversary, Sonic Generations.
It's because of this game that the entire timeline was broken, because back then, people could just say, "it's normal to go from Sonic & K to Adventure because it's just a redesign". Or "He just grew older like other living things" True, other franchises as Mario or Kirby got a redesign, even if it was quite unnoticeable.
But that's not the point. In Sonic Generations, as you probably know, the newer Sonic aspect meets with the older model. But how is that possible?, when he was in Sonic 1 or 2 he never met a future Sonic, so how was that possible? Because a new dimension was created. A different timeline was existing too.
In Sonic Generations, Sonic doesn't meet with his former self, instead, he meets with a parallel past himself, in which he hasn't grown yet to start Sonic Adventure.
I guess you already know what happens in Sonic Generations, if not, just go watch a walkthrough or something. What's important, is that at the end of the game, "Classic" Sonic learns a bit on how to do the homing attack, but as he hasn't learned it completely yet, it's just an aerial dash.
What happens afterwards, is that "Modern" Sonic stays as usual and later Forces will come, but classic Sonic goes back to his times.
Now
here
is where I wanted to reach. "Classic" Sonic goes back to the past, but here, he learned what the homing attack was. From there, he polishes his homing attack, and with the time going by, Sonic 4 comes in stage, where Sonic and Tails have already grown up and "Classic" Sonic learns the homing attack completely. Then that timeline would end in Sonic 4 ep 2, as there doesn't seem to be an actual sequel to that, or a game that suggests that comes from Sonic 4.
So we've got one timeline closed. And we'll be leaving "Modern" Sonic apart for now.
Now let's go back to "Classic" Sonic.
Remember this, in my theory,
the timeline divides into 3 different Sonic's from Sonic & Knuckles
The first one being "Modern", the second "Classic to Modern" (Sonic 4 Sonic), and the
TRUE
"Classic" Sonic
The last timeline that I'll be telling (as for the games that exists up to today, 5 of may 2020) is the "True Classic Sonic"
"True Classic Sonic" is the Sonic, that never meets with another timeline, a timeline where Generations never happened. Nothing happens after Sonic & Knuckles. (I mean, neither he grows into Adventure neither he goes to Generations)
This Sonic, learns his own ability. The Drop Dash.
With this, Sonic Mania starts.
After the events of Mania, in the true ending (I'm not gonna count the bad ending as cannon) "True Classic Sonic" goes to the supposed future, (which for him is actually a parallel dimension and Forces starts.
And if you don't know Forces story either then go to youtube and type "Sonic Forces 100% Walkthrough" or something idk, I'm not here to talk about that.
Anyway at then of the game, "True Classic Sonic" supposedly goes back to his past timeline, and Sonic Mania Plus, Encore mode, or Sonic Mania Adventures, they are two different ways of telling the aftermath of Sonic Forces.
And this is where the Sonic timeline ends (for now)
If I had to put SRB2 somewhere inside this timeline, it would be a time between "Classic Modern" Sonic after Generations, but before Sonic 4, where Sonic is still learning the homing attack. But as he still doesn't learned it, we have the thok, and airdash
I'm not gonna go over the Sonic CD before Sonic 2 or viceversa dilemma, because the order of these two won't change the timeline.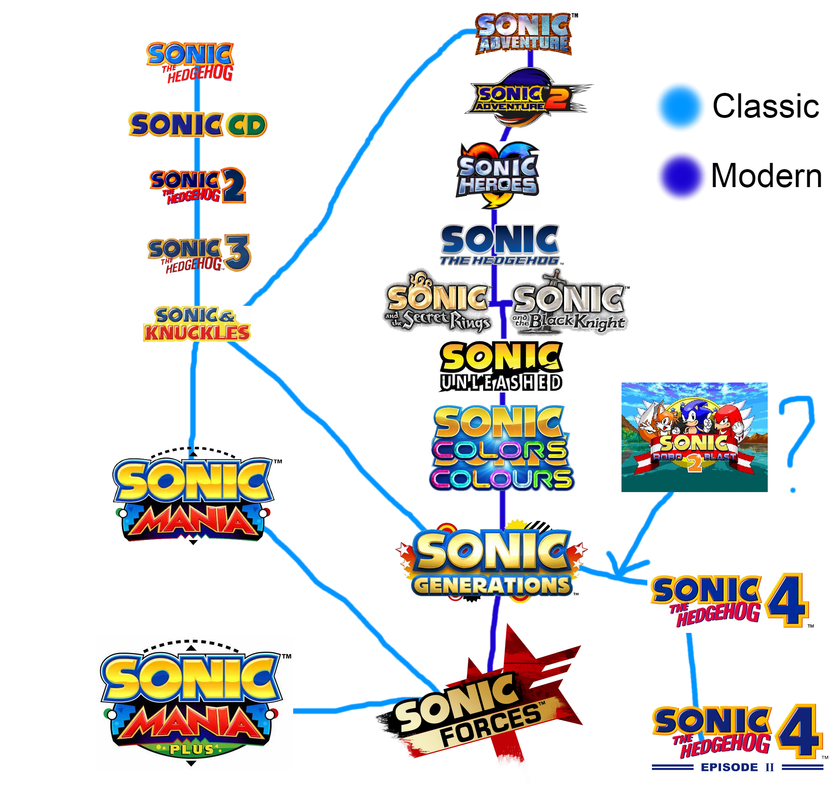 I'd like to know what do you think about Sonic's timeline and how would you develop it. And you have to argument why would the order be like that, and if you want to add another game (The ones at the beggining of this post or another one) you must explain why would that game be in the mainline cannon and where should it be placed.