Ok... First of all, recently I got back working on my Christmas mod I'll drop some gifs that I posted on Imgur to show my friends how the progress is going. (lots of them is an early EARLY BETA). Well, this thread originally was a response of someone that got banned that was trying to make something like that. Actually, I'm not the only one working on this mod. There's a lot of members of the Brazillian community (Yes another Brazillian mod XD). I'm sorry if forgot to mention someone because there's a lot of members helping us, anyway thanks to; Xelork, The_angry, Jon, Junio mene, Gandy, and other people that I can't remember right now.
Ok! Let's talk about the features that we planned for the game so far:
-We plan to change zones names.
-Make a winter theme for all texture (Yes re-texture so far).
-Change the day time for each zone (like a day zone will turn into the night time).
-Add new features for each zone: Greenflower zone will have ice over water. Techno Hill instead of goop, it will be cold water that drains the player's rings and freeze it after some time underwater (just like when dirk froze someone in battle mode). DSZ we are not sure yet, but we plan to re-use the THZ feature. Arid Canon will have a more vertical wind that will interrupt the player to progress. So far are those the main changes in the zones, we plan to change but so far those are the changes.
-A new treasure hunt mode called "CHRISTMAS REMIX" that before complete each zone players will have to get all hidden presents in each zone.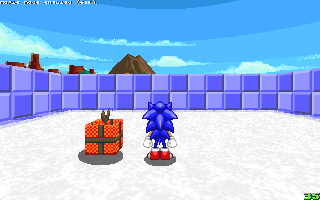 (Thanks Xelork for this present XD, we plan to use splats in 2.2.9)​
-A modified level design.
-New zone with new bosses and new enemies (I don't think we can do this before Christmas arrive but I positive we can).
-Remix of that original soundtrack with a Christmas vibe (if we reunite a team to remake the soundtrack of course).
I don't know if we will complete this mod before Christmas because we are working slowly on this mod (actually is totally my fault), but we are trying our best to make this mod the best we can do.