He only has one day to live till he meets his fate.
So the mad Rat decides to spend that day...

...Go-karting?...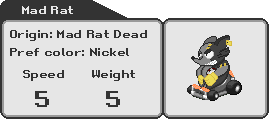 From Nippon Ichi Software's rhythm game:
Mad Rat Dead
It's the Rat himself! Given a chance to relive his final day by the Rat God, Mad Rat might have decided to live an
entertaining one by taking part in Sonic Robo Blast 2 Kart! Why?... Maybe there's some cash prize he'd get to blow it all on cheese?.. I dunno.
Racers beware, cus this Rat packs an all-rounder stat build along with quite a hostile attitude to boot!
All while providing a bit of an easy learning curve for the newcomers
Just remember:
follow the cheese
Disclaimer:
This Rat isn't in any way, shape or form affiliated with a gang of rats whose leader is the giant Rat that makes all of the rules.
​
Last edited: