Ammonium chloride is my favourite ionic compound.
Inspired by INTI CREATES franchise "Azure Striker Gunvolt", I am working on a concept for how Gunvolt's Flash Field ability would work in SRB2.
For now I've put the concept ability on Metal Sonic where it replaces the spin dash.
The way it currently works is as follows:
Press and hold the spin button to generate the Flash Field around the player character.
Any valid targets that fall within the Flash Field will get marked with a lock-on object, up to 5.
Release the spin button and a projectile will be fired at each of the targets that were locked onto.
Flash Field now enters a half second cooldown.
You can check out how it currently looks in action here: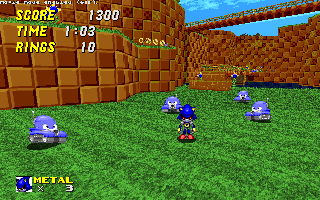 Things to do:
Make Flash Field reduce fall speed while airborne,
Make Flash Field use be tied to an "EP" meter,

Cooldown will probably be removed when this is done,

Just generally improve things.
I have no plans to turn this into a full character right now. Though I am open to collaboration.
Regardless, I hope people find this at least somewhat interesting.