Here is The Somari34 Racers Pack!
it Contains 2 Ocīs and 3 Forgotten Gems Ready for some action!
(Socket joins in!)
Somari34
Yeah, thatīs my avatar
His speed is
5
and his weight is
6

Naks the Alien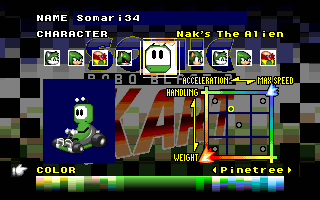 An alien from an unknown planet comes to earth in peace for some racing!
his speed is
4
and his weight is
6
Rayman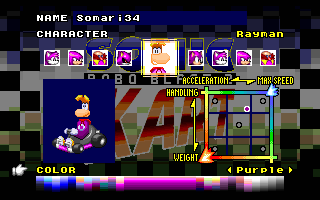 While not exactly forgotten by his fans but rather by the company itself, Rayman Goes for some racing in srb2kart
His speed is
6
and his weight is
3
Vibri
The bunny from That one ps1 game that people forgot about, decided to go race in an non vectorial world
Her Speed is
3
and her weight is
5
Socket/Minute
Socket/Minute, the blue robotic duck(?) That barely got recognition in this world, joins the race!
His speed is
8
and his weight is
4
also for some reason his head colorīs seems to goofed out when i made the guy
I may add more Racers in the Future!