I give permission for this addon to be reused, modified, or ported by anyone

No
I understand my submission will be rejected if it does not follow forum rules, Submissions guidelines, and/or file name conventions

Yes
After months of radio silence, I proudly present:
Tweechie's unrelated characters pack!
After yet another hiatus, I've decided to bring this pack back from the dead! I must admit it's a pretty small update, but it's just a preview of what's to come in the very near future. New characters? Updates to existing ones? Maybe even a complete overhaul? Only time will tell.
Characters featured: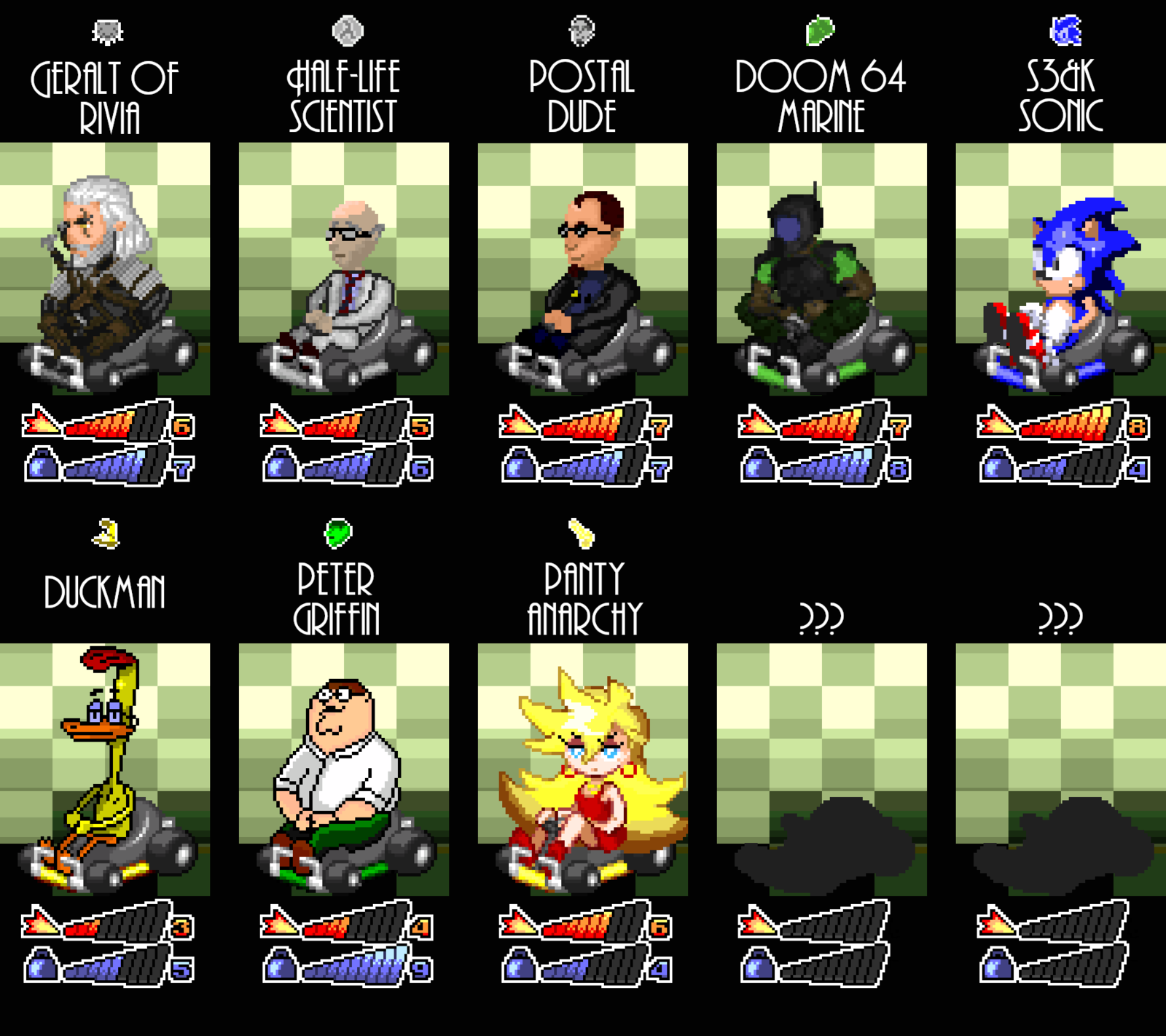 Huge thanks to AlphaChrome for letting me use his assets like the speed and weight bars for my new character profiles
​
GERALT OF RIVIA (The Witcher)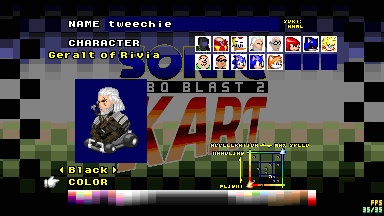 "Damned portals..."
​
Geralt of Rivia is a legendary witcher of the School of the Wolf. Due to a mutagenic training Geralt is much stronger, faster and has more stamina compared to a normal human, which allowed him to become a great warrior. Despite constant harassment from everyone about him technically no longer being human, he still helps out folks in need (for a price, of course). He stumbled upon a portal to a parallel dimension while on one of his adventures and accidentally fell into it, teleporting him to the fantastical world of Sonic Robo Blast 2 kart. He clearly isn't thrilled about this.
HALF LIFE SCIENTIST (Half-Life)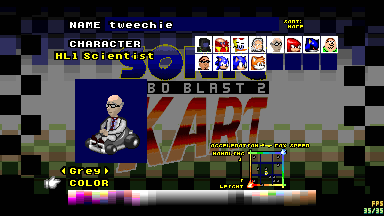 "No training at Black Mesa could have prepared me for this..."
​
He's a proud Black Mesa employee, a prestigious college graduate, and a colleague of Gordon Freeman. Why isn't Gordon here then, you may ask? Well, let's just say that he will be quite occupied for the next 20 years... He was one of the scientist at ground zero of the resonance cascade, who found a convenient portal to the border world - Xen shortly after the disaster. After wandering around the hostile dimension he found a portal that he thought would lead him back to civilisation. Well, he wound up here. Considering what happened to his homeworld, I think he's gonna lead a much happier life here.
POSTAL DUDE (Postal)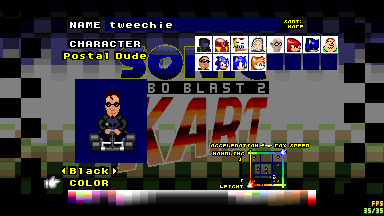 "How's this sound? You stop trying to hit me with that orbi of yours, and I won't detonate the home made pipe bomb I've attatched to your kart."
​
The man, the myth, the legend, the original based schizo. Nobody really knows how he ended up here, one second he was exercising his Second Amendment rights, the next he was in a gokart. He doesn't really mind, though. He's happy as long as he has access to an explosive of some kind.
DOOM 64 MARINE (Doom 64)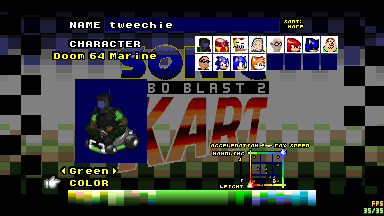 "
This karting escapade is nothing but a much needed rest for me."
FINALLY...
THE MOTHER OF ALL DEMONS
IS DEAD!
THE BLOOD POURS FROM
YOUR EYES AS YOU STAND
IN DEFIANCE.
AS THE ONLY MARINE TO
ENDURE THE SLAUGHTER-
YOU DECIDE TO REMAIN
IN HELL AND ENSURE NO
DEMON EVER RISES AGAIN.
...
YOU STOP DEAD IN YOUR TRACKS
AS YOU NOTCE A LONE PORTAL
STARING EVILLY AT YOU.
YOU THOUGHT THIS WAS OVER.
YOU THOUGHT THESE DEMONS
WOULD FINALLY LEARN THEIR LESSON.
BUT ALAS, YOU FIND YOURSELF
STEPPING THROUGH THE PORTAL,
READY TO EMBRACE MORE
UNHOLY CORPSES
...
HOWEVER, EVEN STOPPING
THREE INVASIONS ALL
BY YOURSELF COULDN'T HAVE
PREPARED YOU FOR
WHAT LIED BEYOND...
THE END...?
​
The voice I went with is from the cut doomguy's cut voice from quake 3. Special thanks to AxeCrusader for helping me with the voicelines!
SONIC 3 & KNUCKLES SONIC (Sonic the Hedgehog 3 & Knuckles)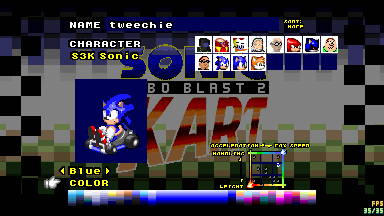 "..."
​
Sonic expected a lot of things after defeating a morbidly obese scientist for the 3rd(?) time in his life, even having to transform into a super saiyan rip-off to stop him from stealing a giant glowing rock from a red echidna guy with severe brain damage, but this?
The last char I made at the end of march. I really like playing as CD Sonic, but i noticed a severe lack of the best version of him on the forums, so here he is, in all of his lock-on technology glory.
DUCKMAN (Duckman)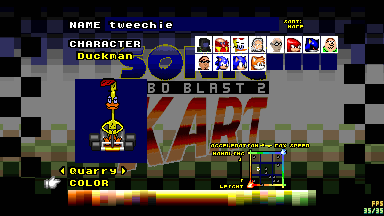 "Thin-skinned no-humor pansies! You tell them an ice breaker or two about anime chars, orbi spamming, griefing, several exploits, memecuts and suddenly they get all sensitive! Like I offended one of them or something?"
​
He's a private dick (dick means private detective) and family man. Widowed after he accidentally caused the death of his wife, Beatrice, and forced to co-habitate with his hateful sister-in-law, Bernice and his kids. He's cowardly, slovenly, lazy, bumbling, arrogant, and selfish with little self-respect. How did he end up here, you ask? Simple, he pissed of the wrong wormhole-opening wizard by simply being in his presence.
PETER GRIFFIN (Family Guy)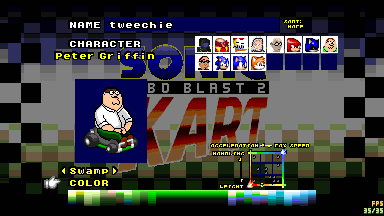 "Holy crap Lois this reminds me of that one time I was a Sonic Robo Blast 2 Kart character!"
​
He's bumbling and uncouth, but generally well-intentioned. Peter does have a nasty streak every now and then, but most often the joke is on Peter, even when he thinks it's not. His favourite passtime is drinking himself almost to death at the Drunken Clam with his buddies and occasionally fighing over somehing stupid with his frenemy Ernie the giant chicken. He's a lot of things, but most importantly he's a family guy! He ended up here exactly how you'd expect him to - by setting up a cutaway gag. Yup, he's trapped here. "Wait" - you ask, "Does that mean the entirety of SRB2 Kart is just a family guy cutaway gag?". The answer is I have no idea. Who do you think I am? Kart Krew?
PANTY ANARCHY (Panty & Stocking with Garterbelt)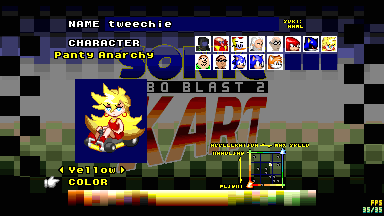 "I honestly don't give a shit where I am or what's happening right now, lemme just fuck some of these himbos I'm racing against"
​
Panty is obsessed with sex and has it as much as she can. She's a celebrity blonde and is always looking for different men to sleep with. She also doesn't take her job as a ghost-hunter seriously. Instead, she focuses on fulfilling her personal goal of having sex with one thousand men during her stay on Earth. Considering some of the custom made characters this community made I doubt she will be disappointed.
Again, huge thanks to
Axe Crusader
for the help with doom 64 marine and to
AlphaChrome
for providing me the new character profile assets




​