Hello,
K_Nooby007
here. So a few days earlier I decided to make another addon named
KN-Chars
. KN is my short name.
I only have a character for now and I'll need help of other people for :
ideas of more characters, their abilities and design(s)
sprites
coding the characters' abilities
So here's my first character named
Jack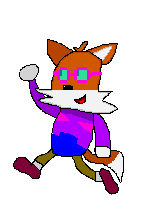 Now a random stickfigure will demonstrate Jack's abilities:
Pixel Burst(or something): Press Jump in mid air to jump high. After, hold Jump to float and charge your horizontal dash
Or Press Spin to slam down (which could break some floors)
Teleportation: Press C1 to teleport in the direction faced (can be used twice per jump)
I've got some sprites here done (I'll fix
STNDA1
due to the
height
):
STNDA
RUN3
I have like 28 days before I go on vacation somewhere else (which will separate me form my school PC, the only stuff I have). Hopefully, I have everyday to work on it and weekends are my advantages.
Let me know if you want to help me. Have a GREAT DAY ^-^