From the wonderful Katamari Damacy series, the dashing Prince once again endeavors to be the best at rolling—only this time, the Katamari is substituted by a shiny new set of wheels!

In homage to his canonical size and his appearance in Pac-Man World Rally, he's an extremely lightweight racer favoring acceleration over top speed.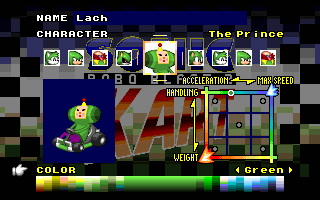 (1 weight, 4 speed.)
He's also my first complete self-sprited addon for SRB2, and I'm very proud of how he came out!
Credits: