MultiDirectional Thok [ChargeThok.wad] Details »»
MultiDirectional Thok [ChargeThok.wad]
Version: 1.0
, by
MotdSpork
(
Mafia? Zombies? Gold spork?
)
Developer Last Online: Sep 2020
---
Category:
Version: SRB2
Rating:

(2 votes - 2.40 average)

Released: 03-11-2016
Last Update: Never
Favourites:

0

Scripts Re-Useable Content
So this time around, i got bored and decided to make a new ability.

I call this the ChargeThok AKA MultiDirectional Thok. What it does, is instead of performing a thok as you normally would, hold down the jump button to charge it. While charging, you will float midair, not able to move. If you release the jump button too early, Sonic will perform a normal thok. When it's charged enough you will see Sonic start making after images and will hear a sound effect. Release it at this point and Sonic will zoom at thok speed in any direction you are aiming (not just left/right) but also up and down!

Tips: This is best used for mouse players but of course, keyboard only players aren't left out. Using the Look up/down keys (Defaults to PGUP and PGDN in the controls menu) You can also preform the upwards/downwards thoks you wish.
Download Now
Screenshots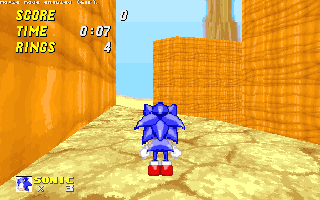 Show Your Support
The author of this addon has given explicit permission for its content to be re-used and/or reproduced.