What permissions do you give others to modify and/or maintain your submission?

Modify: NO - Maintain: NO - No, others may not modify my submission or use it in their own work without getting my permission. No, others may not maintain my submission, even in my absence.
For a brief introduction of myself before heading on into the character selection, I'm rather well known for commissioning cool stuff from cool users (I'm mainly active on Twitter most of the time).
This is a collection of SRB2 Kart characters I have commissioned thus far. If I commission more characters, this thread will be updated to add any new racers.
CHARACTERS
(organized in order I purchased them)
1).
Character's Name:
R.O.B.
Origin:
Gyromite (also appears in Mario Kart DS)
Commissioned from:
JazzBreakMan/OmegaF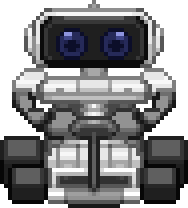 Stats:
[Speed - 9|Weight - 8]
Color Preference:
Crimson (to align with the Japan/Famicom variant)
Other Notes:
N/A​