What is it? Touhou is a series of bullet hell shooters for the PC. Like other games in its style, it places more emphasis on dodging hundreds of bullets rather than just shooting things. To clear the stages, you much have good dexterity, strategy, and persistence, as the bullets come out in large numbers and complex patterns.
Why should you play Touhou?
Challenge. The sheer difficulty of the enemy patterns is one of the most attractive aspects of the game. Trying to weave through all the bullets is very thrilling indeed. There are four difficulties ranging from Easy to Lunatic, so you can pick the one that suits your playing skill.
Technicality. Each game has complex systems used for scoring, item occurances, and other things. For example, in Touhou 8, there is a meter that balances between Human and Youkai (Ghost), and you get special bonuses depending on which side of the meter you're on. You can use these systems as part of your strategy.
Spellcards and Replays. Each boss is structured and segmented in a way that each attack is identifiable as a spellcard. These attacks are distinct and even have their own names. You can create a replay of an entire playthrough, a single stage, or in the case of Touhou 8, a single spell from any boss. Watching these replays can be quite entertaining.
Characters. The Touhou universe has host to some very likable characters, such as Marisa, Reimu, and Mokou. They all have back-stories, but in a way that is actually interesting and relevant to the series' plot.
Soundtrack. The series has some very nice upbeat, energetic tracks that are sure to get stuck in your head (this has happened to me on multiple occasions).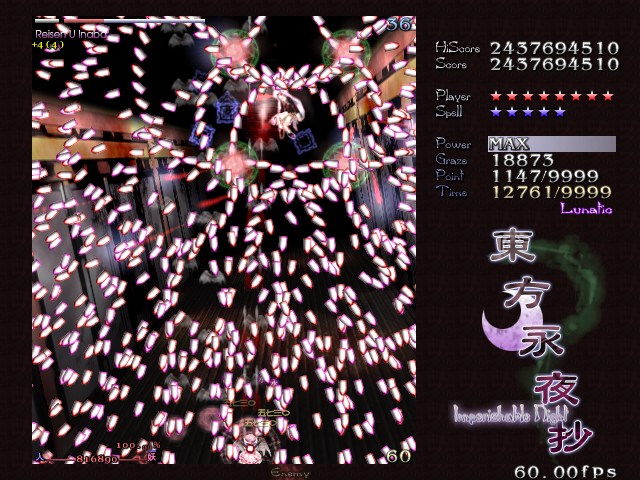 In Touhou 8: an experienced player fights the Stage 5 Boss (Reisen) on Lunatic difficulty.
If you're going to get any Touhou games, I recommend that you at least get numbers 7 through 9:
Touhou 7: Perfect Cherry Blossom - Perhaps the most well-known of the Touhou games.
Touhou 8: Imperishable Night - Has advanced scoring and spellcard practice mode.
Touhou 9: Phantasmagoria of Flower View - A versus-style game where you go head-to-head.
For those that are interested, you can look at the
Touhou Wiki
or watch some
YouTube videos
.
Discuss.