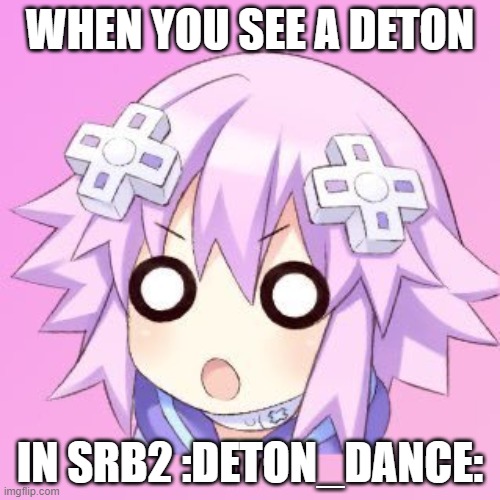 This picture you see is a meme I created by using Idea Factory Intl's Twitter icon and putting meme format text. I posted the image in the Discord server once before, then I posted it on my Twitter right after. Now I plan on replacing all of the Deton's sprites with this image as a solo project. However I don't know how to make the image smaller to fit the Deton's hitbox using SLADE. But anyways, what do you guys think?
---------- Post added at 01:55 PM ---------- Previous post was at 12:54 PM ----------
Please note that in the discord server I have been informed by Tatsuru that this mod will not make it into the submissions as it is just a sprite replacement. This is my first mod though. So, instead I'll try to post it in the SRB2 Wad Archive.
---------- Post added at 03:28 PM ---------- Previous post was at 01:55 PM ----------
As of now, this project is CANCELLED, right when I was done with all of the sprites, SLADE reverted the changes I saved without realizing after I tested it. If you want to make this for yourself then go ahead, I won't mind as long as I have been credited for the idea of it.