Long Time no see!
Decided to make a new thread for my stuff in general, not just the Modern/Unleashed Sonic, as I do expect to post a few things here.
Expect to see more stuff here than stuff that will ever get released :V
That doesn't mean though that this stuff can't inspire others to do something.
However, I do want to point this out now:
The stuff here ISN'T FREE TO USE, ask me before and give credit!
I'm usually friendly with that kind of stuff and I prefer doing releases and seeing stuff being used than stuff never getting releases/for "special people" only and all that nonsense...
However, seeing how the Beta for the Unleashed Sonic Sprites kind of got shared everywhere and used for many other things without me being credited... gets one tired, REALLY tired.
I hope that this doesn't sound too ranty but I did want to point that out to avoid further nonsense of that kind.
So, what's the status of the projects:
Unleashed/Modern Sonic
Status: WIP/Reboot
I've quickly looked at it last Summer and done some improvements as well as decided to use a different system to create him, which should save time at almost no downside.
Still will take a good while and I do want to finalize a bunch of stuff though.
Recently I've been working on him again and can show you this: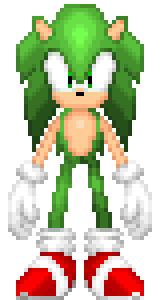 That's the most recent version on the left as of yesterday.
However, I'm still fighting with the stupid blue palette of SRB2 which I'll elaborate more on a further post.
MISC
Then there's also this:

Can you guess what it is and where it's from?
This one is more Palette friendly than Unleashedsonic, however, due to being made for a specific color, it's kind of dark, too dark in fact with others...
Wish we'd be able to adjust skincolors per character/make our own/set more changeable color ranges...